Every year, students from all across Halls drop their assignments, their essays and academic commitments of any sort in order to focus on manifestos, interviews and campaign videos in the hopes of securing enough votes to win a place on next year's JCR committee.
For many Halls residents, running for JCR is their first experience of getting involved in student politics. For those successful in securing a position, it can act as a gateway to student politics. Trinity College Dublin Students' Union (TCDSU) President-elect Shane De Rís, for instance, made much of his time in Halls during the election campaign.
This year's JCR Presidential race consists of three candidates – Ciara Gilroy, a theoretical physics student, Ben Cummins, a BESS student, and Meabh Ní Raghallaigh, a law student.
ADVERTISEMENT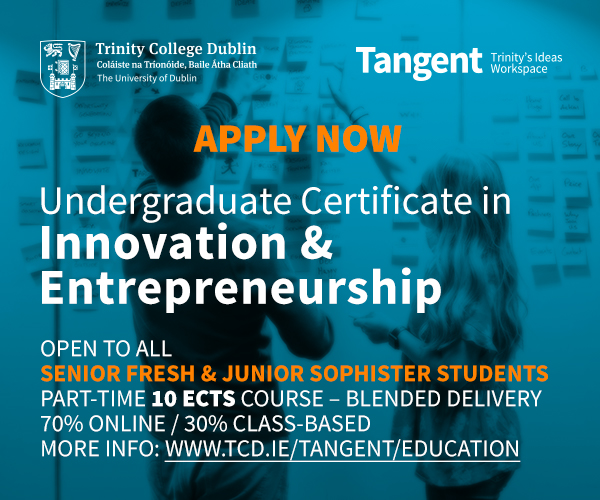 Many of the manifesto points of these candidates will seem familiar, as the issues facing Halls residents remain consistent and unresolved. From accommodation support services, increasing student involvement in the wider college community and increasing the use of communal spaces in Oldham House, all of these are the usual topics presidential candidates bring up when running for the JCR.
Yet candidates this year also seem to be bringing new ideas to the table. Perhaps surprisingly, the Trinity Education Project gets a mention, while alcohol-monitoring measures also top off the agenda.
Perhaps surprisingly, the Trinity Education Project gets a mention, while alcohol-monitoring measures also top off the agenda
Accommodation is one of the biggest worries facing students in every year of college. Nonetheless, it's always daunting for first-year students in Halls, who have not had experience of the Dublin rental market. Gilroy and Cummins plan to provide support to Halls residents with accommodation workshops, with Gilroy planning to work with the TCDSU Welfare Officer and the Accommodation Advisory Service to give a talk to residents, as well as providing drop-in sessions with the Welfare Officer to deal with accommodation concerns.
"There definitely is a lack of knowledge about where you need to be going to look for housing, what your rights are, what the landlord's rights are." Cummins also plans to provide information sessions and workshops in conjunction with the Accommodation Advisory Service. He also hopes to implement a service that would allow students to find potential flatmates: "Students would submit their details, such as their budget, accommodation preferences, their course – so if they need to be near St James', for example – and then we create a database that can pair people up with similar preferences." Ní Raghallaigh, however, takes a completely opposite stance, stating that the JCR should provide information to residents but "shouldn't get too involved."
"I don't want it to become a tradition that students think the JCR will have their accommodation sorted for them, I suppose we are adults at this point. But I would work with the Comms officer to set up a Facebook page to provide people with more information", she says.
Cummins is the only candidate to mention the Trinity Education Project in his manifesto and is exceptionally well-versed in the changes and implications that this will have on students next year. He has been in contact with incoming TCDSU Education Officer, Aimee Connolly, and promises to work in conjunction with her in order to organise information seminars about the project for both this year's residents and next year's, as well as facilitating weekly office hours with Connolly in Halls.
"Realistically, it's going to hit current students very hard next year, as we've already become used to the structure at the moment. So I think it's important to provide that support to first-year students in Halls currently before the end of the year so everyone will have an idea of what will be happening come September."
As well as this, he plans to work with Connolly to train in a member of the JCR or Welfare team as an Education Liaison Officer, who would answer questions about the Trinity Education Project and be a point of contact for students struggling with course-related issues.
I don't want it to become a tradition that students think the JCR will have their accommodation sorted for them
Both Gilroy and Ní Raghallaigh were unfamiliar with the finer details of what the project entails, but both asserted that they would organise leaflets and talks to inform students about whatever changes will occur.
Gilroy aims to get societies more involved in Halls life – a manifesto point brought up by candidates almost every year without fail. She is well aware of the lack of success previous JCR presidents have had with this, citing the large amount of organisation involved as well as a lack of interest.
"I think the important thing is getting societies involved from the start to encourage people to try out new things and create new friendships." Cummins is taking a different approach, with plans to provide JCR support and funding to students in Halls to allow them to set up their own clubs for residents. Ní Raghallaigh wants to increase student engagement with the JCR, mentioning the lack of information provided to residents about the open forums and promising to notify students by Facebook and email well in advance so they can partake in discussion.
Both Ní Raghallaigh and Gilroy also propose making Oldham House into more of a social space, with both planning to purchase bean bags to make the location more attractive to students.
An area where all the candidates appeared to falter were their ideas for dealing with sexual harassment and assault in Halls. All three candidates promised to continue with the consent workshops and further increase attendance, with Cummins proposing to make them mandatory and Ní Raghallaigh suggesting a second consent workshop in the first week of second term in order to "reinforce the message". However, in terms of dealing with these issues in any way beyond the consent classes, all candidates drew a blank and failed to propose any concrete ideas.
All three candidates promised to continue with the consent workshops and further increase attendance
With a majority-female presidential race, it appears that the women in leadership workshop held in Halls earlier this year certainly achieved its aim. Both Ní Raghallaigh and Gilroy praised the workshops for encouraging them to put themselves forward, with Ní Raghallaigh planning to continue the workshops in Halls next year.
"It should be more than workshops. I think it's really important to encourage girls to run for positions on a committee, for class reps, and that has to happen from the very start of the year. But I don't want it to discourage boys from running either – feminism is about equality", she said.
Gilroy is also hoping to continue encouraging women to run for JCR positions, but doesn't want to make it a cornerstone of her race: "I don't want to have my whole main focus of my campaign is me being a woman." Ó Coimín also praised the workshops, referencing the diversity present in leadership positions across the JCR in the past number of years. He promised to continue the workshops to encourage as many people as possible to run for office.
Overall, this year's JCR presidential race looks set to be well-fought and hard-earned, with candidates across the board well-informed about the intricacies of their manifesto points. With a certain amount of overlap but also polarised views on certain issues, as well as varying ideas for dealing with both old and new challenges alike, it remains to be seen which candidate will endear themselves to the Trinity Hall population.