At first glance, it looks like a mosaic has been temporarily installed on the ground floor wall of the Science Gallery. Upon closer inspection, though, it becomes apparent that what at first looks to be a yellow-tiled mosaic is actually Easi Single cheese slices stuck onto the wall.
It's part of the ongoing FAKE exhibition, which delves into the artificial elements of our lives. Such an exhibition is the nature of the Science Gallery. Away from the rest of Trinity – sometimes mocked as grandiose and humourless – the Gallery is witty, clever and sometimes even subversive.
From exhibition to exhibition, the gallery veers from highly scientific think pieces to interactive artworks, with one never quite like the next. The success story of the Science Gallery – which is expanding its brand across the world – lies in its ability to be a unique space for collaboration between the arts and science.
ADVERTISEMENT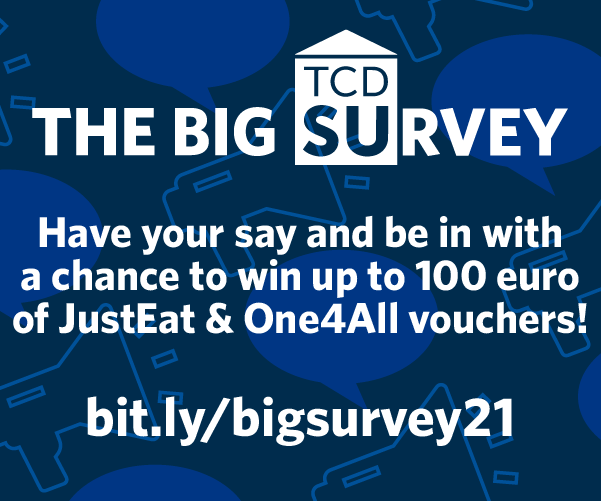 Director Lynn Scarff is the walking epitome of the Science Gallery. A trained zoologist with a master's in science communications with a love for arts, debating and drama, her time as a science undergraduate in Trinity was marked by her involvement in the College Historical Society, Trinity Arts Workshop and DU Players.
"My whole time in Trinity, I had these two kind-of paths that were sometimes diverging but generally just sort of moving along together. So in my non-formal life I was very much involved in arts and culture but in my formal life it was very much a science path", Scarff explains.
My whole time in Trinity, I had these two kind of paths that were sometimes diverging but generally just sort of moving along together
As Director of the gallery over the last four years, Scarff has been central to the Science Gallery becoming one of College's biggest success stories over the last decade. Trinity's Vice-Provost Chris Morash, speaking to The University Times, points to the expansion of the gallery to Venice, London, Melbourne, Detroit and more as proof of its success and international importance. Yet there is a note of sadness amidst the 10-year celebrations and fireworks. Scarff is set to depart the gallery to become Director of the National Museum of Ireland in May.
Things began properly for Scarff when she started working in wildlife parks in Australia and Killarney after finishing her degree. But she soon realised that "counting animals in a field all day" was not going to be the fulfilling work she sought. So, in the early 2000s, Scarff went to work in Ballymun as a part of the Global Action Plan helping to define the environmental and sustainable aspect of the newly regenerated communities there. "A lot of it was addressing those initial failings of the original towers. It was working at a very basic level about what sort of playgrounds you want, what sort of trees you want to plant, how can we introduce healthy foods into this area and that sort of thing."
Former Science Gallery Director Michael John Gorman first met Scarff when she was interviewed for a position as one of the founders of the proposed Science Gallery at Trinity. His first memory of Scarff is of her exuberant nature and the exuding passion she held for her subject. "We had such an enjoyable conversation during that interview", Gorman recalls. "Sometimes it can be an awkward setting for meeting people, an interview, but I just got that feeling we could talk all day. And we did, but we eventually had to force ourselves to end the interview."
Scarff was hired to be in charge of education and outreach, working with Gorman as part of a team of four as they worked to transform the Gallery's two empty floors into an interactive, interdisciplinary space capable of hosting unique and temporary exhibitions.
As daunting a task as that may have been, and despite the late nights where often the team slept in the apartments of the building's upper floors, Scarff's enthusiasm and drive for the mission never wavered. Nor has it in the 10 years since. Gorman remembers that, from early on, it was Scarff's "infectious enthusiasm which was so vital in that challenging start-up period".
"Lynn was so enthusiastic. I remember I learnt from early on to keep hot liquids away from her when she was talking as her waving hands and enthusiasm often led to spills." But in five years working as close partners, Gorman and Scarff were successful in creating a unique exhibition space that gelled together arts and science to wonderful effect. Initial goals of having 50,000 visitors a year were soon outgrown as hundreds of thousands came to the gallery year on year.
She wants to know not necessarily what people are doing but how they are
While such success is sure to keep anyone motivated, for Scarff what drives her is her faith in informal education and its ability to transform those disenfranchised by formal education. While Scarff was always able to deal with the school system, "memorising and regurgitating" when needed, she was also "acutely aware that the system was failing people as well". It's this memory and her experience working in Ballymun that has shaped one of Scarff's core principles to provide informal, interactive and exciting ways for young people to learn and grow outside of the rigid classroom setting.
Luke O'Neill, a Trinity Professor in biochemistry and an advisor to the Science Gallery, lists the gallery's success in engaging young people as a testament to this drive. "They have really engaged with it over the years. They have taken it on board and turned up in their droves."
Some "exhibitions have difficulty accessing that age group and the Science Gallery has actually become a massively successful example of doing it right", he says.
That said, the Science Gallery can just as easily attract and entertain international politicians and dignitaries, with British Foreign Secretary, Boris Johnson, visiting the Gallery during his trip to Ireland last year. Science Gallery Programme Director Ian Brunswick explains that for Scarff a room full of CEO's is just as important as a room full of five-year-olds, and she has the ability to adapt and read a room in order to best suit her audience.
Gorman adds that financial gain has never been a motivation for Scarff but rather "it's the impact the projects have on people". Speaking to Scarff, she makes it clear through her anecdotes and stories that she is inspired by the human connections and conversations the Science Gallery allows her and her team to create.
"I think we forget how important spaces, like physical spaces, are for us as humans to connect with each other in a world where a lot of our connection is now social media based."
"All that we are interested in at Science Gallery is creating compelling experiences and a platform for bringing in young artists and researchers for our community. So the way that we do that is through these big themes. So that thematic approach means that for a show like FAKE it's as interesting to a journalist as it is to a zoologist, as it is to an engineer so everyone finds something to latch onto and at that point, you are creating a space where people can have conversations and are being provoked into conversations."
As a leader of the institution, the description of Scarff's style from speaking to those who work with her is consistently the idea of collaboration. "For me, it is a little bit hard to divide the woman from the institution", Brunswick notes, "because Science Gallery is a very collaborative space and how much that is because of Lynn or whether it's just because Lynn and the Science Gallery suit each other very well it's hard to tell. But I think she probably shaped a lot of that collaborative team-project way of working in here".
Just as the Gallery exists to be a collaboration between many different areas, Scarff vies to ensure she takes in everyone's point of view – she's never afraid to hurt her pride if others around her can prove their ideas work better for the Gallery. It may seem obvious that the manager of an institution like the Science Gallery should be a people person and team driven but Scarff is credited repeatedly by her colleagues as a shining example. "She's very good at listening, very good at reading people", Brunswick says.
"She wants to know not necessarily what people are doing but how they are. In some places, the boss wants to know what everyone is doing but in Science Gallery, I think Lynn wants to know how everyone is doing and I think that is much more strategic. It is much more growth orientated. She runs a very informal ship here. Anyone can approach her about anything and question her and discuss things with her."
In addition, Scarff describes the student mediators on the Gallery floor as "the most important people in the Science Gallery" as they are the ones creating conversations with the public. If there is any dissatisfaction in her role it is that she doesn't have time to be as involved in the setting up of exhibitions as she used to be. "It's the curse of the leader that the further you go up in the organisation, the less you get to do of the creative work", she explains. Instead, a lot of Scarff's work revolves around strategy, fundraising, Human Resources and maintaining relationships with the Gallery's donors.
With Scarff set to move on, the challenge is now to find someone who can cross disciplines and creative boundaries in the same way. It doesn't promise to be an easy task.