Students took drastic action outside the Book of Kells today, forming a picket around Front Arch and the Long Room Library.
The Book of Kells is something students have fixed on as riposte to Trinity's introduction of supplemental exam fees. The action today is both symbolic and, potentially, effective – students have constantly attacked Trinity as caring more about tourists than students themselves.
This sentiment was recently manifested in the onslaught of one-star reviews students posted on the Trinity College Dublin Global Facebook page. Students took to social media to express their anger, with former Trinity College Dublin Students' Union (TCDSU) President Kieran McNulty commenting that "this is a university that increases international student fees year-on-year and won't accept arguments that this is unfair".
ADVERTISEMENT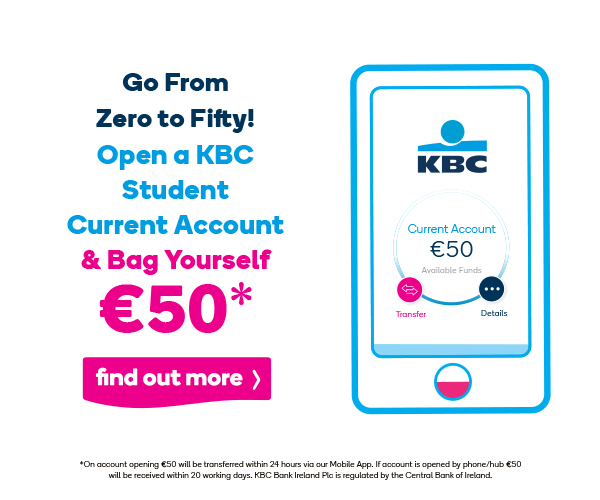 Outside the Book of Kells Exhibition and the Long Room Library, around 40 students gathered, blocking the entrance for tourists for around an hour. Students passed by, looking on with indifference, but tourists trying to visit the exhibition had their plans disrupted, with the queue dissipating outside. TCDSU President-elect Shane De Rís led chants and explained to tourists the reasons why students are protesting.
Student protesters gathered at Front Arch, blocking the door for members of the public, who were seen physically pushing students. Security then closed the main gate at College Green to prevent interaction between student protesters and the public. TCDSU President Kevin Keane and Welfare Officer Damien McClean gave rousing speeches in front of Front Arch and were leading chants.
Chants of "the students, united, will never be defeated!" and "take back Trinity!" could be heard echoing across campus, as students and tourists engaged in at times aggressive altercations. Under the Arch, students sat on the ground, refusing to move, though after a while, when people started walking over them to exit through the gate, the protesters stood. TCDSU Education Officer Alice MacPherson encouraged students to link arms to effectively block the entrance.
The group also planned to picket the Nassau St entrance to College but no group has arrived there as of yet.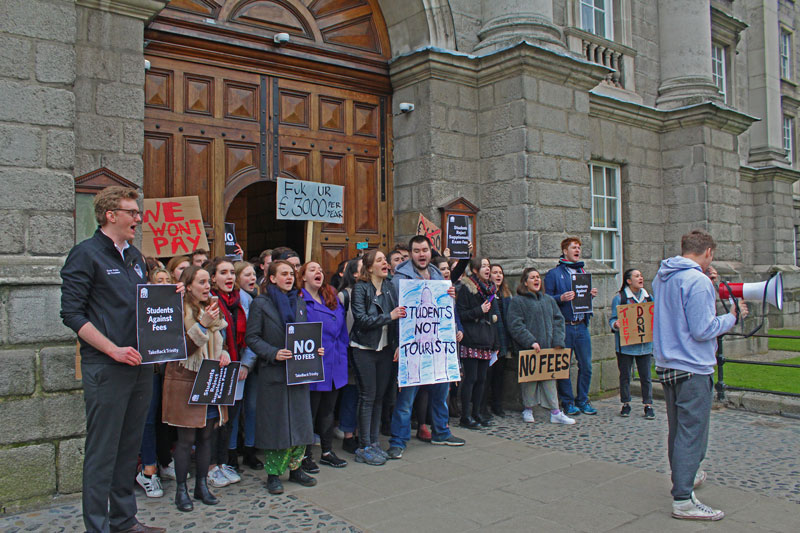 Curious onlookers passing at College Green peered through the railings at the crowd of student protesters. At one point, there were shouts at the students to "get a job", with protesters responding with chants of "we have jobs".
TCDSU has been under pressure to deliver a radical response to the €450 flat fee. TCDSU President Kevin Keane, speaking to The University Times, said: "Today marks the second of what will be an escalating series of actions. The College's decision to squeeze every last cent out of its students is unacceptable".
The Book of Kells is one of Dublin's most popular tourist attractions, with 454,000 people visiting the exhibition last year. For the last several years, the College has increased its efforts to attract tourists and boost visitor numbers, creating a new visitor centre and renewing its focus on commercialisation.
Following a heated meeting in which possible actions were discussed by students and TCDSU officers, on Wednesday, students gathered outside House One to express their distaste for the proposed fee for supplemental exams. With a finance committee meeting happening inside, students chanted and regaled the crowd with stories of their own financial struggles.
In a press statement, the students behind the protest demanded the repeal of College's decision. "We believe that this decision will have a detrimental effect on students who already have to struggle with the rising cost of student living in Dublin", the statement read. Students sought the permanent abolition of supplemental fees, as well as a commitment not to further increase the cost of student rent or postgraduate and international fees. "We will continue to protest until our demands are met", they promised.
Correction: 13:32, October 6th, 2017
An earlier version of this article incorrectly stated that students were protesting outside the Nassau St entrance to the College. The group had plans to picket the entrance but there are currently no students there.