Trinity College Dublin Students' Union (TCDSU) President Kevin Keane met with College officials today to discuss Trinity's decision to introduce supplemental exam fees. The introduction of the fee triggered campus-wide protests, which the College has called "disappointing".
Keane and Graduates Students' Union (GSU) President Shane Collins met with Vice-Provost Chris Morash, Dean of Students Kevin O'Kelly and the Director of Estates and Facilities Paul Mangan.
The meeting took place with the sound of protests and chants echoing across Front Square. Morash, along with Provost Patrick Prendergast, has been the target of scorn and mockery over the last week. Students have responded with angry protests and demonstrations to Trinity's decision to introduce a €450 flat fee for supplemental exams, including forcing the closure of Front Arch, Trinity's Nassau St entrance and the Old Library.
ADVERTISEMENT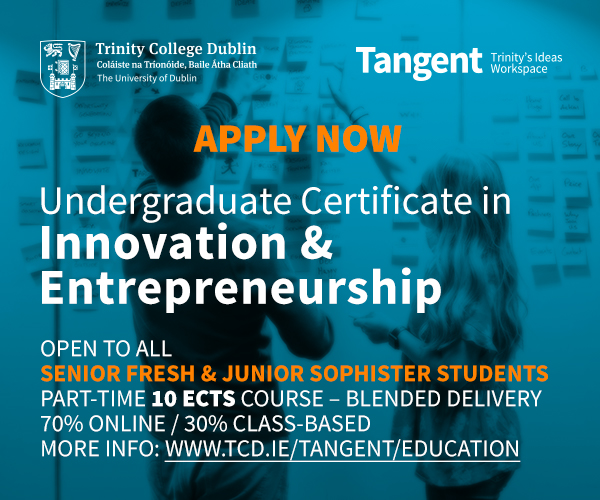 In an email statement to The University Times, the Head of Communications in Trinity, Sally-Anne Fisher, said: "Whilst the College is disappointed with the student protests and occupancy of the Dining Hall today, there was an agreement that further discussions with the Students' Union executive will take place under the Student Partnership Agreement."
In an email statement to The University Times, Keane said: "Today's meeting was productive. We delivered our demands to the Vice Provost and the Dean of students, and made it very clear that the students are not for turning."
Keane will bring a proposal to the next meeting of the College Board on March 28th as part of TCDSU's response to supplemental fees. TCDSU were previously told by College to come up with an alternative proposal by January 23rd. On the date, TCDSU called a preferendum on supplemental fees, asking students for their views on the College proposal to introduce fees alongside modular billing. College ignored the preferendum, only weeks later agreeing to introduce supplemental exam fees.
Addressing the crowd outside the Dining Hall today, speakers, including Sinn Féin senator Paul Gavan and People Before Profit TD Richard Boyd Barrett, told students not to give up in their fight against fees.
TCDSU President Kevin Keane has previously told The University Times that he opposed the proposed supplemental exam fee when it was raised at Finance Committee in December. The minutes from the meeting, presented to Board on February 28th, stated that there was no dissent.
Today, students occupied Trinity's Dining Hall, while previously taking positions at Front Arch, Nassau St and the Book of Kells as part of a series of direct challenges to College's reputation as a tourist attraction.
The demonstrations and occupations have run in parallel with a social media campaign aimed at discrediting Trinity as well as attracting national media attention for the protests.