As Arabella Bishop steps into her Molesworth St office, she is preceded by the lolloping and affable office pet, Zorro. A concerned face pops from behind a corner and asks: "How do you feel about dogs?" Bishop, although her friends call her Bella, is witty, clever and courteous. She also possesses a rare informality a million miles away from the stuffy stereotypes of Ireland's art scene.
And Bishop really is the beating heart of the scene. Since 1999, the Galway native has overseen the Irish office of Sotheby's, the renowned auction house. Speaking to The University Times, Charlie Minter, a specialist in British and Irish art and a friend of Bishop, captures it well: "Sotheby's presence in Ireland would be all the poorer without her."
Bishop knew the art world was the place for her since discovering her love for art history at the age of 16. "I always had such an interest in Irish art. Going back to when I was doing my A Levels, I did Jack B Yeats as my thesis."
ADVERTISEMENT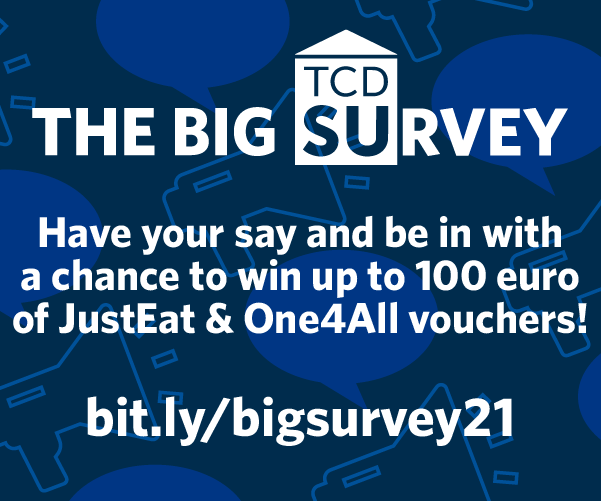 Her passion for art took her from a boarding school in England to Florence and, finally, to Trinity. "Bella was an archetypal TCD girl", says Nick Bonham, a sixth generation Bonham in the family business of auctioneering, speaking to The University Times.
Bella was an archetypal Trinity girl
Her fondness for the College is clear from her inability to pick a favourite memory from her time studying history of art and classical civilisation. "I absolutely loved every second of it… I got my longest friendships with the people I met… So I think the friendships and the degree itself and the campus… It was just a great place to be. It obviously still is."
She soon found herself in Bonham's in London, working as a porter, which meant moving artefacts and paintings across departments. Bishop laughs thinking back to her first job: "Although you might not think it with my physique, I was moving furniture… I literally would do anything… stay late, get in early. And after a month, they offered me a job as a porter… so you were basically setting up for the sales, also helping during the auction. But in the evenings I would go up to the departments and I'd ask if anyone needed any help cataloguing."
Her commitment to the task at hand is an attribute she has maintained throughout her career. Speaking to The University Times, Eliza McCormack, the office manager and client developer at Sotheby's in Dublin, testifies to Bishop's passion for her work: "Bella has had her fair share of having to kick off the heels and climbing into various attics in search of property to help clients. We are all very hands on in the office here… and we all get stuck in… One moment [she] will be hanging a picture in our Irish Sale Exhibition, the next you will see her running around with a hoover".
The situations Bishop finds herself in because of her work ethic are almost unimaginable, and she laughs at the thought of her first foray into auctioneering. A student of the "Nick Bonham's School of Auctioneering", she recalls her first time overseeing the bidding at Bonham's in London: "We had probably two sessions privately and then I was sitting in an auction where the auctioneer just turned and said 'Okay, Arabella is going to take over' and I was like 'What?'. But actually it was probably the best way because you're literally thrown in."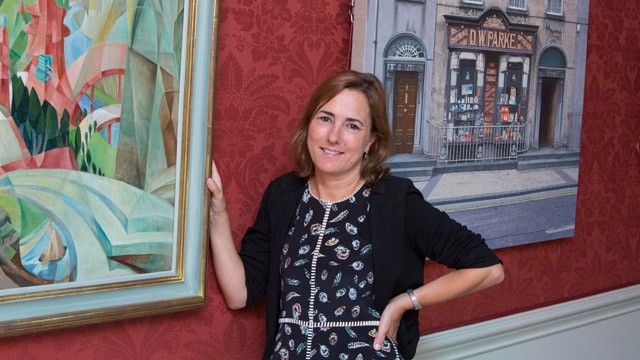 "You can't be nervous and you get into it and actually, to really become an auctioneer, live auction is the only way you're going to learn", she says.
Bishop has always been good at grasping opportunities and her return to Ireland came about with a bit of good fortune. Taking over from Anne Dillon, Bishop's appointment as the Head of Sotheby's Ireland was sudden and began with a simple chat between colleagues: "Literally within three days, I think, I was meeting the Chairman of Sotheby's… and going through a rigmarole of interviews and then was offered the job to come back and be head of Sotheby's here".
Of course, she recognises how fortunate she was in her journey from being a porter and cataloguing to such a senior position in the company: "When I'm having a stressful day I need to remind myself of that… because I actually love what I do… I think that's important to remember."
One of her career highlights so far – the memory still makes her smile – is the highly successful auction of the Yeats family collection. The highest bid of the day saw £212,500 change hands for the Jack B Yeats painting "The Sunset Belongs to You". Bishop looks back on the early stages of planning the sale with great fondness: "I'll never forget. I was working with my colleague Charlie Minter, who heads up Irish Art in London, and he came over and we were going through Cliff House where they lived… At one stage, we opened a trunk and it had all these watercolours that Jack had done… but he had stuck them to the inside of the lid!"
If she once believed that no price could be put on a piece of art such as this, her opinion, tempered by time and experience, has changed. Yet the experience of uncovering the stories behind these works of art is priceless. "There were times like that… or moments where you stop and you think "wow". That was last February, it was freezing cold, and I remember just thinking "how lucky are we to be doing this job?"
Throughout our conversation, it becomes more apparent that Bishop's preliminary focus is on Irish art. "Deprived" (her words) of some of her favourite works during the refurbishment of the National Gallery, Bishop still gets a rush of appreciation and disbelief when standing in front of the paintings she first learnt about during her time at Trinity.
I remember just thinking 'how lucky are we to be doing this job?'
It is clear that the Yeats sale was merely a culmination of her ongoing love for the work of Jack B Yeats. Her favourite? "The Liffey Swim". The painting, she says, "will always be, an image I have in my head".
Yet painfully little of her time is actually spent on Irish art, due to the demand for works in sales across the world, from Paris to New York and Hong Kong. Bishop does not see this drift away from Irish art as a bad thing, but as a learning experience that gives her career another layer of depth: "It's a very varied role… Every day you learn something new, so that's exciting."
Bishop has followed in the footsteps of a number of influential women in the art world. The last few months have seen various industries shaken by revelations of sexism, misogyny and sexual harrassment from within their own ranks – a reminder of how difficult it still is for women to succeed. On the issue of women in leadership, Bishop says: "I was always willing to graft and work hard. And I think in Sotheby's, if you're of that disposition… I don't think you're held back because you're female."
After the now infamous 1999 price-fixing scandal involving Sotheby's Diana Brooks in New York, it is promising that, almost 20 years on, the auction house has a strong female presence once again at the helm of the company. The trend is the same in terms of artists, according to Bishop: "There are a lot more male artists but I think there are more female artists coming through in the contemporary world." In terms of Irish art alone, she lists Mary Swanzy, Evie Hone and Mainie Jellett as some of her favourite female artists, yet, in the sales room, "the big prices are [still] probably Orpen, Lavery, Yeats, Roderick O'Conor".
Bishop remains hopeful for the place of women within the industry and has only positive stories to tell regarding her own experiences. She explains that her role model is her mother. "I think she's remarkable and very strong-minded, and very stiff-upper-lip but never complains. She has a very rosy attitude to life and I think is always looking for the positive rather than the negative… She'd laugh if I told her that!"
Bishop seems to share the same qualities. Dedicated and passionate, a 40th anniversary celebration of Sotheby's in Ireland will give Bishop the chance to cement her own place in the roster of names who have shaped and shifted the Irish art scene. As Bonham notes, "she's an absolutely amazing lady".