This piece began its life as a straightforward examination of the struggles of women in comedy: a piece about the trials and tribulations, the struggles and the sexism. It was supposed to be a kind of rallying cry against yet another industry where women are paid less than their male counterparts. It was supposed to decry a culture of women having to worry that a low-cut top will elicit the worst kind of heckles from stag dos and lager louts in low-rent comedy clubs with stains on the carpet and a perpetual smell of piss.
It's not.
Because while this is one story of women in comedy, what I have discovered is that it is not the only one.
ADVERTISEMENT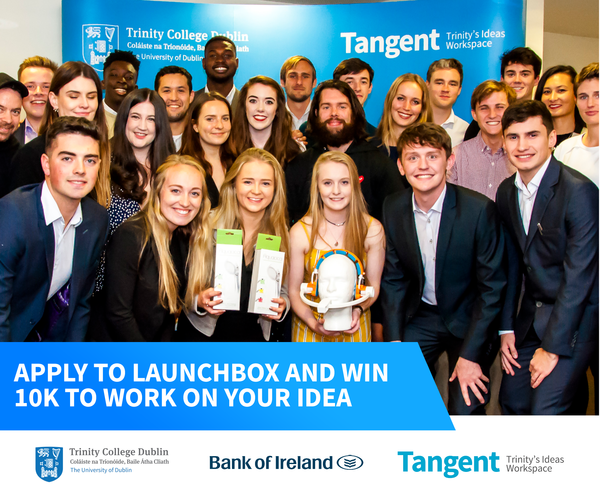 I began this piece by reaching out to Irish comedian Aisling Bea on Instagram to ask her about the challenges facing women in comedy. Bea, a Trinity graduate, is currently making waves in the industry as a team captain on 8 Out of 10 Cats, Channel 4's flagship comedy panel show. In between delivering biting one-liners on the show and starring in the sequel to BBC's The Fall, Bea is also a successful stand-up. She is a past winner of the prestigious "So You Think You're Funny?" competition at the Edinburgh Fringe Festival. She is, in short, a success story.
Bea told me she didn't want to talk. She said that articles like mine, which, apparently, highlight the negative parts of the industry, further the very narrative that puts people off pursuing a career in comedy.
It stung to feel as though I was part of the problem, but I had to admit that Bea has a point. I was seeing the story of the victim (and I was watching a lot of Never Mind the Buzzcocks: in one episode guest Gail Porter was told by show host and comedian Mark Lamarr that if she wasn't going to "show us your arse" she should "go home"). I was only seeing the negative parts, of which there are undoubtedly many (and which I feel it would be remiss and irresponsible not to interrogate), instead of seeing the whole picture.
I go to a gig only to be introduced as a 'female comedian'
The story of women in comedy, as I began to realise, is a complicated one – and has been, even from the beginning. The original story is one of sexism and struggle, and is one in which women are cast as the victims. This narrative does exist. In 1989, just three per cent of panel show guests on UK comedy shows were women. This woeful figure meant few female comedians were to be seen on television, ever. And yet around the same time, in 1986, one of the "Big Four" venues of the Edinburgh Fringe festival was being set up by a savvy, whip-smart woman named Karen Koren. Her company, Gilded Balloon, from whose venues Russell Brand was once infamously, forcibly ejected, has been, since its inception, one of Edinburgh Fringe's biggest success stories. Clearly Koren's was (and is) a story of success, and complicates the assumption that the history of women in comedy is solely one of struggle.
Nowadays gender, it seems, is inescapable for the female comedian. For Bec Hill, an Australian comedian, one of her "pet peeves" as a woman in comedy is being reminded about it all the time. "It's exhausting", she told The University Times over email. "I go to a gig only to be introduced as a 'female comedian'." Hill told me that she receives emails like mine all the time. She claims that this is part of what it's really like to be a woman in comedy – being asked about your experiences constantly.
But while the likes of Hill and Bea are keen to get away from the issue of gender, other female comedians may choose to confront the issue explicitly. For instance, Sara Pascoe, an established comedian with a number of successes to her name, recently chose to openly tackle the issue, both in her excellent book Animal, an exploration of the biological differences between the genders, and in her latest tour "Lads Lads Lads". If Hill and Bea were weary of being asked to contribute to a piece about the struggles of being a woman in comedy, much of Pascoe's work confronts head-on this same issue.
In a recent interview with Tommy Tiernan on The Tommy Tiernan Show, Sharon Horgan, the woman responsible for the hit Channel 4 show Catastrophe, which has also been a huge success on Amazon Prime stateside, was asked if her role as a mother negatively affected her work or her ability to work in the industry. I can't help but wonder whether a male comedian would be asked the same question. While it is to her credit that Horgan took the question in stride, it clearly remains a problem for women in comedy that an interviewer like Tiernan will tend to focus more on her offspring than her output.
In a similarly depressing vein, last November Maeve Higgins tweeted fellow comedian Des Bishop, asking where a podcast the pair had taped had disappeared to. The podcast in question, which Bishop subsequently made available online, is an uncomfortable discussion of sexism in comedy, and one in which Des Bishop is cast in a rather unflattering light. During the podcast, Higgins mentions an incident in which Bishop told her he couldn't bring her on tour with him because she was a woman. He feared that people would conclude that there was "something going on" between the pair if they were touring together.
But while Bishop's behaviour, both in the rationale behind refusing to tour with Higgins and in his seeming reluctance to broadcast the incriminating podcast, is reprehensible, is there not an element of the story from which we can take heart? Bishop may warrant condemnation, but Higgins deserves commendation, perhaps more so. Her bravery in refusing to allow sexism in comedy to go unchallenged is indicative of a wider shift in the industry against the sexism that has for so long taken hold. So while there is a tragic and sombre discussion to be had around the myriad harassment claims against American comedian, Louis CK, published by the New York Times in November 2017, there is a discussion also to be had about the bravery of the women who have come forward with their allegations. The sexism that is a longtime issue in the world of comedy may continue, but there is nonetheless something stirring in those who refuse to stand for this, and who are calling those responsible to account.
The internet is, as ever, a double-edged sword in this battle. While it has allowed women like Higgins to overtly address the sexism of the industry, it has nevertheless also provided another platform to allow sexism to proliferate. In comedy, you are vulnerable. It can be difficult to distinguish between the performance on stage and the person behind it, and the two can often seem as one. In performance, you channel every part of yourself: your experiences, your personality and even your gender. Comedic performances are usually visual. Naturally, appearance will come into play. Standing on stage, you open yourself and your body to public opinion and the scrutiny of internet trolls, always more of an issue for women than for men. "Jo Brand just fell out of bed. 3.2 earthquake in Midlands", reads one tweet by the man the Sun newspaper has dubbed "Britain's vilest troll". "Sofie Hagen is a royal fat floppy cream cheese", says a Reddit user. And while online misogyny is also likely to be directed at other women, such as actors and politicians, it is surely less likely to question their competence and ability to do their job. Even the queen of Saturday Night Live, Tina Fey, is charged with being unfunny: her book Bossypants includes a letter in which she directs a rebuttal at an online troll who declares that she doesn't have a "funny bone in her body".
There was not a single Irish woman with an upcoming stand-up show at a major venue in Dublin
This damaging adage that "women can't be funny", an age-old assertion, persists offline too. While I was working in a bar at the Edinburgh Fringe Festival last year, comedian Nai Bowen came to the bar after a stint of flyering in George Square Gardens. Visibly distressed, she spoke of how a man in the street had questioned her about the stand-up show that she was promoting, insisting that women "can't be funny". This comment, made even in liberal Fringe-time Edinburgh, highlights that the perception of women as unfunny, rather unbelievably, persists. And Bowen herself, speaking to The University Times, said that she doesn't know of any female comedian who hasn't had to deal with similar incidents.
Another major issue is, quite simply, a lack of women onstage. A quick search on Ticketmaster for stand-up shows in Dublin when I began researching this piece revealed this. While I found many male stand-up shows on in the same period, in the space of over a month the only woman with a show in Dublin was Katherine Ryan, a Canadian comic. There was not a single Irish woman with an upcoming stand-up show at a major venue in Dublin.
These are not the only disheartening figures. The Lisa Richards Agency, which represents comedians and other figures in the entertainment industry, has only five female comedians on its books. The other 22 clients working as comedians are men. BBC comedy show Mock the Week has, in its storied 12-year history, only once featured two women on the show at the same time. To put that in perspective, there have been 48 all-male episodes. Numbers like these don't lie: they can't be argued away, however much many people would like to focus on the more positive aspects of women in comedy.
It is worth asking why the numbers are like this. There is an idea that "you can't be what you can't see", originally set out by Marie Wilson of the White House Project, a project that attempts to encourage women into politics. There is, and has been, a dearth of female comedians on our stages and our screens, making it difficult for women to be inspired or motivated to enter the industry – it's difficult for young women to feel empowered to "be" a comedian when the comedians they "see" are overwhelmingly male. But it's also worth remembering that these numbers can change and are changing, albeit slowly. Sharon Horgan, in her interview with Tommy Tiernan, was positive about the changes that are afoot but described the process as a "slow slog". The industry still has a long way to go.
And while anyone who has had the bravery to bring a stand-up show to the stage (oftentimes for no guaranteed monetary compensation, as happens in the Free Fringe at Edinburgh) will attest, money is an issue for a large majority of professional comedians. Unfortunately, it seems to be worse for women than for men. In 2014, the top 10 highest-paid comics in the US were all men. As recently as 2016, only a single woman, Amy Schumer, had broken into the top 10. Hill also highlighted the problem of the gender pay gap in the industry. She spoke to me of a recent experience of hers where both herself and a male friend were offered a fee to perform at the same event. The only difference? Her fee was less than two thirds of what her male friend was offered. Hill had to negotiate with organisers to receive the same fee as her male friend. Tina Fey has explicitly addressed the comedic pay gap, declaring it's a "terrible time to be a woman in comedy".
Des Bishop feared that people would conclude that there was "something going on" between him and Maeve Higgins if they were touring together
I began by speaking of how the story of women in comedy is not a tragedy. That it is not entirely negative. Yet in the face of all the issues detailed above, can this still be true? I would argue that it can. All around the world, women are continuously creating funny and engaging content. In fact, it's often some of the most innovative comedic content out there, drawing on new forms. Female podcasts are one such success story. In particular, "The Guys We Fucked" podcast by comedians Krystyna Hutchinson and Corinne Fisher, which commands huge numbers of listeners and continues to grow after four years. In the UK, the "Guilty Feminist" podcast by comedian Deborah Frances-White sells out live shows all over Britain, regularly holding a high position on the Apple Podcast Charts. Closer to home, Doireann Garrihy makes use of another platform, Snapchat, to share comedic impressions of well-known Irish faces. Another innovative way of creating comedy, that of the web series, can lead to large-scale mainstream success, as shown by Ilana Glazer and Abbi Jacobson. Their Comedy Central show Broad City, now in its fourth season, began life on YouTube. Amy Poehler is now an executive producer, and RuPaul Charles was a guest star on the latest series.
Last year also saw female success in the traditional comedic arenas. Australian comedian Hannah Gadsby took the top prizes at both the Melbourne Comedy Festival and the Edinburgh Fringe, sharing the Fringe accolade with John Robins. Bowen said that when it's working, comedy is "the best job in the world". Bowen described her life on the comedy circuit as "by far the most fulfilling time in my life for so many reasons". She speaks of a kind of "magic" that happens when a comedian makes a connection with a room of strangers. Another interesting point she raises is around the diversity of women in comedy now, a point that an article such as this one, seeking to address what is "a huge range of female comic … with such different styles" can miss. It's a good point, and a positive development for women in comedy.
Aisling Bea was right to question the premise of this article as one that portrayed the world of comedy as full of negativity and challenges for women. There are definitely things worth celebrating around women in comedy, and as women like Bowen attest, it can be incredibly rewarding. But it nevertheless does no one any good to disregard or minimise the issues that do, unfortunately, persist. There are very real and very pressing issues that women in the industry are still facing, from sexist comments to pay issues. There is no getting away from those Mock the Week statistics or those comments made to Bowen at the Edinburgh Fringe Festival.
If you didn't laugh, you might just cry. The stories of the highs and lows that women in comedy experience both made me laugh and made me sad as I empathised with their struggle. And while gender is not the main or only thing relevant in discussing these women and their work, I really do think that the conversation about women in comedy is one that is worth having. A recent article on Cracked.com listed being asked "What it's like to be a Woman in Comedy?"' as one of the "Five Insane Problems" that all women in comedy face. It might be an unwelcome question, but it's one that's worth asking.