Dark, packed and covered in a thick mist of cigarette smoke.
That's the description of the fabled Buttery bar that I've received nearly every time from those asked to describe it. Most students today couldn't imagine that the Buttery has ever been anything other than a glorified canteen, yet alone a dingy, cellar-dwelling bar that for many formed the centre of social activity on campus. Yet that's exactly what it was. Speaking to The University Times, Dermot Frost, a Trinity graduate who currently works in College's Centre for High Performance Computing, he describes how during his years at College "the Buttery was hopping. There was always something going on".
The space was the same as it is now, but something as healthy as a juice bar or salad selection would have been a strange sight. Instead, low-hanging ceilings and sloppily poured Guinness served as the perfect place for students that, as Frost describes, were "just having a pint after a hard day of doing no work".
ADVERTISEMENT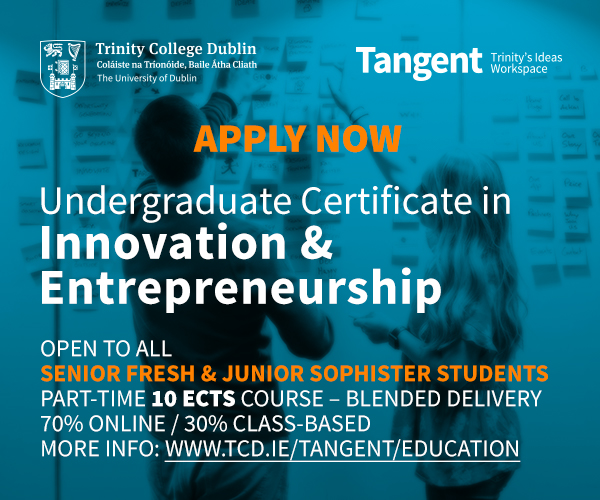 Trinity's Buttery however didn't start off as a safe haven away from the trials and tribulations of College work. According to Joseph O'Gorman, an Assistant Junior Dean, speaking to The University Times, "in actual fact the Buttery, as it is now, is actually closer to what a buttery used to be".
It was an introduction into something totally different
The term buttery stemmed from "boterie", the medieval French word for bottle, as storerooms were used to hold barrels of wine and produce. Trinity's Buttery would have been born from a similar fate O'Gorman imagines, "where milk, butter, and so forth were given out to students of the college as part of their daily diet. So, in underneath of the Dining Hall would have been a perfect place for it".
Yet it wouldn't be long before beer and ale crept into the Buttery's inventory. O'Gorman describes how, in those days, water from the river or the College well couldn't be trusted. So beer, which required clean water to make, became the next alternative. He suspects that the idea of a bar in the Buttery developed out of that, as "you had to have some place to store the kegs, you had to open the kegs, and people would then receive their ration of beer there".
It wasn't until licensing developed that the Buttery became a proper bar. Once it did, it evolved into the beating heart of College. Long before the indoor smoking ban and in a time when there weren't 17,000 students and countless more tourists bustling around Trinity's grounds, the Buttery bar was a staple of Trinity life. With creamy magnolia walls the only light aspect to a room that was filled with black wooden benches and black tabled cubicles packed underneath a low-arching ceiling, one imagines during its busiest days the Buttery would have seen a never-ending flow of student energy and activity. For O'Gorman, it represented "this capturing of a youth that was probably misspent, certainly best forgotten".
For many, the Buttery bar would also have been the first exposure to what College life could entail. Neville Cox, the Dean of Graduate Studies and law lecturer, remembers that for him "it was an introduction into something totally different". Recounting a memory of visiting the Buttery one morning for a early session of pints, he recalls that the attitude taken was one of "because why not, because you could. It was brilliant". The Buttery bar, it seemed, provided the perfect contrast to lectures and the perfect escape from the library.
However, it wasn't just a place for students to intoxicate themselves within Trinity's walls. It was an institution for all members of college. Frost recounts how "you could randomly bump into one of your professors standing at the bar. Sometimes you had a fight about something, sometimes you'd have a chat, sometimes even they'd buy you a beer". During its peak, the bar formed a nexus point of College life.
The venue also served as the perfect space for society events as well. "There was movie nights, there was quizzes, there was battle of the bands, there was céilís. Anything and everything went on there", Frost recalls. Looking back, one of his most vivid memories is when a society managed to get their hands on a copy of Natural Born Killers, a movie that had been initially banned from theatrical screening across the country due its controversial themes. In the depths of the Buttery bar however, it was played to a full house. "You couldn't move because of the number of people squished in."
"It was a rubbish movie, but it didn't matter. We were being subversive and because it was a members' club, because technically it was, you had to have student ID to get into it, you could get away with doing things that you couldn't do in a commercial location."
The atmosphere would have been similar during the students' union elections, which also used to take place in the Buttery bar. O'Gorman remembers the pandemonium of each announcement, explaining how "by the time it got across the bar by the passing of mouth, it would be chaos. It was funny".
Even during Trinity ball, the Buttery remained open and full. With the same cohort of students flooding down the ramp and underneath the Dining Hall, Frost reflects how "it would have been the same staff serving the same pints to the same people, but we're all just in tuxes and ball gowns". A statue of consistency, it seemed as though the Buttery bar made College life tick, as a door that was always open and always full of fun.
But the Buttery bar wasn't the only place on campus to go. When speaking to people about College life then, the divide between the Pavilion Bar (the Pav) and the Buttery invariably is mentioned. Cox explained how "the Pav was for sporty people, and the Buttery for arts". Between the rugby, hockey, and cricket clubs, the Pav had enough business to keep it going, and it "did have its own charm".
You couldn't move because of the number of people squished in
During the summer time, numbers in the Buttery dwindled as the sun came out and everyone migrated to the Pav. However, despite the divide and its consistent lack of natural light, for most it seemed that the Buttery bar had a draw to it that nowhere else quite did.
After decades of success, the downfall of the Buttery bar came in the early 2000s. Unable to compete with "newer and trendier" venues that sprung up across the city, it sustained consistent losses of over €80,000 for several years. At the time, it also appeared that student enthusiasm for the venue had grown weary. A Trinity News article in 2004 questioned why the Buttery Bar was not run by the students' union, and in response to increasing prices demanded that "we are students and we deserve student prices". Senior Dean Cyril Smith even admitted that "the built-in clientele of College has gone elsewhere". Eventually, the losses coupled with negligible activity forced the Buttery bar to close its doors in 2006.
For many graduates, who had accumulated so many hours in the bar over their years as Trinity students, it came as a huge disappointment. Cox said that upon finding out, the feeling was that "it was a real shame. It was such an iconic thing for arts students at the time, it was like this great institution had disappeared".
Graham Daniels, the Director of Accommodation & Catering then, devised a project to overhaul the space. Speaking to Trinity News in 2007, he explained how student responses to surveys indicated three types of customer: those looking for a hot meal, those who wanted a quick grab and go lunch and those who want to get a coffee and snack and relax. From that, the Buttery's structure was remodelled, with its "Eat", "Gather", and "Chill" areas each targeting one of the three ambitions for the space. It remains the same way today, as a food emporium that provides an alternative to Spar's steady supply of chicken fillet rolls.
Overall, whilst the Buttery may not inspire the same degree of nostalgia in current visitors as it has done for students past, it nevertheless retains within its walls a history that is rich and full of life. Once iconic as the beating heart of College activity, it now rests dormant as a coffee house and bistro. But here's to hoping that one day, the Buttery returns to being more than just a place to go and get a big plate of chips.