Back in March, personal achievement upended team disappointment at the Irish Universities Sailing Association team racing Intervarsities, as Dublin University Sailing Club's (DUSC) Mark Bolger was named Student Sailor of the Year despite Trinity's defence of their title ending prematurely at the hands of eventual winners University College Cork (UCC).
Perhaps the measure of Bolger's award lies in the fact that it is chosen by his fellow sailors around the country who have seen his talent first-hand, rather than a governing board. "It was at Intervarsities, there was a prize-giving at the ball, that's where they announce Sailor of the Year and Fresher of the Year. It's just the committee that chooses, they go around to the captains of the colleges and they come up with the choices – it was a complete surprise", admits Bolger, who has been an integral part of Trinity's remarkable performances in the past two years.
A second-place finish in the 2016 intervarsities, which also saw Trinity sailor Scott Flanigan win Sailor of The Year, set the tone for a stellar 2017.
ADVERTISEMENT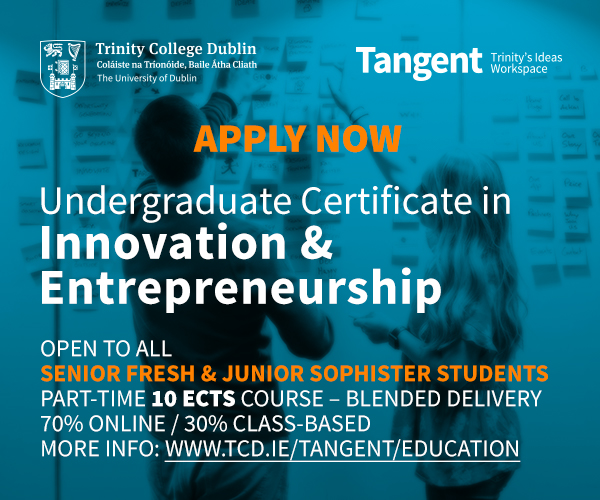 Victories in the Northerns along with gold, silver and bronze medals in the Easterns all pointed towards a strong showing at intervarsities and Trinity did not disappoint, winning a historic first title in 11 years. This domination of the sailing calendar would form the basis for Bolger's individual accolade.
DUSC's fine performances have not gone unnoticed
"It's [Sailor of The Year] based on your performance through the year so we had quite a good year, the Trinity first team did, we won our first two events before Christmas and we won our first intervarsities last year. We had a slightly disappointing end to the year – so I think it was based off Trinity's performances earlier in the year."
The future looks bright for DUSC, with Bolger around for one more year and second-year Conor O' Byrne also representing Trinity's first team: "We are doing very well. On the firsts we have me, Conor O'Byrne and Rory Finnegan, who is in final year. Conor is only in second year, he was the one who I thought was going to get Sailor of the Year. He is sailing very well, so we're in a very good place."
DUSC's fine performances have not gone unnoticed by those outside of DUSC, with Dublin University Central Athletic Club (DUCAC) and the Trinity Alumni Fund teaming up to purchase a new fleet of boats which will be available for the start of next season.
Despite the individual spotlight, Bolger insists that the recent success is not down to any one individual in the club. He does, however, highlight the influence of the coaches, a vital aspect of college team racing: "We've had a lot of good coaches in the last two years. We had a coach called David White who was an ex-captain of ours – he coached in my first year. Billy Clarke was our coach last year up until Christmas but we haven't had a coach since Christmas. But Billy is coming back next year. They're hard to come by, they're all young professionals."
With coaches few and far between, the coaching duties often fall upon the senior members of the club. "Our first team will coach the lower teams, the thirds to sixths, and then we just try and get as many of the old lads to come back to coach the senior teams", Bolger offers.
Given the experience and achievements of the current first team, they are as suitable coaches as any and are handing down a heritage of success to those working their way up the ladder. Despite the individualised nature of the sport, coaching is of paramount importance, particularly in university sailing, as Bolger explains: "College sailing is very different to regular fleet racing. It's three versus three, so it's very technical, so you've to learn all the rules coming in. If you come into college as the best sailor in Ireland but don't put any effort in, you're not going to do very well, so the fact that we had a coach in my first year allowed us to get straight into it and we had a good team from the start."
He further expands on the exciting nature of team racing and why he prefers it to the individual fleet racing he took part in before coming to College: "The best comparison would be that it is like rugby sevens. It's the shorter, more entertaining version of sailing. Typically a fleet race would be 60 boats, every man for himself from the starting line. The race would last from 50 minutes to an hour and 10 minutes, so it's very physically draining. It's just all about speed and strength. Team racing lasts from 12-15 minutes and it's very high intensity and there are lots of manoeuvres. It's just good fun being 15 minutes on and 15 minutes off."
I'm not too sure what I'm going to do next but I will obviously keep on sailing
Bolger admits that, as a third-year geology student, balancing College work and such an intense sporting endeavor can be quite tough, but also offers a welcome break from the books: "It's quite full on but it is quite nice. It's just every weekend, it's hard to do any sailing midweek. We try to fit in some sessions in on Wednesdays before events with the first and second teams. So you just learn to not get anything done during the weekend and put in a big shift in college during the week."
Bolger has been sailing since he was six-years old and cut his teeth in Baltimore, Cork: "That's where I first learned how to team race and met lots of my teammates before coming to College." Having been involved for so many years means that the end of his college years will not bring a divorce from the sport, but rather new challenges: "I'm not too sure what I'm going to do next but I will obviously keep on sailing. Team racing dies off a bit after College so I'll have to pursue something else, I just haven't decided what that will be – I'm hoping to get into some yacht racing or something like that."
Given what he has achieved on a personal level and in team competitions at this early stage in his career, one would expect him to land on his feet in whatever discipline he chooses to pursue.
Correction: 19:00, April 20th, 2018
An earlier version of this article incorrectly stated that sailing intervarsities took place in November. In fact, intervarsities occurred in March.