After a long day of campaigning across Dublin city centre, Trinity College Dublin Students' Union (TCDSU) wrapped up its "super canvass" with a banner drop at the front of Trinity this evening.
The banner, which advocates a "Yes" vote in the referendum on the eighth amendment on May 25th, was draped over Trinity at 6pm today.
This is not the first time a banner has been dropped over Trinity this year, with Strike 4 Repeal staging a similar stunt back in January. The banner, which featured a lightning bolt but no explicit reference to the repeal campaign, was quickly removed by security. In the run-up to the referendum on same-sex marriage in 2015, a Yes Equality banner was also hung down Trinity's facade.
ADVERTISEMENT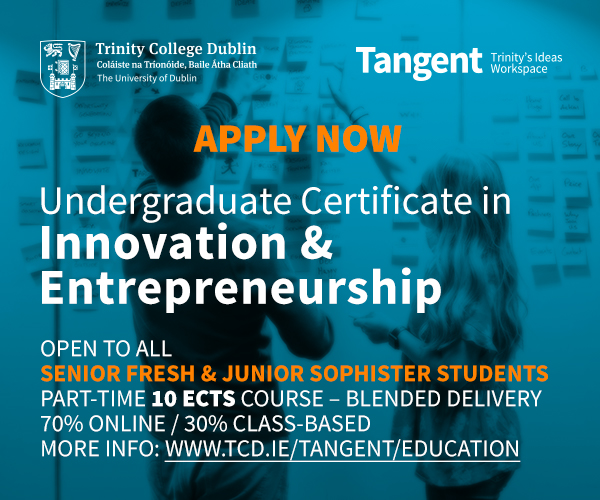 This evening's banner drop marked the end of today's "super canvass", which saw students take to the streets of Dublin for a mass canvass for "Yes". Earlier today, over 60 students gathered outside House Six to kick off the day's campaigning.
The canvass was supported by the Union of Students in Ireland (USI), with a number of Dublin students' unions sending members to support today's campaign. In a press statement, USI President Michael Kerrigan said: "It's great to see almost 100 Trinity students holding over 20 Together for Yes stalls across Dublin today. Despite exams being on, students are still actively campaigning to remove the cruel Eighth Amendment. Students are ready for change, and are demanding a more caring and compassionate Ireland."
USI President-elect Síona Cahill, as well as Vice-President for the Dublin Region Aisling Cusack and Vice-President for Campaigns Amy Kelly joined the canvass today.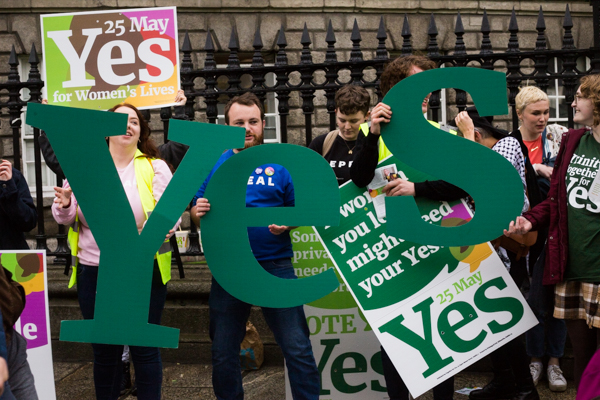 Over the course of the day, more than 100 Trinity students took part in the mass canvass, with up to 20 Together for Yes stalls set up across various city-centre locations. Students acted as stall co-ordinators and general volunteers, providing information to the public about the Together for Yes campaign and what a "Yes" vote will mean.
"The supercanvass is a great opportunity for students to show that we are leading on this issue and have been for years", Kevin Keane, the President of TCDSU, told The University Times yesterday. He said 19,000 leaflets were handed out over the course of day.
With just under two weeks left until the referendum on the eighth amendment, the campaign's attention has largely turned to face-to-face canvassing – considered key to securing last-minute votes. Canvassing efforts by the College community have surged recently, with TCDSU launching its official canvassing campaign last month.
While recent opinion polls still indicate a lead for the "Yes" side, many people remain undecided. On Saturday, the pro-life campaign staged a rally at Merrion Square.
TCDSU recently ran last-minute voter registration drives, which resulted in over 1,000 people getting registered in one day.