Trinity's top student entrepreneurs unveiled their companies and products today, as the participants of Launchbox 2018 were revealed.
Over the next two months, students will compete to be named the top company of accelerator programme Launchbox, which has raised €6.3 million in investment and funding since beginning in 2013.
Today's event saw the teams pitch their startup ideas, with concepts including an automatic online donation service and a system for outsourcing graphic design to undergraduates.
ADVERTISEMENT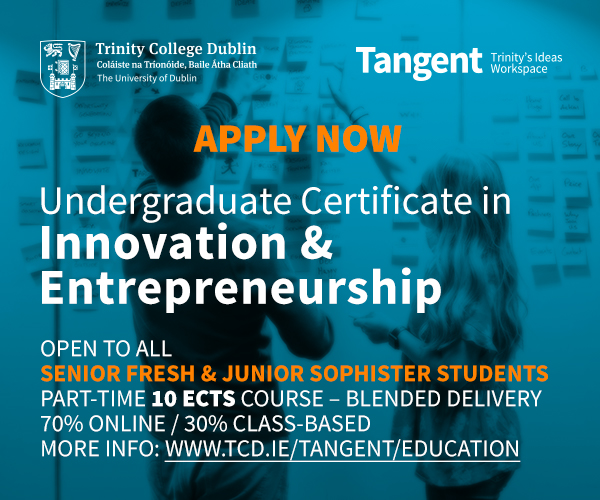 Other companies will focus on wearable facial shaving devices and LED-timed shower heads.
This will be the final year that the programme is run from the Graduates Memorial Building (GMB), before moving to a more permanent home in the new Innovation and Entrepreneurship Hub in the Trinity Business School.
Speaking to The University Times, Alison Treacy, the LaunchBox Programme Manager, said: "As ever I'm very proud of the students. This was day two for them and so it's a big ask to get them to pitch in front of an audience on only their second day. I think they all did tremendously well and I'm really excited to be working with them over the summer to make their startups more of a reality."
The 10 teams will work on their businesses throughout the summer, before a final pitching competition in August.
Since 2013, the 50 student startups involved in the programme have created 122 jobs, with FoodCloud, Evopass and Equine Medirecord among some of the most successful companies.
LaunchBox, managed by experts in Trinity, provides mentorship, funding and access to investors for student companies.
In a press statement, the CEO of the Innovation and Entrepreneurship Hub, Fionnuala Healy, said: "LaunchBox is a great opportunity for students to work on their business idea with mentors over the summer."
"It is a real opportunity for our students to showcase why Trinity is number one in Europe for producing entrepreneurs. Partnering with Bank of Ireland amplifies our impact and connects our student companies with domain experts and mentors", she said.
Trinity has been ranked as the top European university for producing entrepreneurs three years running by Pitchbook and Provost Patrick Prendergast has long been vocal about the benefits of promoting entrepreneurship among students and staff in Trinity.