For the first time ever, an Irish team has qualified to compete in Elon Musk's SpaceX Hyperloop competition, which takes place on July 22nd in California. This year's final is the culmination of a process that saw over 700 teams applying from across the globe, with just 20 being selected to come to the SpaceX HQ, including Team Éirloop from Ireland. The Irish team includes students from eight third-level education institutions around Ireland, and features students from Trinity. The team's transport pod was officially unveiled at Dublin City University (DCU) by Minister for Innovation, Research and Development, John Halligan, before being transported to SpaceX HQ for the competition.
Most people are aware of Musk's plan to fill our roads with Tesla electric cars and his ambition to send manned flights to Mars and eventually to set up a colony there. Less well-advertised, perhaps, is his vision for a futuristic transportation system called Hyperloop, which could revolutionise travel as we know it. Essentially, it would involve special pods carrying passengers and freight that would travel rapidly through a system of near vacuum-sealed tubes.
The competition started in 2015, inviting the best student teams from around the world to come to California and test their miniature prototypical transport pods. The tests take place in a 1.2-kilometre stretch of Hyperloop vacuum tube, built especially for the purpose.
ADVERTISEMENT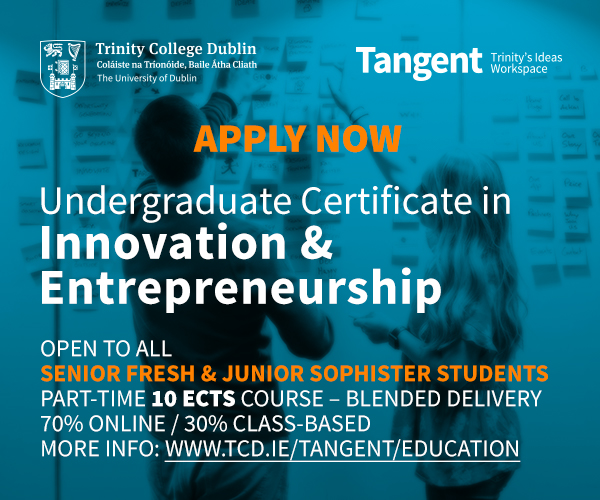 The competition also helps raise awareness of the Hyperloop concept, paving the way for a mode of transport that Musk believes will eventually prove more cost-effective than planes or trains.
The Éirloop team has speculated that Hyperloop technology could make it possible to travel from Galway to Dublin in 11 minutes. For context, it currently takes about 11 minutes to travel the three stops from Sandymount Dart Station to Pearse St Station.
If it did prove feasible, however, it is unlikely we would see it in Ireland for a while due to the initial high start-up costs.
It's a commonly accepted idea in entrepreneurial circles that assembling a diverse project team is key to coming up with innovative solutions. The Éirloop team is a good example of this. Speaking to The University Times, Arthaud Mesnard, Éirloop's head of sponsorship, currently in the US, said: "The Éirloop team is composed of over 40 students from eight institutions of higher education in Ireland, and has a mix of gender, nationalities and educational disciplines."
"This broad inter-institutional collaboration along with the inter-disciplinary nature of the team has brought a particular strength and creativity to the process", Mesnard said.
The team is composed of students from engineering, physics, electronics, computer science, product design and business, to name a few.
As head of sponsorship, Mesnard has been particularly busy over recent months raising support and funding for the project. He said: "We have received vital support in cash and in-kind from universities, businesses and others, including from Trinity College."
"We eventually got enough funds and support to finalise building the prototype pod and then looked to bring in some further funds to support additional testing in the run up to the event and to allow us to send out a small number of the team to facilitate the whole process smoothly at SpaceX." The Éirloop team carried out partial tests on elements of the pod in recent weeks, including making use of a vacuum chamber in UCD.
So what does Team Éirloop hope to achieve? Mesnard said that building a viable test pod and getting to compete with it in SpaceX this summer was its key aim. The team expects to reach speeds of over 500 kilometres per hour with the prototype. It would seem that no matter how the Éirloop pod performs in the actual Hyperloop competition in SpaceX, each member of the team will have learned invaluable lessons from the whole process leading up to the event.
Developing a pod that can travel at several hundred kilometres through a near-vacuum tube in California is quite a feat. But so is facilitating effective cooperation between over 40 third-level students from a variety of disciplines, from eight educational institutions across Ireland, and raising the funding and support to help turn this from an idea into a viable prototype ready to compete at a global level.
At a time when almost all Irish universities have slipped down the QS World University Rankings, Team Éirloop's success demonstrates that Irish students and institutions are still capable of competing successfully with the best in the world in the areas of innovation, engineering, technology and enterprise.