In what was described by last week's Sunday Independent as a "landmark moment" in Ireland's battle with obesity, a medical consultant revealed he is treating a young patient who weighs more than 51.9 stone. The individual was too heavy for the hospital scales to weigh.
In May, experts from the World Health Organisation (WHO) predicted that Ireland is on course to become the most obese country in Europe by 2030. Clinically defined, overweight people are those who score a measure of 25 to 29.9 on the Body Mass Index (BMI). Those defined as "obese" have a BMI of 30 and above. What may appear as a new Irish problem has actually been creeping up on us for a long time.
The influx of fast food restaurants to Ireland began in the nineties and has not stopped since. This year the American burger joint Five Guys opened its second branch on Dublin's George's St. Five Guys is the latest addition to the saturated burger-based eateries market in the capital, joining the likes of Bunsen, WOWBURGER and Bóbós. Dublin is also set to get its first ever branch of the world-famous coffeehouse and donut chain Krispie Kreme this year. Offering a huge variety of mouth-watering, calorific treats, Krispie Kreme will inevitably attract thousands of customers upon its opening in Blanchardstown Centre later this Autumn. These companies have done their market research and the demand is clearly there for comfort food. One cannot blame the CEOs of such companies for capitalising on the fact by opening Irish branches.
ADVERTISEMENT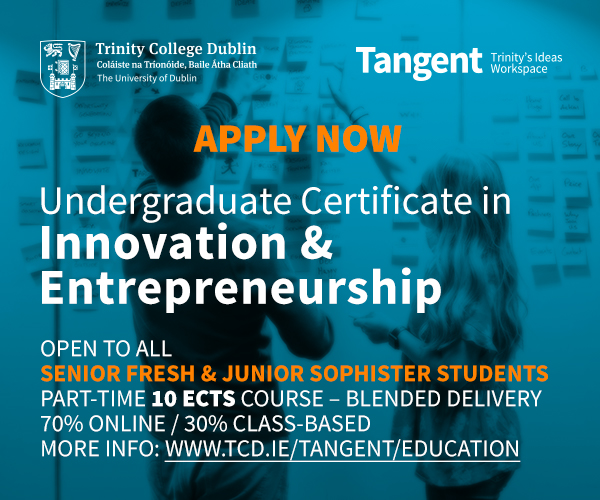 But how can we as students tackle our evident obesity crisis while besieged by coffee shops and fast food? Furthermore, how can we do it without the support of our university? On our very first week in college we are inundated with vouchers for food that is usually far from nutritious. Freshers' Week last year was a sea of burritos, frozen yoghurt and donuts. Even Trinity College Dublin Students' Union's (TCDSU) shop houses a donut brand.
Fault, however, doesn't rest solely with societies. As second year rep for a society, I have contacted numerous healthy eateries in an effort to make a shift in culture towards healthier alternatives. Unfortunately I have received no responses from the large variety of healthy lunch spots which surround Trinity. It is understood that healthier food is expensive, while students are on a budget. If students had access to vouchers and deals for healthier alternatives they may be less likely to start the year in a negative eating pattern.
Freshers' Week last year was a sea of burritos, frozen yoghurt and donuts
Looking at Trinity itself, last year I noticed worrying signs that College was edging ever closer to becoming a comfort-food haven. Walking into the Arts Block each morning you are greeted by the sweet scent of fresh pastries on offer by the Perch café. Delicacies such as macaroons and carrot cake are on platters right beside the paypoint, making it next to impossible to order a simple americano on its own. I don't mean to be a killjoy, I enjoy a macaroon or a pastry with my coffee as much as the next person, but a struggle with willpower when it comes to food is a huge issue faced by people who are classified as overweight or obese.
In the Buttery, you actually have to lean over a rack of doughnuts to insert your T-card into the machine. "Bad marketing, isn't it?" I observed to the man serving me one day. "It's actually really good marketing", he laughed. And he was absolutely right, it is excellent marketing. My point was that it is successful marketing with a potentially deadly side effect. The economic "perverse goods" of Trinity, one could argue. Surely College has a duty of care to its students to assist them in their health journey, while making an robust effort to combat the biggest health issue facing the nation? I recognise that the Perch and the Buttery offer plenty of fruit and have recently begun to sell smoothies. I don't believe the problem is the lack of fruit and veg on offer, but the wealth of junk food which makes a few oranges look pretty bleak in comparison.
Trinity can most definitely do better in its own battle against obesity. College has shown that it has the capacity to make positive changes, with its adoption of the recent plastic-free mandate an ideal example of that. The design of a Trinity KeepCup is another very public display of support for the cause. However, while apparently open to lobbying on environmental issues, Trinity has struggled to prove itself as dedicated to tackling societal challenges. University College Dublin (UCD) recently became the first third level institution to ban sugary drinks, following a seven-week trial across 16 of its food and drink outlets. A trial along the same lines would not be difficult for Trinity to implement, and the benefits to students could be huge.
College has a duty of care to its students to assist them on their health journey
People will argue that it is an individual's choice what they decide to eat. In response, I argue: why make it increasingly difficult to choose the healthy option with incessant marketing ploys? Trinity needs to step up and think about more than the profits that accumulate from the sale of junk food. The health and wellbeing of students is paramount to all universities and as a leader in Irish education, College should recognise this.