It's a fresh day down at Grand Canal Dock, the last of the summer heat slowly drifting away as a cold breeze blows in from Dublin Port. I have ventured down to meet PJ McGrane, the BESS alumnus, former Trinity GAA secretary and football intermediate manager, PJ McGrane (better known by his twitter handle stats_machine), who is now in his second year of the Deloitte graduate programme.
In recent years McGrane has combined his data analysis talents and passion for GAA to become one of the most sought-after statisticians in the country, recently providing statistical analysis to the Louth Ladies footballers during their historic run to the Junior All-Ireland final.
After the formalities, McGrane sits down with his "authentic Italian" cappuccino and, after a considered mixing of froth, we begin. "How did I get into stats?" He gives a broad grin. "I guess you just get roped into it like anything else in the GAA. I just wanted to help out in the club like anyone else, but obviously, with the heart, I couldn't do it on the pitch, so you just find other ways of getting involved."
ADVERTISEMENT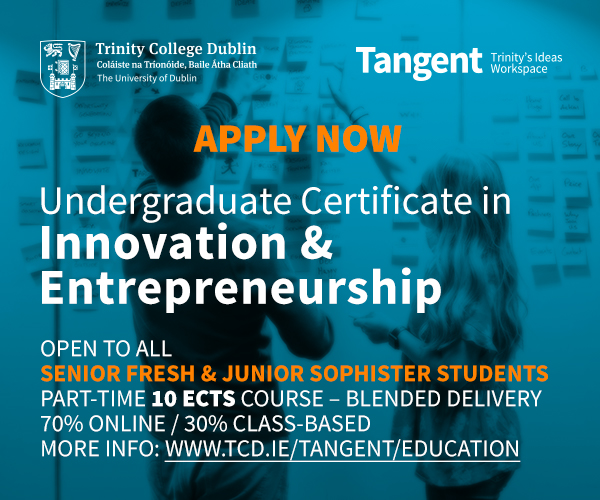 McGrane was born with congenital heart defects. "Most hearts have four chambers. I have three. I was born with two holes in my heart and a couple other complications. In summary, my heart is about 70 per cent that of a normal 23-year old man, which obviously has its limitations", he says. These limitations have not prevented him from becoming a mainstay of Trinity GAA and on the sidelines of Glen Emmet's, a GAA club in Drogheda.
He describes with a sense of pride how at first he worked with underage teams – "just teaching them the basics" – but as they progressed through the age ranks, he too progressed in his approach to the game, constantly looking for a new edge in an increasingly competitive underage system. He found this edge in statistics.
"Just out of interest I started looking at the basic stats. How many shots did we take? How many scores did we get from those shots? How many kick outs did we win?"
What separates McGrane from other statisticians is his ability to take the quantitative data reaped from these games and transform it into a qualitative change in his teams' strategy. This ability to extract meaning from statistics is what marks him out from the crowd and what has earned him a call-up to the senior backroom staff of Glen Emmets for the 2015 Louth championship and, more recently, the Louth intercounty set up.
My heart is about 70 per cent that of a normal 23-year old man, which obviously has its limitations
A good statistician rarely reveals his secrets, and McGrane is no different, but for a moment he pulls back the veil slightly. "The key to collecting statistics is making sure that every stat means something. For example, if you are a team that focuses on being intense in the tackle, the KPI for turnovers and interceptions will be much more important than counting how many foot passes there were in the game", he says.
Seeing my puzzled expression at the mention of KPI, he quickly backtracks. "KPI stands for Key Performance Indicator. These are at the heart of every stat collected. What a KPI focuses on is looking at an event and the resulting outcome of that event, i.e. there was a tackle, was the ball turned over or not." Essentially what KPIs do is move statistics away from just being cold numbers. They give each number a context to an in-game event.
It's the ability to pick out these key statistics that McGrane prides himself on. It's why he reckons Glen Emmets achieved their "surprise" championship victory in 2017 when they beat fierce rivals Glyde Rangers by a point. It's within these fine margins that the statistics make their biggest impact on a game.
"The stats should be used to inform coaching. For example in that championship final, one of the vital scores was fisted over by our full forward after going past his man and taking it inside for a higher percentage shot", he says. "The stats throughout the year had told us that when this particular player shot first time, his scoring percentage was much lower than what it could have been. The stats also showed that when this particular player took on his man and went past him, this percentage rose quite a bit."
He continues: "In the sessions leading up to the final we took him aside and showed him the footage to highlight how going past the player exponentially rose his scoring rate. It's the ability to not only tell a player you should be doing this but to show them as well, with the video analysis, that makes statistics so important in modern GAA."
As statistics become more important in the game, one must wonder if it's truly fair to have a resource such as McGrane available to some teams and not others within an amateur sport. When Chelsea first came to the forefront of English football on the back of Russian oligarch Roman Abramovich's takeover, then-Arsenal manager Arsene Wenger compared their new-found success to cheating, calling it "financial doping".
They could afford players and resources that were unthinkable for much of their competition. When I ask McGrane if he sees his services as a form of financial doping, it draws a wry chuckle. He leans back in his chair to briefly ponder the thought.
What separates McGrane from other statisticians is his ability to take quantitative data and transform it into a qualitative change in his teams' strategy
"I'd say no. Any team can do the basics of what I provide." And then a brief pause as he paws his chin. "[If] a team isn't scoring, first of all, they have to find the problem of whether they're just not accurate or if they're not shooting in the first place", he says. "Stats like those, any aul' lad on the side of the pitch can do. It's simple stats like that that I started out with."
It's not simple statistics like that that are winning championships, though. Regardless, McGrane maintains that "the resources to collect good statistics are out there and available to everyone. If a club wants more in-depth statistics, everyone has a decent camera in their back pocket these days more than capable of recording a match. Then all they have to do is review the footage looking for the statistics relevant to the area of concern ie turnovers or unforced errors".
As our coffee begins to turn cold, and the grey light of the cloud-covered sun begins to dim, our interview meanders towards an end. McGrane finishes off his now-chilled cappuccino before answering one more question.
"What is the best thing about statistics? It's probably the way they take [away] any bias from the game. GAA is terrible for putting labels on lads, like, 'he's an awful passer, or he can't shoot for his life'. Statistics take these labels away and can show the unbiased facts."
What is the best thing about statistics? It's probably the way they take any bias from the game
"An example is: last weekend there was an intermediate game, and one of the aul' lads on the line was screaming at the half forward not to kick it because he got a name for himself as an awful passer at underage level. When I looked back on the stats after the game, I could show him that the lad had only misplaced one pass from seven off his foot for the game. It's the removal of these [biases] that I love most about statistics. It gives the cold facts."
Just as Chelsea's money changed the face of English football, so too has statistics changed GAA. While Wenger's fight for an equal financial footing for all was morally valiant, he suffered the consequences of his principled stand in the years that followed. If a team is to be successful, it must move with the times and, in GAA terms, this means wholeheartedly embracing the cult of statistics.
Pat Spillane once famously dubbed statisticians "a load of spoofers and bluffers". While he may attribute the death of Gaelic football to the likes of McGrane, there is no doubt that for top-level success in the modern game, a team must embrace every advantage available to them. Teams such as Kerry and Kilkenny, who traditionally played off the cuff, are now being out-thought both on and off the pitch by teams willing to embrace this cold new post-modernist GAA landscape.
The 16th man is no longer some intangible connection to the crowd's energy, but someone spending countless hours trawling through footage and analysing the systems and weaknesses of their opponents. The new giants of GAA are the ones who not only adapt to change but predict it.