Last month, the news that John Reynolds had passed away shook the Irish music scene to its core. Considered by many as the father of boutique festivals in Ireland, Reynolds and his genius led to Electric Picnic, Metropolis and All Together Now becoming staples in Ireland's festival calendar. Since this tragic event came to pass, the great and the good of Irish music have been reminiscing on the immense cultural impact his projects have had and on his integral importance to the Irish music scene. Tributes poured in from various artists, including The Stunning and James Vincent McMorrow, not to mention various other music industry employees who have worked alongside him and those who have frequented his festivals and clubs over the years.
To simply call him a concert promoter does not do his profound influence on the Irish musical landscape justice. A Trinity graduate, he is frequently lauded as a visionary and a true innovator. He pushed boundaries and took great risks to facilitate the exhibition of deserving art. Reynolds was well-known as a former owner of POD nightclub on Harcourt St. Upon the establishment of POD in 1993, the nightclub rapidly became a fundamental fixture of Dublin nightlife. With its uniquely chasmal setting in an old railway station, it was clear from the offset that this club was something special. It contributed to a major boom in Irish club culture at the time, and despite closing its doors in 2012, its legacy of legendary blowouts lives on.
In an email statement to The University Times, Rebecca Blomfield, who was a regular attendee of POD, discussed her experience of the club: "The POD was the place to go on a Friday night from when it opened in 1993. It was the place to be seen. I was an air hostess based in the U.K and when I had friends or family over we took them there. I sometimes used to arrange my work schedule to go to the POD as it was such a fun night. The glamour was amazing."
ADVERTISEMENT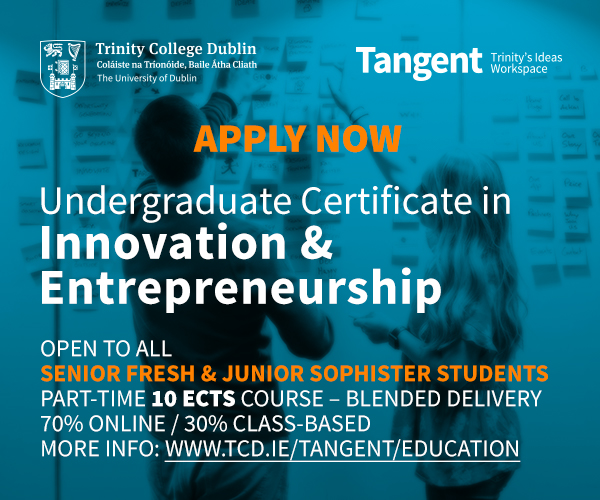 Blomfield describes the music played at POD as having a major impact upon the Dublin arts scene. "We danced there as some of the DJs were friends", she explained. "The music was groundbreaking and it hosted prominent DJs and musicians, like Heather Small from M People. It helped dance music and rave to become mainstream."
Blomfield also notes that POD was hugely important because it was also a place of inclusivity and tolerance. "No matter what your sexuality you were welcome", she said.
Likewise, Reynolds is well-known as a co-founder of Electric Picnic, alongside Robert Laffan. Electric Picnic is Ireland's answer to major festivals like Glastonbury or Benicassim. It was set up in 2004, and has had an eclectic mix of artists, from The Sex Pistols and Kraftwerk to Arcade Fire and Sonic Youth, playing there over the years. Attending your first Electric Picnic festival is a definitive milestone that exists in the life of any music fan who calls Ireland home.
One of his more recent endeavours involved the creation of the All Together Now music festival. All Together Now is an embodiment of the boutique festival, something which Reynolds was particularly fond of. It is far removed from the usual festival associations of mud and grimy portaloos. Providing something a little more opulent, All Together Now embraces farmers markets, wellness areas and lavish installations alongside the music it champions. It certainly isn't to everybody's taste, but it has proven to be a popular addition to the country's festival circuit.
The fourth edition of Metropolis, also founded by Reynolds, was hosted on the weekend after his death. Despite the tragic events of the week before, the festival went ahead as a tribute to his legacy. Held in the RDS, Metropolis is a unique indoor winter music festival and conference. It was the first of its kind in Ireland, shaking up the festival landscape with Reynolds' trademark vigour. Stages are housed in the various warehouse spaces of the venue. It is a vital event for the promotion of local, as well as international talent. This year's festival saw Irish artists such as David Keenan, Kojaque and Villagers take to the stage, as well as international acts like Mac Demarco and Grandbrothers. Trinity Orchestra, notably, also played. Through the running of his festivals, Reynolds helped so many artists find their feet and reach out to receptive audiences, significantly aiding their careers in the process.
In an email to The University Times, Auditor of Trinity Orchestra Luke Rynne Cullen spoke about his experience of playing at Metropolis. "Metropolis is the only indoor festival that we play every year", he explained. "It provides a more intimate setting than most typical festivals on the circuit and it is really easy to get from one stage to the next as they are just in adjacent halls. The acoustics in the large halls are really fantastic when compared to their outdoor counterparts."
While formerly known for its epic nights out, POD is now an independent festival and concert promotions company that runs All Together Now, Forbidden Fruit and Metropolis. The list of illustrious musicians it has brought to these shores includes Leonard Cohen, Patti Smith, Prince and Adele. "The people working in POD are really easy to work with and will help the artists out with whatever they need," explained Rynne Cullen. "Establishing a great working relationship with them will greatly help any emerging artist as it opens the doors to Forbidden Fruit, All Together Now and Metropolis."
Reynolds evidently had a hands-on relationship with the artists whom he promoted. Rynne Cullen complimented how approachable Reynolds was and his passion for young talent. Remembering the orchestra's set at Forbidden Fruit this year, Rynne Cullen explained how Reynolds was so impressed with Trinity Orchestra that he gave the entire group VIP entry to a Nick Cave concert happening the following week.
Judging by the overwhelming amount of appreciative tributes about Reynolds in the weeks following his death, this act is just another example of the man he was. His work has stretched across generations of music lovers, leaving an irremovable mark on how festivals are run in this country.