It's hard not to feel a stab in your chest watching the promotional video for 20×20 – a new initiative designed to increase not only female involvement in sport but also the media coverage of it by 20 per cent by 2020. In the video, young girls in various kits recite their various favourite players, all male. Asked about their female sporting heroes, they pause and fail to come up with any names.
Growing up, my walls were littered with posters of Gaelic, soccer and rugby players. Each picture was carefully cut from newspapers and magazines, some yellowing and fraying at the edges, following epic wins. I'm not ashamed to say I cried when Ronan O'Gara slotted the ball home in 2009 or when Arsenal came back from 2-0 down to beat Spurs 5-2 in 2012. However, rarely did my eye stray to female competitions. While avid in my support for any local female teams – which, admittedly, I was generally always involved in too – it was virtually impossible to find out what was happening in women's sport elsewhere. Sometimes the Irish Times would post scores or a hundred words on some of the senior football or camogie results but that was the height of it.
The aims of 20×20, then, are a welcome development. Anything that promotes women's sport is something I am behind. Rather than media stories focusing on the dire situations under which women's teams are expected to compete, give me match reports and interviews with some of Ireland's top sports stars.
ADVERTISEMENT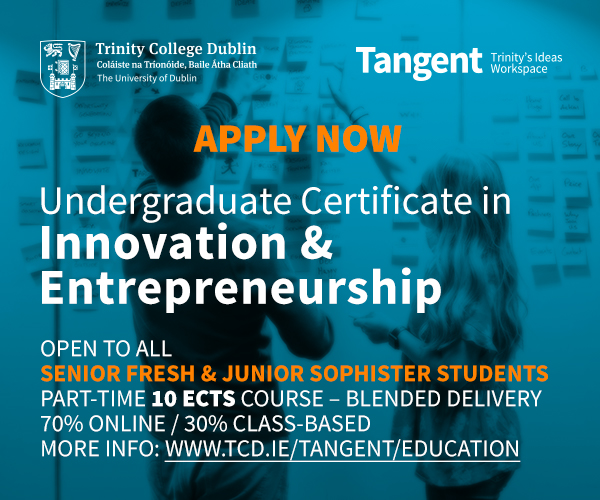 However, it was disappointing to see no mention of the new programme from Trinity. A quick browse of Trinity Sport's website and its social media accounts shows no celebration of the launch or any idea of how the body plans to implement it within the College. Dublin University Central Athletic Club's (DUCAC) social media reveals even less.
Universities are one of the key stakeholders mentioned in every article, every press release and every promotional tool about the initiative
Universities are one of the key stakeholders mentioned in every article, every press release and every promotional tool about the initiative. Hitting target groups at every level is essential if it is to be successful. Especially when you remember that 20×20 isn't designed to just target the Sonia O'Sullivans or Rena Buckleys of tomorrow. It's aimed at helping all women, whether you participate in sport once a week or spend your entire life on a pitch or court of some type.
The colourful relationship between Trinity and the College's female teams doesn't do much for my optimism. In the last year alone there have been several upsetting examples of how the College's sporting hierarchy views women's teams. In February, Dublin University Football Club (DUFC) Director of Rugby Tony Smeeth faced condemnation following comments he made about the female contingent of his teams. When asked about the fact that the men's team, upon selection to DUFC's Colours squad, received a blazer, scarf and tie to mark the occasion while the women selected got nothing, he said: "The problem I had was some girl you just got to fill up the bench who has probably never played before, she gets a blazer? And I have got like six teams worth of players who would die for that blazer who have been playing all their lives. That's the problem I would have with it. We've got girls here who are good enough who are ready to go and I understand there has to be some sort of compromise."
Smeeth may or may not be aware of it, but this year DUFC Women embarked on a remarkable five-match unbeaten run to begin their season, and are currently in second place in Division 3 of the Leinster League. Viewed in this light, it's safe to say that Smeeth's concerns are unfounded.
In January, following a freedom of information request submitted to DUCAC by The University Times, it was also revealed that the College's female clubs receive significantly less funding from DUCAC than their male counterparts. Over four years and 52 allocations, there were only four instances when women's teams were granted more funding. While there is an argument that often there are more male teams in certain sports, if DUCAC was truly committed to the cause of growing female participation in sport, then this staggering statistic wouldn't exist.
In the last year alone there have been several upsetting examples of how the College's sporting hierarchy views women's teams
Despite this, there are rumblings of change on campus. As has been the case in nearly every sport – nationally or internationally – this is being led by the teams themselves. From hockey to sailing, GAA to fencing, Trinity's sportswomen are making their mark. A few weeks ago, the College's women's soccer team dropped "ladies" from their title and became Trinity Women's Soccer. In an email statement to The University Times, club captain Áine Tucker said: "To refer to the team as 'ladies soccer' is widely outdated and brings forth the image of a group of weak women playing a man's sport. The current Women's Soccer team in Trinity is far from weak and the game of soccer is hardly a male-only sport today."
Tucker's statement embodies everything that 20×20 is trying to achieve. Women's sport is in one of the strongest places it has ever been and for once, it's not just those participating in it who are championing it. The hysteria that enveloped the country during Irish hockey team's remarkable run to the final of the World Cup shows exactly how entertaining and how high the quality of women's sport is. It is not simply a lesser or weaker version of the men's game. Hopefully, Trinity can jump on board with 20×20 and show its female teams the support that they demonstrably deserve.