As 2018 draws to a close, The University Times reflects on a year marked by turbulence and triumph, with students at the centre of major movements that have pushed for change both within College and outside. Ireland voted to repeal the eighth amendment after years of campaigning and fractious debate, sending many students into the summer on a high. Take Back Trinity saw students take on the College in opposition to a decision to introduce a fee for supplemental exams, eventually emerging victorious and inspiring a new cohort of grassroots activists. The University Times has aimed to be at the centre of these movements, covering every development and always asking the important questions, at a time when students are questioning the status quo more than ever before.
The diversity of these articles reflect the range of interests of students, from upending order in Trinity and criticism of College's communication with students to a beautiful on-campus white wedding and the best ways to sneak into Trinity Ball.
The coming year spells huge change for students, the higher education sector and for Ireland. From tomorrow, women in Ireland will be able to avail of abortion services. Dublin Institute of Technology (DIT), Institute of Technology Blanchardstown (ITB) and Institute of Technology Tallaght (ITT) will cease to exist and Ireland's first-ever technological university will stand in their place. Activists will no doubt continue their fight against the lack of affordable housing in Ireland and for the rights of the LGBT community and those living in direct provision, to name a few. Within Trinity's walls, students will see changes, with construction of the Business School and Printing House Square set for completion and the introduction of a smoke-free campus.
ADVERTISEMENT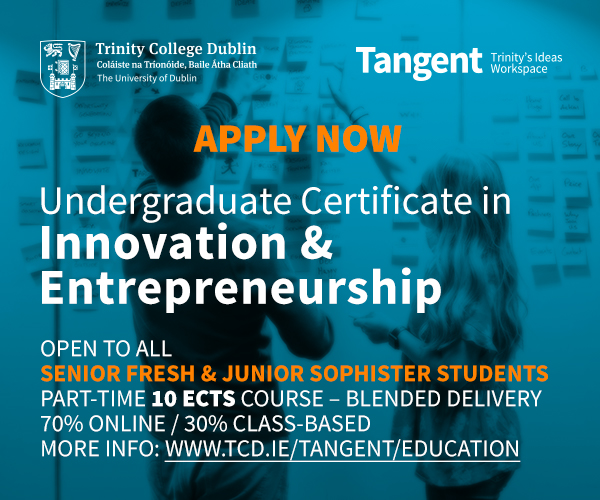 The University Times has gone from strength to strength, expanding its coverage to look at students' unions all over the country and keeping on top of national activism movements with students at the forefront.
In April, the paper was awarded Student Media Outlet of the Year and then-Editor Dominic McGrath was awarded Outstanding Contribution to Student Media at the USI Student Achievement Awards. This list features more articles from Radius, our culture section, than any previous year, as its coverage of Dublin's and Trinity's cultural scene continues to grow. For the fourth year in a row, The University Times has surpassed one million unique visitors to its website, or 1,532,191 readers and counting as this article was published.
Below is a list of our top 15 most read articles, whereby "most read" means that they received the most unique visitors over the course of the year.
Without a doubt, 2018 was the year of student activism. In March, College officials were treated to the full brunt of student power when protests erupted across the College after plans to introduce a fee for supplemental exams and an increase in international fees were revealed. The University Times was there to cover every development in the campaign but it was Trinity's failed attempt to wind down an occupation of the Dining Hall that attracted the most attention from readers. This escalation saw private security guards stopping students from freely entering or leaving the building. This only served to spur students on as those not involved in the occupation took to the steps of the Dining Hall in the driving rain to lend their support to those inside. Several days of protests and national media attention followed with other students unions and political figures lending support to the campaign. Finally, Provost Patrick Prendergast buckled under the pressure and announced that the proposed changes were being scrapped. It will go down as one of the biggest victories for Trinity's students in recent years and it's no surprise, then, that 29,536 read this article that marked one of the biggest events on campus in decades.
Plans to remove compulsory history from the junior certificate syllabus were operative as early as 2012. In previous years, the decision sparked only low-level debate – but in 2018, amid rising fears that countries around the world are repeating some of the most dire mistakes of the past, Liam Whelan's impassioned defense of secondary school history commanded readers' attention – 21,629 readers, to be exact. The idea that future generations may stumble out of secondary school clueless as to basic historical realities is one that, unsurprisingly, perturbed many of you. In his piece, Whelan warned of the grave dangers of ignorance for our society, and urged us to value historical knowledge before it's too late. He also pointed out that due to shortages of resources and timetabling issues, many students could be denied the choice to take history at all. Due to widespread criticism, Minister for Education Joe McHugh announced in November that the decision to make history non-compulsory at junior cycle would be reviewed.
It was with a heavy heart that we reported on the demise of one of Front Square's iconic Oregon maple trees, a story that quickly spread across the national media. The 170-year-old tree was deeply beloved, and news of its fall generated an unprecedented flood of crying smileys. The exact cause of the tree's collapse was never fully determined, but in a series of College-wide emails, Prof John Parnell explained that it was likely due to a combination of hot weather and decay. Sadly, this tree's collapse was only the beginning in an unfortunate saga that saw the removal of several diseased trees on campus. Coverage of the demise of Trinity's trees captured the attention of Trinity's staff, students and graduate and 16,791 people read about the initial surprise collapse during the summer.
The decision to introduce a €450 flat fee for supplemental exams prompted unprecedented student backlash in Trinity. Indeed, when this article was published, as many as 13,800 students read it to try to understand how it was that such an exorbitant fee had been introduced. In February, the College Board opted to introduce the fee after students voted in a non-binding Trinity College Dublin Students' Union (TCDSU) preferendum to oppose any fees for repeat exams, sparking Take Back Trinity – a student movement that managed to shut the College down with occupations, rallies and demonstrations opposing the fee. Before the preferendum, neither TCDSU nor the Graduate Students' Union (GSU) had a stance and it later emerged that the presidents of both students' unions never voiced formal opposition at the meeting of Finance Committee in which the fee was first mooted. The fee, were it implemented, would have meant that any student sitting any number of repeat exams would have had to pay €450. A previous proposal had suggested a rate of €200 per exam, with a cap of €1,000. Ultimately, with all eyes on the College, Trinity buckled under pressure and reversed the decision.
A wedding on Trinity's campus is always a notable occasion, but for Brendan and Stephanie McHenry, a snowy Trinity made their special day even more unique. With the College on lockdown in the midst of heavy snowfall, the couple was granted access by security and had their way cleared by Estates and Facilities, and the bride and groom's family gathered in the warmth of the College chapel until the bride-to-be made her entrance. Speaking to The University Times, Peter Sexton, one of Trinity's chaplains, said that "not many students get married here, but some members of staff do". Both Stephanie and Brendan were Trinity graduates, thus satisfying one of the College's rules for weddings. After the ceremony, the couple posed for photos under the campanile and on the Dining Hall steps.
Trinity Ball is the most important event in any student's social calendar, but with tickets selling out online faster and faster each year, some resort to desperate measures to try to attend the ball. We compiled a list of the best ways to sneak in unnoticed to what is supposedly Europe's largest private party, offering tips for following in the footsteps of our Chancellor and former President Mary Robinson, who famously enlisted her brother's help to climb over Trinity's walls with a ladder to gain access to the party. Almost 10,000 would-be trespassers read this piece to gauge the best way to enter Trinity Ball covertly – from confidently donning a high-vis jacket to hiding in holes in the Museum Building or under floorboards in residents' rooms, there's no doubt that students get creative when a night at the ball is at stake.
The feel-good story of the year on campus was likely the College's momentous decision to ditch supplemental exam fees. Tensions had long been rising on campus about the financial exploitation of students, with postgraduate fees being hiked up annually. Things came to a head when the College announced it would be introducing a €450 flat charge to sit supplemental exams. After weeks of non-stop direct action by activist group Take Back Trinity – including the occupation of the dining hall and the blockading of other College landmarks – this widely read story revealed the news we'd all been waiting for and 7,247 of you read about it here. In a historic moment for student activists, the College was essentially embarrassed into acceding to protestors' demands, guaranteeing fee certainty and agreeing to reverse the decision to introduce supplemental exam fees. The move heartened the student population, serving as a timely reminder of the power of protest.
Trinity Ball has appeared on this list three times, proving its unshakeable popularity among students. Every year, The University Times aims to break the news of the line-up of the ball to students first. This year, 6,498 people read this piece revealing the first three acts playing the ball, with Jax Jones, Versatile and Tom Walker named. Then, over 7,000 of you read our outline of these acts and the type of music you could expect at the ball. Later on in the year, George Ezra inadvertently leaked that he would be playing at the ball, ultimately being announced as the headline act. The ball's line-up reflected Trinity students' diverse taste in music and though the usual grumblings over the quality of acts and the price of tickets abounded, tickets to the event sold out in record time.
The road to repeal was a long one and in the last few months, debates turned ugly. One such debate saw National University of Ireland (NUI) Senator Rónán Mullen say that "mental health has no evidence base", a comment met with so much anger that a petition was launched calling for his resignation. Pro-life campaigners consistently spoke against allowing abortion on mental health grounds, characterising it as a vague reason. On RTÉ radio, USI President Síona Cahill accused pro-life campaigner and impeached University College Dublin Students' Union (UCDSU) President Katie Ascough of "re-stigmatising" mental health. The petition drew much support, with over 30,000 people signing to express dissatisfaction with Mullen's comments and calling for his resignation. Students seemed pleased to learn of this campaign, with 6,874 reading the piece and many commenting in support of it on Facebook.
The ever-popular Irish Simpsons Fans Facebook group delighted its members by launching a range of repeal-the-eighth-themed t-shirts, in a bid to raise money for the Coalition to Repeal the Eighth Amendment as it geared up for the referendum campaign. In January, less than a day after releasing the merchandise, over 150 items had been purchased. Around 6,679 of you read about the initiative, which joined other brands and artists, like the Repeal Project and Repealist, in creating repeal paraphernalia. Jack Leahy, a former TCDSU and USI officer and a creator of the Facebook group, was inspired to create the t-shirts after seeing a similar group in Australia do it in the run-up to their marriage equality referendum.
The landscape in and around Trinity is barely recognisable from a year ago. From the demise of Front Square's majestic trees to the completion of the College Green Luas works, Dublin 2 has had a bit of a face lift in 2018. However, it was the news of a major redevelopment on Dawson St that prompted widespread sorrow among students. The closure of favourites such as Mooch, Lemon and Sprout were heavily felt as current students and graduates alike reminisced on the hours they had whiled away in the brightly coloured establishments. With plans for a giant shopping centre where these businesses used to be, it would seem that the landscape of Dawson St might only be more unrecognisable in another year.
Amid heavy snow, most students stayed at home, with the College announcing the closure of campus for several days during reading week in March. For nursing students, however, the snow brought huge problems, as many of them had no way of knowing whether or not to turn up to their placements in various hospitals. Student nurses, speaking to The University Times bemoaned the College's communication and the lack of consideration for students not based on campus. The students were also told that any days missed on placement due to the weather would have to be made up. Many nursing students travelled long journeys to get to St James's Hospital and Tallaght Hospital only to be sent home a few hours later. Around 6,500 people read this piece outlining the plight of nursing students.
Elections for TCDSU are rarely free of controversy, and this year was no different. Seán Ryan, a candidate in the race for union presidency, pulled out of the elections after allegations of sexual harassment were levelled against him. The withdrawal, which came on the same day that the results were announced, sent shockwaves through a race that had, until that point, failed to capture the imagination of students, and 6,487 people read our article on his withdrawal. The absence of any women in the race – Ryan, Shane De Rís, Paul Molloy and Michael McDermott – prompted some students to begin a re-open nominations campaign that highlighted the lack of diversity as a key issue. In the end, De Rís triumphed, claiming 52 per cent of the vote on a count night somewhat lacking in drama compared with the days that preceded it.
We at The University Times remain mystified at the ongoing readability of the Trinity Twenty, but you flocked again in droves – 6,146, to be exact – to read our definitive guide of the movers and shakers on Trinity's campus. This year marked something of a departure for what is by now a bafflingly unshakable College institution, with Oisin Vince Coulter, the President of the GSU, finishing top. Coulter's Soviet sensibilities, we wrote, helped him to the peak of College life, "roughly 32 years" after he first walked through the gates. Elsewhere, the usual suspects made the final cut in the form of student politicians and society heads, though after the year of Take Back Trinity, activists occupied several places on the list. And we got our satirical revenge on Trinity Collidge head honcho Michael McDermott, taking inspiration from a man whose "pen remains as sharp as his wardrobe is shabby".
For that breed of student brave enough to undertake a set of "searching" examinations in the hope of becoming a Scholar, the elaborate election ceremony – announced as it is on the steps of the Public Theatre in one of the College's oldest traditions – is a tantalising olive branch to cling to in the months of study before the assessments. This year, our piece describing the election of 73 Scholars, 16 Professional Fellows and two Honorary Fellows was read by 6,132 people. The election of more than 70 Scholars reversed a trend of declining numbers in the preceding years, and was accompanied by the conferring of honorary fellowship on internationally renowned poet Michael Longley. Prof Brian Lawlor, a Trinity professor recognised for his work on ageing and dementia, was also honoured. Speaking at the ceremony, Provost Patrick Prendergast said in a press statement that "we are so proud of all our students and academics today that have become new Fellows and Scholars. This is always a special day for all of us where we celebrate their hard work and academic prowess".