Ten candidates were announced for this year's Trinity College Dublin Students' Union (TCDSU) sabbatical officer elections this evening. Six women will contest positions, bucking the trend of a lack of female candidates in previous years.
Laura Beston and Daire Hennessy will both run for the position of president.
Beston is the first female candidate to run for the role since Lynn Ruane successfully ran in 2015. A fourth-year English and film student, Beston is currently in her second year as TCDSU Disabilities Officer. During the Take Back Trinity protests last year, Beston was a leading figure in the campaign against supplemental exams.
ADVERTISEMENT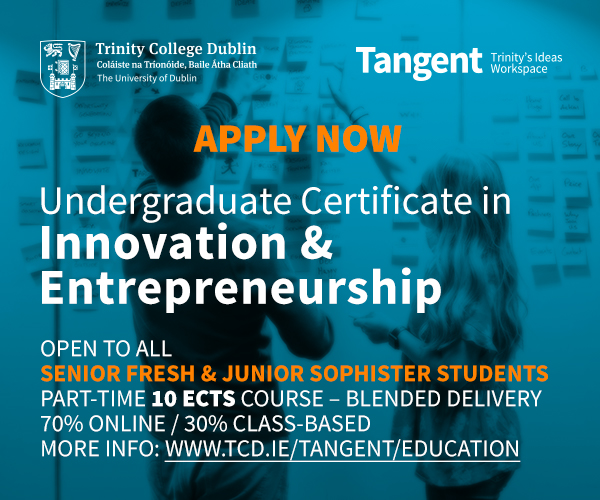 Hennessy, a third-year BESS student, is currently the union's Access Officer and was formerly a class representative. Hennessy, who is a head mentor for Student2Student, was also a project leader for Trinity's Enactus, the College society promoting social entrepreneurship.
In a race that has been uncontested for the last two years, both Niamh McCay and Sally Anne McCarthy will compete to be the next TCDSU Education Officer. McCay is a third-year political science and geography student. She currently serves as TCDSU Citizenship Officer, as well as Chair and Treasurer of The Harmony Project, which she founded in College last year. She was also formerly on the JCR as Music Officer.
A fourth-year physics and astrophysics student, McCarthy was elected to serve as this year's Engineering Maths and Science (EMS) Faculty Convenor in TCDSU. Previously, she served as the union's science convenor and was its representative on the College's Undergraduate Studies Committee.
In the most hotly contested race of the election, three students will run for the position of Entertainments Officer, with Judith Robinson, Jerico Alcaras and Luke Rynne Cullen vying for the role.
Robinson is a third-year drama and music student. She is the current Entertainments Officer with DU Players and is involved with Trinity Orchestra.
Alcaras is currently undertaking a masters in computer science following completing his undergraduate in Trinity last year. A software architect with Trinity-founded app Keep Appy, he is the Public Relations Officer of the Korean Society.
A fourth-year English and history student, Rynne Cullen is the founder of TES Dragons' Den-winning company Applaud, Auditor of Trinity Orchestra and is Live Music Officer on the Ents committee.
For the second year in a row, the race to be Welfare Officer is uncontested with fourth-year English and French student Aisling Leen the only person nominated. Leen is the current treasurer of DU Meditation Society and is Volunteer Coordinator on the TCDSU Welfare Committee.
Fourth-year history of art and architecture and Italian student Muireann Kane is the sole candidate for Communications Officer. Kane is the current Ents Art Installations Officer and was formerly the Entertainments Officer of the Italian Society.
Last year was the first time that the race for Editor of The University Times was contested. However, this year only one person is running for the position. A fourth-year English and history student, Donal MacNamee is currently the paper's Deputy Editor. He previously served as Sports Editor and was appointed Acting Assistant Editor during last year's TCDSU elections.
Correction: 6.20pm, January 25th, 2019
An earlier version of this article incorrectly said that Aisling Leen is the former treasurer of DU Meditation Society. In fact, she is the current treasurer.