Santry Avenue played host to a rollicking end-to-end game of Trench Cup football on Tuesday night. The two teams were battling it out for a place in the Trench Cup finals weekend. In what was a tight affair from start to finish, Trinity were pipped by a single point as Letterkenny's determination up front secured them the win.
Trinity immediately showed their intent as James Guinness burned his man before smartly playing in Bryan Magee to open the game's scoring with Magee palming into the net. Not to be outdone, Letterkenny regrouped after this initial stutter and began a prolonged period of possession in the Trinity half. During this encampment, Letterkenny were forced to work the ball in an arc from sideline to sideline as Trinity clogged the centre of the pitch with bodies. Letterkenny remained calm and managed to reply to Trinity's early goal with three points of their own.
After this period of pressure Trinity managed to retaliate with another goal. A kickout from Liam Brady found Magee, who took advantage of the high press of the visitors' defence and played through a hard-running Paul Lambert. Lambert, remaining poised, found the net to put Trinity three points ahead for the second time.
Emboldened by their second goal, Trinity returned to form, dropping back in numbers and inviting Letterkenny onto them. The result was a fascinating tactical battle, as a dogged Trinity forced Letterkenny into taking on a number of wild shots from well outside their shooting range. Letterkenny's high press put major pressure on Brady's kickout and forced a number of frees from kickable positions for Letterkenny.
ADVERTISEMENT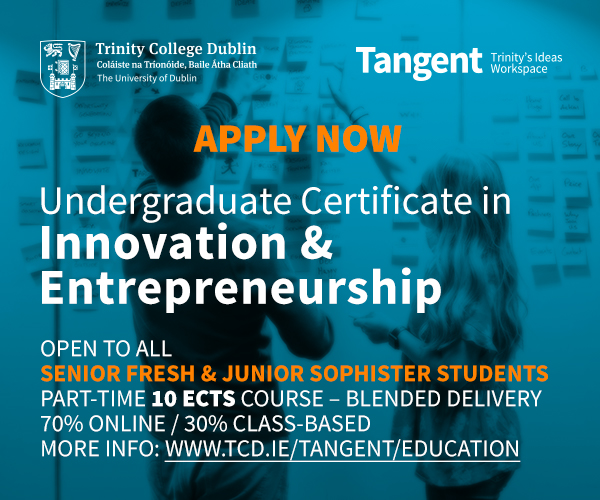 This battle of formations sucked more and more players into an increasingly overcrowded Trinity half. After five minutes, 29 of the 30 players on the pitch were to be found within the Trinity half, with the majority found between the Trinity 45 and the halfway line.
This resulted in a constant wrestle for possession, which denied the game any rhythm and was compounded by the fact that Mike Joyce, in at full-back, cut out any long balls coming into the full-forward line.
This constant pressure took its toll on Trinity. As the half neared its end, they fired over a number of points to put themselves ahead of their hosts heading into half-time. As the teams left the pitch, the score line read Trinity 2-02 to Letterkenny 0-09.
The first half, though full of sparks, failed to fully catch fire, and the second half showed signs of similar tepidity. Immediately after the throw-in, 13 Trinity players retreated to their own half, leaving only Magee and Lambert in the Letterkenny half.
The second half was, however, a completely different spectacle to the first, as the two teams began trading points. The energy-sapping wrestle of the first half wore both sides down, leaving defences exposed. Letterkenny began the second half as they finished the first firing over twice in quick succession. In answer to this Trinity's Keelin Beirne played in a lofty ball on top of James Guinness, who with the deftest of touches palmed the ball into the path of the onrushing Niall Hickey. Hickey swung the ball over to reel in a growing Letterkenny lead.
Backs and forths ensued before Trinity finally managed to get a grip on the ball for a while. Manager Conor Laverty, spotting the need for scores, swapped out centre back Keelin Beirne for forward James Cox and brought on Luke Tynan to try inject some attacking impetus into the home side. Their fresh legs were invaluable on a night of heavy energy and Trinity began working chances, with James Guinness and Bryan Magee both adding points to their side's tally.
The period also saw Trinity spurn multiple point-scoring opportunities in favour of shots on goal, which the Letterkenny keeper was equal to on every occasion. Trinity struggled to deal with Letterkenny's kickouts, which put a dent in their purple patch. Letterkenny's ability to keep the scoreboard ticking over was perhaps the defining feature of the game.
Desperate for scores, Trinity pushed up the pitch, implementing a full-court press on the Letterkenny defence. The press worked and some sloppy tackling from Letterkenny gave Trinity a platform to build attacks on. The score of the night came during this period of pressure as Guinness played a short pass to Dara O'Shea who managed to navigate a pocket of space in an ocean of bodies to fire over from 40 yards out, putting a point between the sides.
Trinity failed to find an equaliser and were left ruing spurned scoring opportunities. Letterkenny, to their credit, looked rarely like a team going to give up their lead once they broke out in front just before half-time. The final score in Santry was 0-16 to 2-09 in favour of the hosts. Trinity now take on Waterford IT, who are coming off the back of a decisive win against Limerick IT.