Several Trinity alumni and students – as well as Take Back the City, the housing group affiliated with Take Back Trinity – have appeared on the Irish Times's list of "People to Watch in 2019".
Anna Cosgrave, the founder of Repeal Project and the designer of the ubiquitous Repeal jumpers, appears for her new "media movement company", MotsBox, which aims to make politics accessible to a wider audience.
Cosgrave studied sociology and geography in Trinity, before rising to prominence during the campaign to repeal the eighth amendment.
ADVERTISEMENT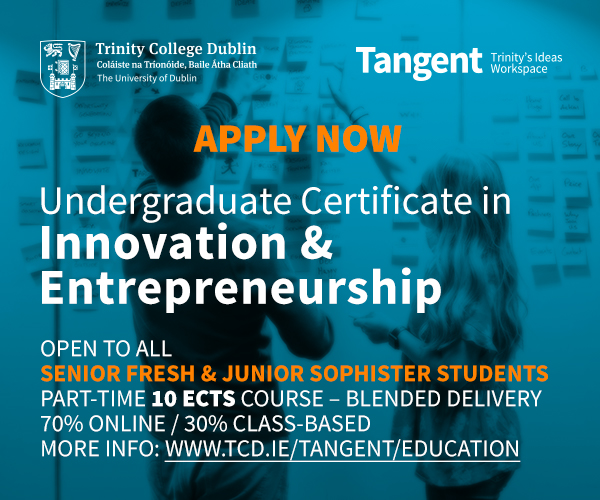 Ahmad Mu'azzam and Hugh Weldon, co-founders of eco-friendly app Evocco, also appear on the list, in the entrepreneurship section.
The pair founded Evocco – which calculates a user's ecological footprint based on scanned shopping receipts, as well as providing sustainability tips that help consumers be more environmentally responsible – after meeting while studying for a master's in mechanical engineering in Trinity.
Last year, Weldon was named as one of seven UN Young Champions of the Earth. The accolade is the highest environmental honour awarded by the UN.
Joining Cosgrave in the activism section of the list is Take Back the City, which includes members of Take Back Trinity. During the year, activists from the umbrella group occupied buildings all over Dublin and mobilised a housing movement all over the country. Trinity student Conchúir Ó Radaigh, a key member of the group, was arrested during the eviction of an occupied property at North Frederick St.
Aisling Franciosi, the Irish-Italian actress who has appeared in TV series The Fall and Game of Thrones, makes the list. Franciosi, born in Italy and raised in Dublin, studied French and Spanish in Trinity.
From rural Galway, Maija Sofia – who studies English in Trinity – appears in the music section. Sofia is a singer and writer described by culture magazine The Thin Air as "a true ingenuity of the current generation of folk and forthright musicians".
The list says that Simon Phelan, the founder of boiler installation company Hometree who appears in the entrepreneurism section, "can look back on 2018 as a good year". Phelan raised €7.2 million in funding and was named on the prestigious "30 Under 30" list run by Forbes.
The 50 People to Watch list is printed each January in the Irish Times magazine based on categories including film, entrepreneurism, activism, sport, food, arts, music, tech and media.