Trinity's senior camogie team have successfully navigated their way to the Fr Meaghair Championship finals weekend in Mallow, after a hard-fought 3-16 to 3-08 victory over GMIT in Santry last night.
The two sides were evenly matched coming into the fixture, with both registering a victory and a loss in the lead-up to the encounter. This meant the game effectively acted as a quarter-final to decide who would make the trip to Mallow this coming Friday.
Both sides were undoubtedly aware of what was at stake right from the throw in, with players pouring in in search of a first possession. A hungry Juliette O'Flynn plunged low to win possession before swinging over for the night's opening score. Laura Stack, Trinity's premier forward on the night, subsequently won the puck out and fired over another to open up a two-point lead.
ADVERTISEMENT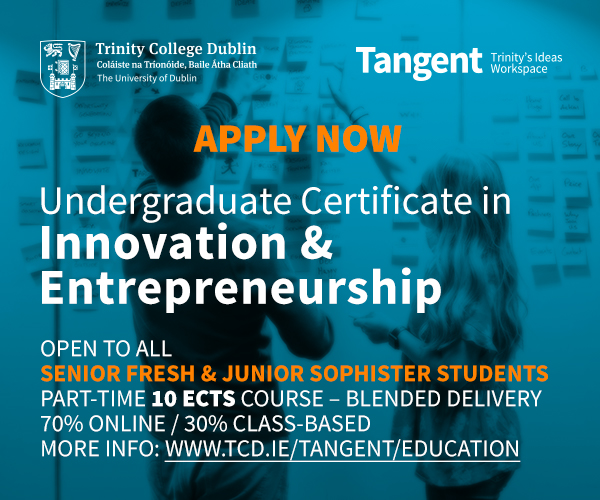 Any thoughts of Trinity settling into an early rhythm, though, were abruptly scuppered by a brilliantly taken GMIT goal, with a lofty ball into the full-forward line resulting in the ball being palmed into the net. The game was suddenly turned on its head, with GMIT asking all the questions.
Critically, the visitors opted to keep their three full-forwards bunched around the Trinity goal, with their centre forward playing directly in front of their full forward looking to feed off breaking balls. Their wing forwards then played out wide working balls in. This formation ultimately led to a slowing down of the ball entering their forward line as the frigid conditions caused the sliotar to fall dead as it hit the ground.
Trinity, in contrast, opted again to leave Bronagh Quinn and Laura Stack up front. They played deep, leaving a large gap between themselves and the GMIT goal into which they consistently looked to play. The sticky ground also proved the undoing of this strategy. The ball, too often, was slowed down, delaying or stopping the quick breaks Trinity were looking for.
Frustrated by the conditions, both sides opted for long-range efforts. Stack, with one of these, got out smartly in front of her marker before turning sharply to open a pocket of space for herself. Eyeing the posts, she hit a high ball that dropped – fortuitously – into the net, adding a welcome goal to Trinity's tally.
As the sides drew level both teams traded points before GMIT stepped back in front with their second goal of the night. Unflustered, Trinity methodically made their way back into the GMIT half, chiselling away at the scoreboard thanks to points from Stack and Aislinn O'Brien. By the half-time whistle the sides were level once again.
GMIT opted to make their way into the warmer climes of the dressing room, but Trinity decided to stay out, seeking to retain every morsel of the momentum that it seemed was beginning to build.
This stoicism seemed to work. Aoife O'Carroll burst out from the throw in with possession before being pulled down as she made her way onto the 45. Stack punished GMIT's indiscretions with an assured strike.
GMIT responded with a well-taken goal. Building on their fielding abilities, a crisp ball was fired into the full-forward line and an ended with an emphatic finish into the corner.
Trinity remained unperturbed, marching back up the pitch and levelling proceedings once again with points from O'Flynn and Stack.
The game now entered a lull, as both sides looked to assert some control over proceedings. There was a growing sense among those gathered on the sideline that the next score would be crucial.
This decisive score came courtesy of O'Carroll, who sent a searching ball into the GMIT box. Caught in the floodlights' glare, it eluded the stranded GMIT keeper to put Trinity three points to the good.
After finding themselves ahead through a stroke of luck, Trinity stayed ahead largely through force of will. They fired home numerous points and sealed the deal with another goal courtesy of Julie Healy. Stack, prolific once again, dodged her way through the GMIT defence and fired over straight off the stick to leave it Trinity 3-16 to GMIT 3-08. Stack's personal tally – 1-08 – marked another impressive performance.
And so Trinity march on to Mallow, after a game decided by second-half domination.