Trinity's camógs fell in the final of the Fr Meaghair Cup this weekend, coming unstuck against Athlone IT by 1-11 to 1-04 after a superb championship run that included a stellar comeback win against St Mary's in the semi-final.
Athlone came into the game with the wind at their backs after overcoming IT Tralee in their own semi-final, and started much the brighter of the sides. Deirbhile Higgins pounced on a number of Trinity indiscretions, calmly converting any frees that came her way as Athlone raced into a five-point lead.
Trinity keeper Kayleigh Veale kept the onslaught at bay, making a slew of saves to keep her team just about in the game.
ADVERTISEMENT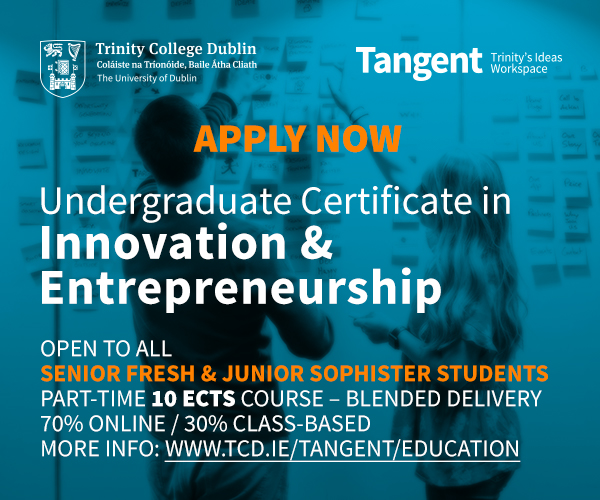 Trinity did, eventually, show signs of life. After winning a free on the halfway line, Aoife O'Carroll drove the ball into Athlone's 21. From a rook of bodies, the ball made its way miraculously to Aislinn O'Brien who smashed the ball into the bottom of the AIT net to put her side back within two points of AIT and firmly back into contention.
This reprieve, however, only proved temporary, and within minutes Athlone had begun to build up their lead once again. With half-time inching closer, Trinity's Laura Stack kept Trinity's hopes alive with her first score of the game.
As the conditions continued to deteriorate, Trinity's grip on the trophy began to loosen. Athlone launched a counter-attack after Stack's point, which ended with the midlanders' full forward smashing the ball into the net and leaving the scoreline reading 1-07 to 1-01 at the break.
Trinity looked to once again mount a comeback in the second half, now with the wind at their backs, opting for the aerial approach in a bid to get back into the game. Athlone, however, were resolute and weathered this initial storm, breaking down the pitch to add another couple of scores to their increasingly formidable lead. In the face of this pressure, Juliette O'Flynn had to drop in deeper to offer cover to an under-fire Veale.
Trinity grabbed a point when Stack slotted over a free, and coach Shane Noonan sprang the electric Julie Healy from the bench and into the full-forward line. Her running managed to open up rare pockets of space in the Athlone defence, which O'Brien exploited. She slipped a stunning ball into Stack, who clawed back another point.
Trinity, to their credit, never gave up, with Sarah Coughlan producing a brave performance at the back to win a number of balls in the late stages. Coughlan's delivery was accurate, and Stack was the scorer once again with another two frees to bring Trinity within six points of Athlone.
But it was not enough for Trinity. Athlone were formidable opponents and their ability to utilise the poor conditions allowed them to build up a lead that could withstand even Trinity's late comeback. Trinity's camógs, though, can hold their heads high after what they will look back on as a memorable campaign in the Fr Meaghair Cup.