For a race that has historically been one of the most competitive, this year marks the second consecutive uncontested race. At a time when welfare-based issues such as mental health, sexual assault, and gender equality are so prominent in the headlines, it is perhaps surprising that only one candidate has put themselves forward for the role.
However, this is the position that Aisling Leen, a fourth-year English and French student, finds herself in. Leen previously served as secretary of Trinity College Dublin Students' Union (TCDSU) welfare committee and this year is its volunteer coordinator. She's also currently in her second year as treasurer of DU Meditation Society. Despite her passion for welfare, Leen admits in an interview with The University Times that being in final year and keeping up with all these activities isn't easy, as everyone has "a lot going on". "I think if you're the welfare officer in a paid role, you can set aside a little time to think about engagement", she explained, to create an environment that better suits those looking to volunteer.
If there is anyone who understands what Leen is currently facing, it is incumbent welfare officer James Cunningham – who also ran uncontested last year. In an email statement to The University Times, he explained that often the role of welfare officer is considered within the confines of several buzzwords such as "empathy, compassion, willingness to listen". While he acknowledged that these are key to all the sabbatical roles, he also noted how many different areas the role of welfare officer spans. "One thing that I only properly understood from being welfare officer is how difficult it can be to juggle the different strands of the role", he said.
ADVERTISEMENT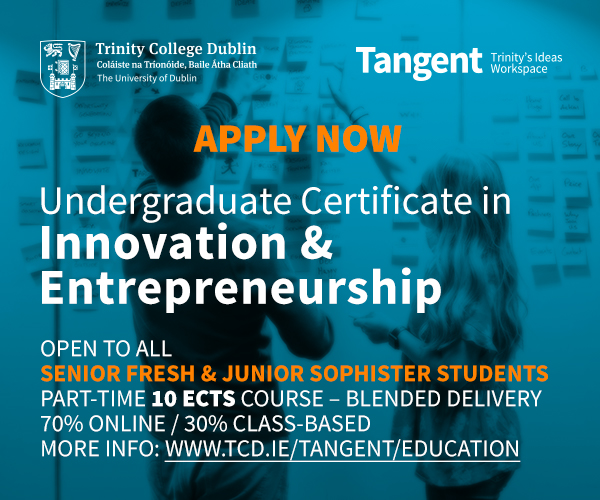 It's clear from speaking to Leen that she is aware of all these strands, mentioning each by name. From campaigning to casework, there are many facets of the role that aren't visible. Undoubtedly drawing on her previous union experience, she explained that "if you're not very organised, it's easy to let the case work overflow and not make the campaign weeks as they could be". This is an area that Leen flagged as a shortcoming of this year and is keen to rectify. Noting that the welfare committee is "only getting into the swing of meetings and things now", she explained that, as Cunningham himself says, you "need to be a juggler".
"It's not a case of getting people to do more work, it's about making them feel valued and engaged because they're in it for a reason", she said. "You don't want to push volunteers too much, everyone is there because they want to be."
Her timescale for this change – she explained that "it is unlikely to be completed for five years maybe" – seems disappointingly long for such an important step
One of Leen's main focuses as welfare officer will be the introduction of a policy in the College for reporting sexual assault. Currently, students' only official internal option to report sexual assault is through the Junior Dean, although there are other avenues if students want to talk about their experiences, such as the College counselling service or the welfare officer.
With consent always a hot topic for welfare officers in Trinity due to the College's reputation of well-attended consent classes, it is understandable that Leen would be eager to build on this with additional concrete policies. However, she said that change won't happen overnight and that she will need to "set aside a lot of time for it". Her timescale for this change – she explained that "it is unlikely to be completed for five years maybe" – seems disappointingly long for such an important step.
Ultimately for Leen, it will come down to convincing the College that "it is worthwhile". She admitted that she doesn't have full understanding of how the relationship between the union and College staff works, as she hasn't worked on policies. However, she maintained that she wants to see a change to the current ad hoc case-by-case approach to the issue.
As for what the actual policy would entail, Leen seemed less clear on the details. "If elected, I will have a plan, I will have a finish date", she said. Aware that a five-year plan isn't much use if she's only in the role for a year, she confirmed that it will be a policy that will require whoever comes after her to continue it.
When it comes to opening up conversations about these issues, Leen's approach is curious. She acknowledged the difficulty many people have with speaking about their experiences, calling it "a sensitive issue", but also criticises some of the attempts to open up conversations on campus. She is cautious, for one, of the approach taken by Trinity Feminist Society's nurture group: "It's so great for them to provide the space. But these things are so difficult. They need to be done so carefully. I know they bring a counsellor and that's brilliant, but you can't expect sexual assault to be something that we can chat about."
Leen also wants to prioritise providing students with information regarding the new abortion services, and hopes to implement a link between TCDSU and the Irish Family Planning Association. In terms of getting information to students, Leen feels it is best to "go back to basics. When it's information you're giving out on crisis pregnancy options, I would say freshers packs and toilet stalls", she explained. "That's going to be a big new thing, just making sure that's all, that information is there for students and that it's all as easy for students as possible."
When it comes to opening up conversations about sexual assault, Leen's approach is curious
Another area of concern for Leen is the underfunding of the counselling and health services on campus. On this issue she takes a balanced stance, acknowledging that those currently working within these services need to be commended, while also pointing to the necessity for greater investment. She asserted that the "disability services are surprisingly well funded, but counselling does everything it possibly can with the money it has". She also supports plans within the union to ensure counselling services are available to students in James' and Tallaght campuses.
Due to her involvement in the Take Back Trinity movement that led to the swift abolition of supplemental fees, Leen is well aware of the power students can collectively harness in standing up to the administration. On the necessity of protest and mobilising efforts to influence College decision-making, Leen remarks: "We should be demonstrating like we did against supplemental fees, but this time for funding of the counselling service and the health service."
Though her candidacy is uncontested, Leen can expect to encounter challenges in her bid for the office. Trinity's historically liberal students place a huge emphasis on issues like sexual consent and mental health and the threat they pose to student welfare. Leen's openness regarding her lack of clarity on how to confront these problems, will either endear her to voters, or alienate her from them.
---
Patrick O'Donoghue also contributed reporting to this piece.
Aoife Kearins is the Features Editor of The University Times. Kearins will edit the welfare race in this year's TCDSU elections. Patrick O'Donoghue is the Deputy Film & TV Editor of The University Times. He will act as welfare correspondent during the election period.