Trinity Arts Festival (TAF) welcomed folk sensation Saint Sister to the Douglas Hyde Gallery yesterday for an evening of considered conversation and haunting harmonies.
It was within the walls of Trinity that musical duo Gemma Doherty and Morgan MacIntyre first crossed paths. Accomplished musicians throughout their youth, the talented pair were brought together through their involvement in Trinity Orchestra's choir. This made their return to campus all the more fitting last night as they reminisced over their early musical days.
MacInytre initially compared their return to campus to a "bad dream", in that memories of deadlines and rushed assignments came flooding back. Doherty also remarked on the unquestionable smell of Trinity's much-maligned Arts Block, which to her surprise had not changed. It was evident throughout the conversation that their years in Trinity left a mark on the young musicians.
ADVERTISEMENT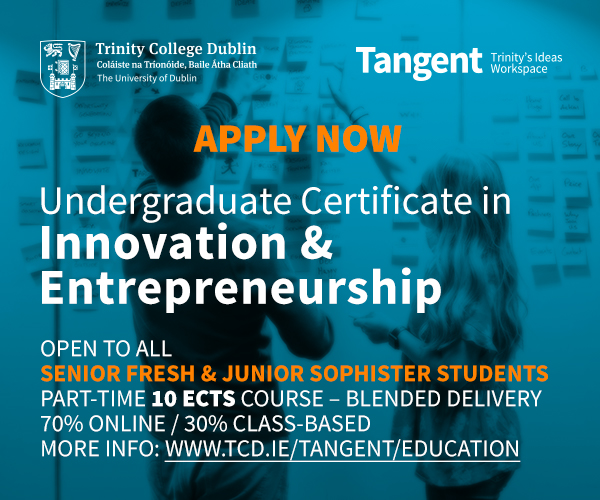 However, fans of the duo might be surprised to know how late into their College years that MacIntyre and Doherty even met. MacInytre revealed that despite her heavy involvement in music throughout her teenage years, any musical aspirations were put on pause during her first few years of College. Surrounded by a number of male friends living out their front-man dreams in indie bands, MacInytre was gradually compelled to start writing again. Doherty was equally disillusioned with her first few years at college, admitting to having far-fetched expectations of trad music sessions every night of the week. Coming from a rich traditional music background in Derry, Doherty was an accomplished harpist who struggled to find her place in Trinity's crowded musical scene. Their first encounter was through the Trinity Orchestra choir in final year and despite knowing very little about each personally, let alone musically, they decided to band together.
After taking this leap of faith, the pair confined themselves to the surrounds of their Lombard St apartment to try and shape their sound. A touching moment occurred at this point of the interview when it was revealed that interviewer Sorcha Brennan had taken up residence in the former residence of Saint Sister. Many bedroom sessions with the addition of bass and drums helped the pair find what they were looking for.
After being asked whether their songwriting process has changed much, MacInytre revealed that she still presides over lyrics whilst Doherty dreams up the melodies. Doherty revealed that oftentimes the pair write in different spaces and are constantly sending each other recordings of ideas. Rather than ascribing to a formal writing process, MacInytre admitted that the best songs are those which have come to her in the heat of the moment. She maintained that that these "more honest songs stay with me and feel more sincere".
From recording their first EP in House Seven to critically acclaimed performances across the globe, the rise of the two Northern Irish musicians has been stratospheric. Their most recent tour – which included dates in the US and Australia – was an "eye-opening" experience according to MacInytre. Switching between an intimate set up with just Macinytre on piano and Doherty on harp to a rousing full band accompaniment was quite the learning curve. MacInytre reinforced how being on the road with her bandmate and manager taught her the importance of both giving and seeking personal space.
Perhaps the most enlightening segment of the talk was when the conversation turned to the place of female artists in the Irish music industry. MacInytre and Doherty both had a number of sage observations about the pressure placed on girls to purvey perfection. Much akin to politicians, female musical artists often carry the weight of the entire gender upon their shoulders. The female artists who rise to the top are normally only those of the highest quality with the amateur scene being inundated with lacklustre male performers. MacInytre and Doherty both expressed a desire for more women to just be in band and having a good time, just for the sake of enjoying it. Declaring the Irish music industry to be a "open and supportive scene" the duo hope that more young girls will feel free to pick up instruments and play without feeling the pressure to be perfect.
There is a natural ease to the way in which Saint Sister carry themselves. Much like their music with its crystal clear flow, the pair conducted themselves with an endearing sense of quiet confidence. They wrapped up their insightful conversation with a rendition of The Cranberries' "Dreams" which stopped the audience in their tracks. Their perfectly pitched harmonies echoed throughout the dimly lit surrounds of the Douglas Hyde. Trinity can most definitely thank the cosmos for bringing together these two unique voices.