Last year, the contest to be the Communications and Marketing Officer of Trinity College Dublin Students' Union (TCDSU) was one of the most colourful races, not least because of all the eye-catching branding. Featuring two candidates who ran meme pages, often the conversation was dominated by anti-union rhetoric, with candidate Niall Harty running on the slogan of "don't back a hack" and Cian Rynne frequently criticising the union. However, incumbent Paraic McLean successfully ran on a platform of his previous union experience and the need to "illuminate" the services it offers.
The composition of this year's race will inevitably be much less eventful, with fourth-year history of art and architecture and Italian student Muireann Kane the sole candidate. Largely responsible for generating much-needed income for the union, as well as for addressing the ever-prevalent issue of students' lack of engagement, assuming the role successfully will be no mean feat. McLean himself acknowledged in an email statement to The University Times that the "position has become more and more significant to the Union". McLean described the position as "incredibly time-consuming", due to the constant need to communicate with students, but rewarding for any person who is "passionate about the Unions campaigns".
Kane is confident that she is the woman for the job: "If I do say so myself, I am quite well versed in the role of communication and marketing. I know that I'd be good at it." This confidence perhaps stems from her experiences as former entertainments officer for the Italian Society and her current role as Art Installation Officer for Trinity Ents. "I'm excellent at looking at the tiny details and applying it to the bigger picture. That is my forte. that is my niche", she said.
ADVERTISEMENT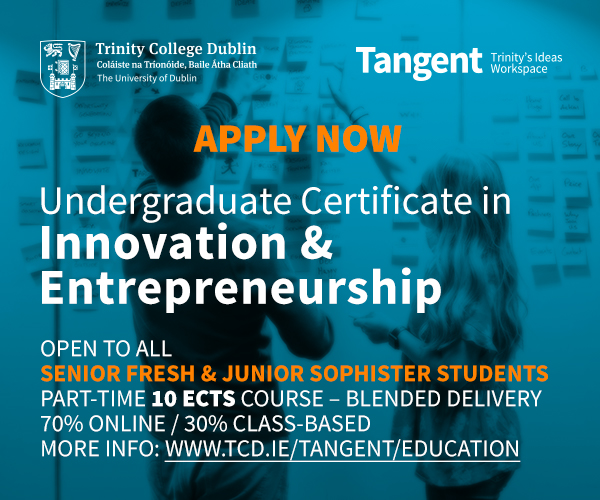 Anything that is unnecessary, I'm going to aim at cutting that out
She is similarly self-assured in her ability to acquire new sponsorship and tackle the union's ballooning deficit. In reference to TCDSU's €70,000 debt, Kane admitted that she was shocked at how high it was. This surprise seems to have manifested itself in frugal policies: "Anything that is unnecessary, I'm going to aim at cutting that out. It's whatever is absolutely necessary that will stay."
What is necessary, then, according to Kane? "We have a huge workload, academia-wise and then most of us work part-time jobs as well. You do need niceties in life and I think the role of communications and marketing can offer that. Even if it's just winning a weekly competition of nice things, even getting a few free pens." Not only is it important for sponsorships to improve the lives of students, Kane says, but also that the sponsors she does bring in are "ethically sourced".
In a radical move, aimed at emphasising her commitment to sustainability, Kane has decided to spend only €50 of the allotted €250 on running her campaign. "I'm lucky enough to be uncontested in my campaign. There's no point in me printing off billions of manifestos for them to be littered around the place and for them to cost the union money. It makes absolutely no sense", she said. "We have carbon footprint-free platforms and I intend to use them."
While campaigns have in recent years become increasingly online-focused, it's rare that a candidate chooses to spend so little on materials that make on-the-ground campaigning so much more effective.
One issue that has plagued the union for the past number of years is the lack of engagement from students. This has been made wholly apparent in recent months as TCDSU council failed to reach quorum on two occasions and a referendum last year saw students narrowly voting to keep union membership mandatory. Though the result swung in favour of the union, students who advocated for opting out have seen little effort from the union to quell their concerns.
If the SU take on issues as a group, they must work with students as a team and then things will fan out more easily
Regarding the engagement problem, Kane indicated that the onus is on students to raise any issues they have, but acknowledged that in her role, she would have to make herself available to them: "People do have responsibilities to communicate or air their grievances and then that is where my responsibility comes into place. I cannot go moving things around or changing things under the assumption that somebody wants this done, because assumption makes an ass of you and me."
This mentality ties in to what appears to be Kane's favourite saying: "Teamwork makes the dream work." Returning to the issue of engagement, she said that the responsibility does not fall on one officer, despite the specific brief of the role. "I think the union as a whole will combat any issues that are allegedly present there. If the SU take on issues as a group, they must work with students as a team and then things will fan out more easily".
Ultimately, it would seem that Kane isn't planning on straying far from the traditional underpinnings of the role of communications and marketing officer. However, with the union's crushing budget deficit to consider, it remains to be seen whether reliance on tried and tested means will be enough to see this uncontested candidate escape critique from the electorate.
---
Ross Malervy also contributed reporting to this piece.
Ciaran Molloy is the Investigations Editor of The University Times. Molloy will edit the communications and marketing race in this year's TCDSU elections. Ross Malervy is a Staff Writer of The University Times. He will act as communications and marketing correspondent during the election period.