Laura Beston will be elected president of Trinity College Dublin Students' Union (TCDSU) on the first count in this year's elections, according to the results of a poll of 1,020 students conducted by The University Times.
President
The poll predicts that Beston will receive 53.2 per cent of students' first preferences, with Daire Hennessy garnering 40.8 per cent. The in-person poll was conducted over three days at on and off-campus locations.
While last year's race was predicted to be one of the closest presidential contests in years, this year is predicted to be much more clear-cut. Neither side has had a notably larger campaign team over the other, with both candidates taking advantage of various social media platforms and travelling to off-campus locations such as James's Hospital, D'Olier St and Trinity Hall to reach out to students.
Both candidates also have extensive union experience. Beston is now in her second year as TCDSU Officer for Students with Disabilities while Hennessy this year serves as the union's Access Officer.
Arguably, Beston has performed better overall at hustings, but Hennessy came out strong on the final evening – coming into his stride on issues like student politics, campaigning and disengagement.
However, it's unlikely that the candidates' performances at hustings has overly influenced the polls, with the events typically attended by campaign teams alone, rather than average students.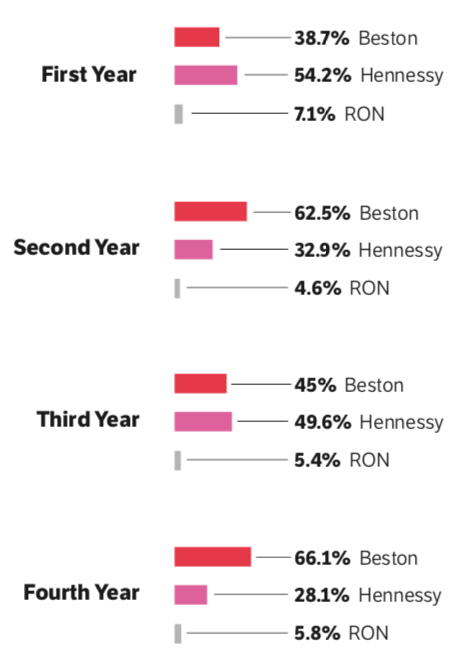 There is wild variance in support within year groups. Hennessy is by far the more popular candidate with first-year students, where he takes 54.2 per cent of first preferences, while Beston takes 38.7 per cent. Beston is most popular with second and fourth-year students. When it comes to final-year students, perhaps as Beston herself is a fourth-year English and film studies student, she claims 66.1 per cent of the vote, compared to just 28.1 per cent for Hennessy. Interestingly, the vote between third years is the most split.
While this is where third-year BESS student Hennessy may have hoped to pick-up a considerable chunk of the vote, Beston's experience on the JCR welfare committee will no doubt have boosted her support amongst their ranks – this cohort of students would have been in first year when Beston was on the committee and thus she is a familiar face to many. Hennessy currently holds a slight lead, at 49.6 per cent, while Beston picks up 45 per cent of first preferences.
The analysis of the faculty breakdowns shows Beston taking a slight lead over Hennessy in all faculties, but sees her highest support in the Faculty of Arts, Humanities and Social Sciences (AHSS), with 56.3 per cent, while Hennessy secures just 39 per cent. As both Beston and Hennessy are from the AHSS faculty, it is curious that the vote is not closer here. Instead, the split is closer in Engineering, Mathematics and Science (EMS), where Beston has 48 per cent of the vote and Hennessy has 43.3 per cent. Hennessy's largest share of the vote in Health Sciences, with 44.6 per cent, but Beston still trumps him, with 51.8 per cent.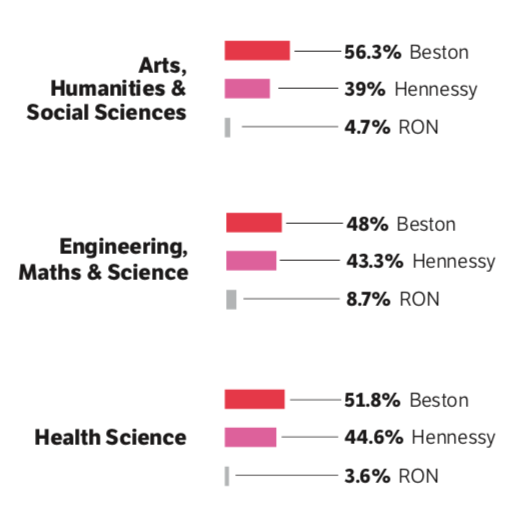 Other topics polled provided further insights into the voter groups. Those who were very satisfied with the information provided about elections were in favour of Beston, with her taking 59.7 per cent of first preferences, while Hennessy secured 36.8 per cent in this group. Those very satisfied with changes under the Trinity Education Project were in favour of Hennessy, with 56.3 per cent of first preferences compared to Beston's 37.5 per cent. Considering the lack of conversation around the Trinity Education Project throughout the presidential race, it is curious that this divide exists. It could, perhaps, be accounted for by the fact that Beston was a pivotal member of the Take Back Trinity protests last year, showing students that she is willing to take strong steps if necessary to bring attention to student issues. In this way, students who are most dissatisfied by the implementation of the project are more likely to support her and her means of getting results.
On her manifesto, one of Beston's medium-term plans is the improvement of student spaces on campus. On this point, she admits that the student centre – currently being built – is a long-term prospect and that students need space now. It is intriguing, then, to see that those who are satisfied with their student spaces are more inclined to give Beston their first preference, with 58.8 per cent preferring her over the 35.3 per cent that chose Hennessy.
It isn't overly surprising that Beston is leading in the polls. While she at times appeared nervous at the first hustings, she has given consistently strong performances and leaned heavily on her union and activism experience. Hennessy, on the other hand, has grown into the race. Initially pitching himself as the candidate from outside the union, he has toned down this narrative as the week has progressed and instead sought to draw on his background as Access Officer.
Education
After two years of uncontested races, the race to be the next TCDSU Education Officer is set to be the most contentious of this year's election, with the figures for each candidate too close to call with sufficient accuracy who will be elected. According to our polls, Sally Anne McCarthy holds 48.4 per cent of first preferences, while Niamh McCay takes 48 per cent.
Close-Run Race Between McCarthy and McCay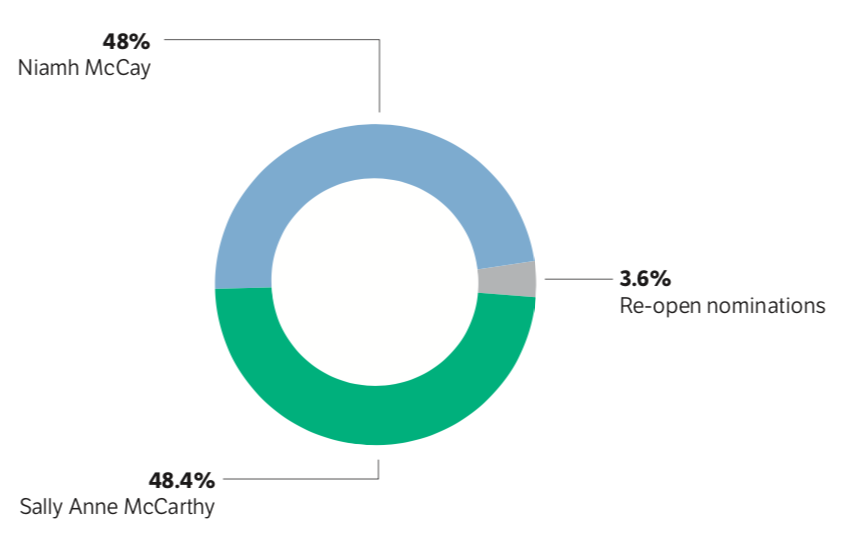 This result is unsurprising, with both candidates struggling to distinguish themselves in a closely fought race. After the presidential candidates, both women have had the most obvious support both on the ground and at hustings – often met with thunderous applause when they take to the stage. When it comes to policy points, neither candidate wanders far from the other. At various stages, McCarthy has been the voice of the more frustrated student, while McCay has taken a more cautious approach. Both have faced extensive questioning on the Trinity Education Project, communication and the student partnership agreement and largely stood up to the test, if failing to offer anything overly contrasting.
Given that McCarthy has expressed more anger about the implementation of the Trinity Education Project, it is unsurprising that those who are the most dissatisfied with the implementation of the project are more likely to vote for her. It is also an interesting correlation that fourth years were the group most dissatisfied with the project's implementation and the most likely to vote for McCarthy, with her securing 55 per cent of their first preferences and McCay receiving just 39.4 per cent. It would seem that McCarthy's constant criticism of the project – she often takes a personal approach and talks about her own struggles with its implementation – has resonated with these voters.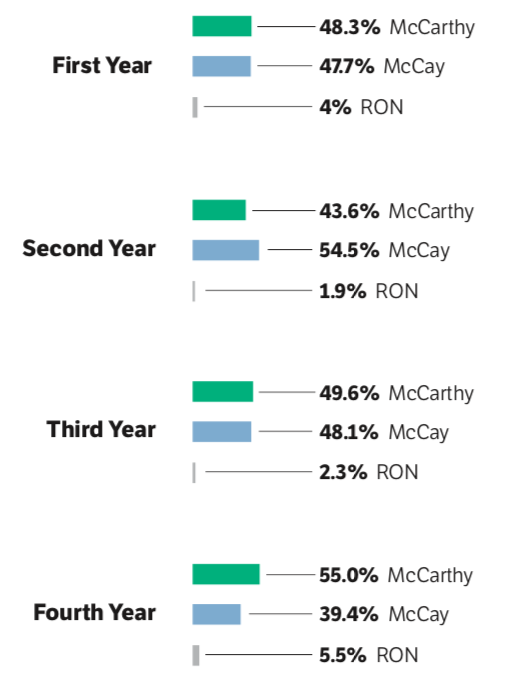 EMS students also expressed strong dissatisfaction with the implementation of the Trinity Education Project and within this faculty, McCarthy secured 71.6 per cent of first preferences, while McCay received just 24.7 per cent. Within Arts Humanities and Social Sciences (AHSS), however, there was a clear preference for McCay, where where she takes a strong majority of 63.9 per cent of first preferences against McCarthy's 32.8 per cent.
While satisfaction with the Trinity Education Project may be a factor in these students' allocation of their first preferences, the votes are also divided according to both women's respective faculties. McCay is a third-year politics and geography student while McCarthy is a fourth-year physics and astrophysics student. The turnout among faculties could be a pivotal factor in eventually deciding who will win this contest.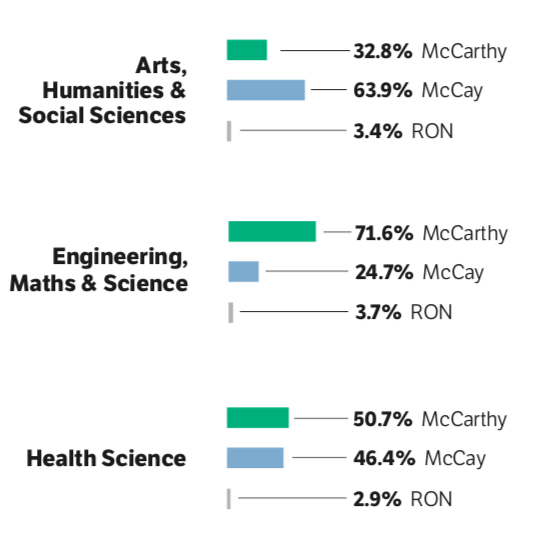 Within the other year groups, McCay finds most of her popularity amongst second-year students. Here, she secures 54.5 per cent of voters' first preferences, while McCarthy takes 43.6 per cent. McCay was Music Officer of the JCR last year so would have been counting on a strong turnout from people who would recognise her from Halls. Despite being a third-year student herself, she surprisingly loses out to McCarthy amongst her peers, with 49.6 per cent choosing McCarthy and only 48.1 per cent giving her their first preference.
While last year's uncontested race was missing in-depth talk of the Trinity Education Project and the student partnership agreement, it would appear that this year's race has headed in the opposite direction, with both candidates so well versed that voters are having difficulty choosing between them. With the only area of disparate voting being between the two faculties, it would seem that the tipping point might be either candidate's ability to ensure a strong turnout from their respective side of campus.
Entertainments
Of the three candidates running to be TCDSU Entertainments Officer, we predict that Judith Robinson will come out on top. According to our polls, Robinson will win 44.2 per cent of first preferences, with Luke Rynne Cullen securing 30.1 per cent and Jerico Alcaras coming in last, with 22.4 per cent. Re-open nominations accounts for 3.4 per cent of first preferences, meaning we expect a second-round elimination of Alcaras and the vote to go to Robinson in the third round of run-offs. Only 25.9 per cent of Alcaras's votes need to go to Robinson to put her over the quota.
Robinson has a Substantial Lead on First Count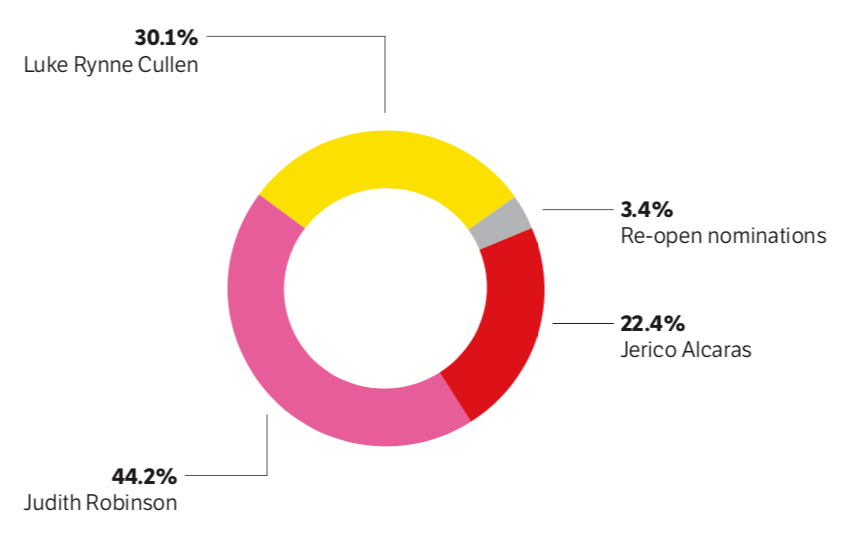 The strong lead for Robinson will be a blow for Rynne Cullen, who has performed well at hustings. The least surprising aspect of these predicted figures is the failure of Alcaras to catch students' attention, and thus their votes. Despite displaying high levels of energy at the first hustings, Alcaras's spirit appears to have dropped at subsequent hustings, often offering vague answers to important questions, such as how he intends to actually implement his plans within the union's budget. It's a pity that Alcaras has been unable to catch voter's attention, with his concept of "entertainment with a purpose" worthy of intrigue. Some of his thunder was stolen during the week, however, when the Electoral Commission forbade him from charging €1 into his event, Intergalactic, this Wednesday. The money collected would have been donated to Focus Ireland.
Each candidate has established a niche for themselves, with Robinson sticking mostly to delving deeper into her manifesto points, Rynne Cullen leaning on his experience and Alcaras adding a more light-hearted approach to the race.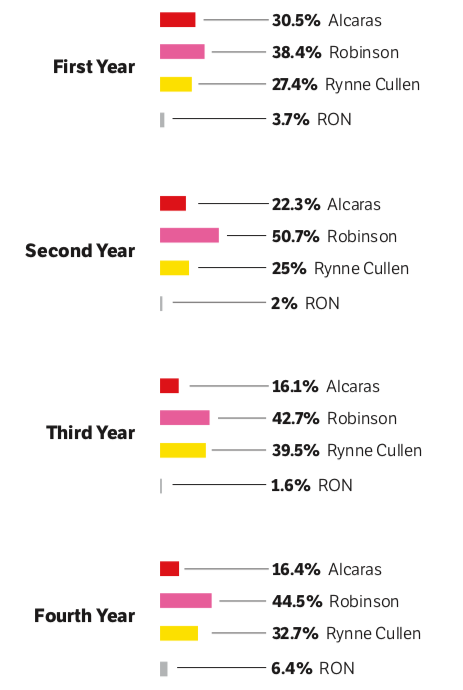 Robinson's experience as Entertainments Officer of DU Players and the diverse nature of events she has planned as a result may have been a boost with students viewing Rynne Cullen as the more establishment Ents candidate – a factor that has hindered candidates before. Live Music Officer on the current Ents committee, it's inarguable that Rynne Cullen has the strongest background in organising and setting up events. These factors display an interesting correlation with last year's race, when students rejected the significant experience of Matt Dundon and instead voted overwhelmingly for incumbent David Flood, who promised big ideas, if little information about how he would follow through.
Despite Rynne Cullen's experience in hosting events, it is important to note that it in fact has been Robinson who has included the most events in her campaigning. While all three candidates will host the traditional Entertainments night out this week, Robinson already has two events under her belt. Last week, she hosted a DJ set in the Physics Garden and a yoga session to round off the week of campaigning.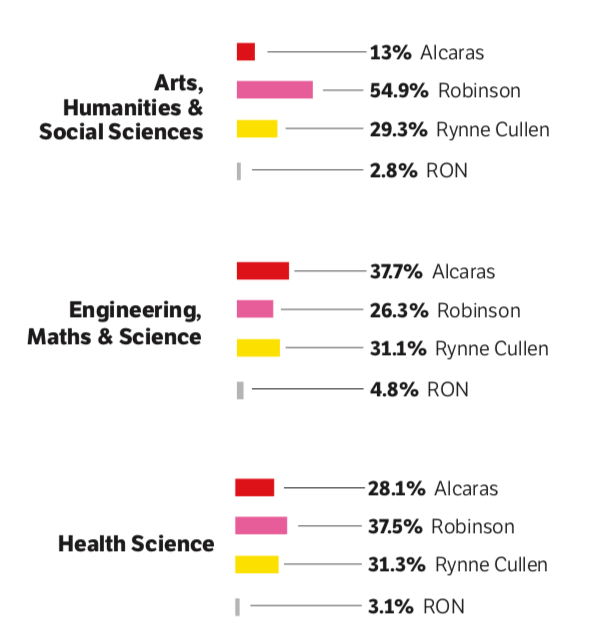 If there is an area Rynne Cullen can look to gain ground in, however, it is Engineering, Mathematics and Science (EMS), where Robinson secures just 26.3 per cent of first preferences. Alcaras secures the highest EMS vote, with 37.7 per cent, but Rynne Cullen isn't far behind with 30.1 per cent. Despite Rynne Cullen and Robison both coming from the Arts, Humanities and Social Sciences (AHSS) faculty, Robinson secures the majority of first preferences with 54.9 per cent, indicating they would vote for her. Rynne Cullen secures just 29.3 per cent. In Health Sciences (HS), 6.2 per cent separates the two.
The distribution of preferences among year groups is quite similar to overall averages, with a few notable exceptions. While Robinson comes out top in every year group, Alcaras's strongest vote is amongst first years, where he hits 30.5 per cent. Rynne Cullen, on the other hand, finds the most support among third years, where he gets 39.5 per cent of first preferences. Alcaras's support drops significantly among the older years, while Rynne Cullen's and Robinson's increases.
Communications and Marketing
Uncontested candidate Muireann Kane is expected to win on the first count of the vote, with 58.5 per cent of the votes and re-open nominations securing 41.5 percent. This is the highest re-open nominations vote out of all three uncontested races, which could perhaps be down to the fact that Kane is the only candidate currently facing a co-ordinated re-open nominations campaign. On Wednesday evening, a RON for TCDSU Comms Facebook page was set up.
In an email statement to The University Times, second-year history and political science student, Kate Collins, who is running the campaign, said: "We are a group of students who, after the first two hustings, are disappointed by the current state of the race for Communications and Marketing Officer." Despite Collins contesting that "all our sabbat races should be contested", currently, Kane is the only person the group has singled out for criticism.
Kane Faces Hefty RON Vote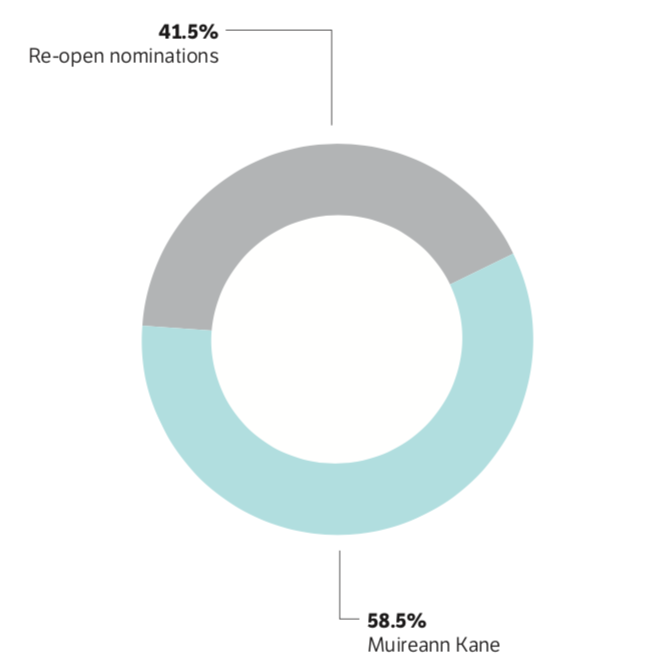 "We have absolutely nothing against the current candidate", Collins said, "but ultimately Trinity students deserve a choice about who gets to represent them".
In the early stages of the campaign, Kane was criticised for her decision to run her online campaign solely on Instagram. Defending this decision at hustings, Kane said she had conducted extensive research into which platform was the most suitable. Despite this, she decided to launch a Facebook page midway through elections entitled Muireann for TCDSU Communications and Marketing.
Kane's decision to focus on just one platform originally – even if the most successful – is interesting considering the fact she also has a remarkably small campaign team. Consisting of mostly just herself and her campaign manager, Kane has had a limited presence on the ground. It isn't unusual for uncontested candidates to focus much of their efforts on their online presence. In 2017, sole candidate Úna Harty focused most of her campaign online with a limited presence on the ground. At the time, The University Times wrote that this sort of online presence "is vital for a candidate running for this position". However, Harty still made use of various platforms and had strong branding – something Kane has been criticised for lacking.
Kane has also been criticised for the lack of accessibility of her manifesto. At the Council and Equality hustings, when questioned on the difficulty people may experience reading it – especially those with dyslexia – she said that a "few people read over it with no complaints". She also later implied that she could relate to difficulties with accessibility because she was "of the glasses persuasion". After a member of the audience accused this as dismissive, Kane took steps throughout the week to provide a more accessible version of her manifesto.
Kane's strongest support is amongst first years, where she secures 67.6 per cent of first preferences before it declines with second and third years. Kane sees a rise amongst fourth years to 53.5 per cent, perhaps down to the fact the she is a fourth-year art history and architecture and Italian student.
Among faculties, there is a slight increase in support for Kane in the Arts Humanities and Social Sciences (AHSS) faculty, with 59.8 per cent giving her their first preference, and a major increase in support in Health Sciences (HS), with 67.5 per cent. Among Engineering, Maths and Science (EMS), she is less in favour, taking only 52 per cent of first preferences.
Those dissatisfied with changes under the Trinity Education Project were not inclined to vote for Kane, with her taking only 41.9 per cent among those dissatisfied, with a 58.1 per cent majority voting to re-open nominations. Considering the high levels of criticism with Kane's campaign so far, it could be that students feel like she will be ill equipped to help them communicate their difficulties with the project if elected next year.
Welfare
Aisling Leen is running uncontested and is predicted to cleanly win her race, with 77.2 per cent of votes against a 22.8 per cent vote to re-open nominations. However, there was a high level of uncertainty in this race, with 43 per cent of voters unsure as to which they would vote for.
Leen has the second highest re-open nominations vote of the uncontested races, and the highest number of unsure voters. In comparison to incumbent TCDSU Welfare Officer James Cunningham, Leen has more than double the percentage of votes to re-open nominations. Last year, it was polled that Cunningham would win on the first count with 89.2 per cent of the vote. On the night, he was elected with 84 per cent of the vote.
Leen Trumps RON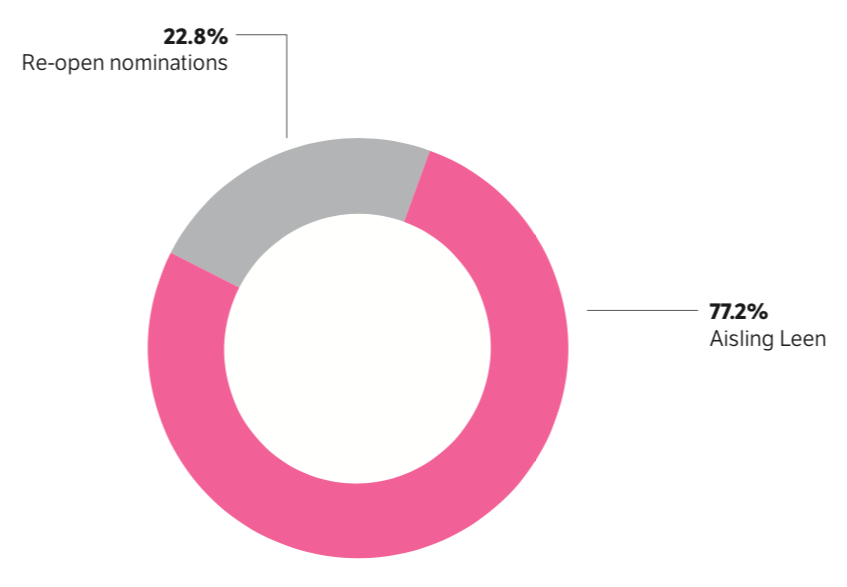 This race is part of a growing trend of uncontested welfare races – with this the second year of an uncontested welfare race. Previous elections have seen as many as five candidates running for the role. It is a curious trend considering the current high-profile nature of many welfare issues, such as consent, mental health and gender equality.
Leen is strong across all year groups with her highest vote amongst second years, where she secures 79.5 per cent of the vote. Her lowest voter group is third years, where she drops to 72.9 per cent.
Between faculties, Leen is strongest in Health Sciences (HS), where she secures 84.7 of first preferences, followed by 81.3 per cent in the Arts Humanities and Social Sciences (AHSS) faculty.
However, she sees her highest drop amongst Engineering, Maths and Science (EMS) voters where she receives just 67.2 per cent. A low number of first preferences also plagued Cunningham last year and is most likely indicative of the divide between House Six and the Hamilton. Often, students in the east end of campus feel disenfranchised with the union, especially when it comes to welfare.
Despite mixed performances at hustings, Leen's first preferences remain high – once again showing the limited effect that husting performances have on voter preferences. She has had a large campaign presence on the ground – both on and off-campus – and hosted a meditation session in the Rose Garden during the week, a nod to her experience as treasurer of DU Meditation.
Editor of The University Times
Out of all the uncontested races, Donal MacNamee – running to be Editor of The University Times – sees the lowest re-open nominations count. It is expected that MacNamee will win on the first count, with 88.2 per cent of first preferences.
On average across the races, 30 per cent of people are unsure of who they are voting for. However, MacNamee has come in below the average, with only 25.2 per cent of those polled unsure of whether they would vote for him or to re-open nominations.
MacNamee Thumps RON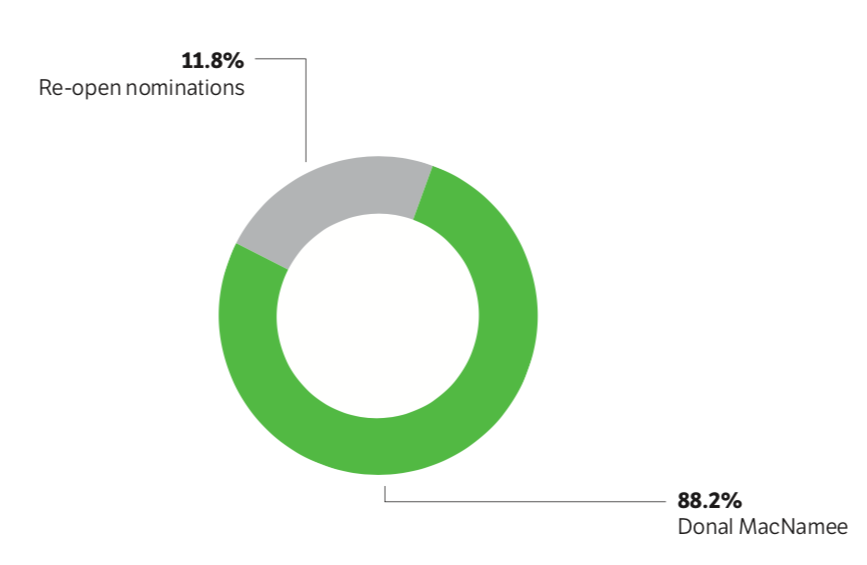 Support for MacNamee was the most consistent in any race across all years, with no year falling outside of our margin of error in difference with the overall figure. This held across faculties for the most part, but there was a reduction to 84.9 per cent support in Engineering, Maths and Science (EMS), showing the faculty's tendency to vote to re-open nominations.
MacNamee's re-open nominations is the lowest of this year's uncontested elections. If what our poll predicts is borne out on Thursday night, MacNamee could be set to receive the lowest ever number of RON votes as far as uncontested races for Editor of The University Times go. But the predicted figure is also much higher than what The University Times predicted for previous candidates for the role.
In last year's contested race, it polled at just 2.1 per cent – but this figure was an outlier in comparison to previous years. In the 2017 election, which saw Dominic McGrath elected, The University Times predicted that re-open nominations would receive 8.8 per cent, when McGrath in fact received 13.2% RON votes. In 2016, Sinéad Baker was predicted to get just 8.7 per cent RON votes, and in fact received 15.2% RON votes. (Thus far, Edmund Heaphy, the first independently elected Editor of The University Times, has received the lowest number of RON votes in the uncontested races for this position – at just 12%.) It remains to be seen whether the addition of a serious competitor in the race, rather than McDermott's joke candidacy last year, would serve to lower the re-open nominations vote.
Despite the uncontested nature of the race, MacNamee has had a large campaign presence throughout the week – something that has been particularly apparent at hustings. Delivering solid performances in the face of difficult questions about the paper's funding and sustainability, MacNamee has cut a confident yet not complacent figure.
Last year was the first time since the role was split from that of Communications and Marketing Officer that the position was contested. Incumbent Editor Eleanor O'Mahony saw off the challenge of joke candidate Michael McDermott with 58.5 per cent of the vote on the night. McDermott – who was also running as a presidential candidate – didn't openly contest the editor race and when questioned on what his plans were for the paper, said he would include more coverage of Spiderman.
TEP Satisfaction
As part of our polling this year, we also conducted a survey on students' feelings towards the changes made to their course under the Trinity Education Project. Throughout the year, students have expressed dismay at how this dramatic curriculum overhaul has been implemented. Several candidates, especially those vying for the position of Education Officer, have jumped on these feelings of dissatisfaction – promising to bring change next year.
According to our polls, an overall proportion of 35.7 per cent of students were either dissatisfied or extremely dissatisfied with the initiative, with 42.8 per cent indifferent and just 21.5 per cent either satisfied or extremely satisfied.
Unsurprisingly, first-year students were the most apathetic towards the Trinity Education Project, with 50.8 per cent indifferent towards the changes. They were also around 10 per cent above the average satisfaction rate with 31.9 per cent classing themselves as satisfied. It is unsurprising that first-year students would be the most sympathetic group towards the changes, as they never experienced any other type of undergraduate teaching model. Second-year students were also relatively unconcerned with the changes, with most of the figures in line with the overall averages.
These distributions change significantly as we move into the older years. As both third and fourth-year students had already experienced two or three years of the old system respectively, they were most likely to notice differences with the implementation of the project. Third-year students were 48.3 per cent dissatisfied, while fourth-year students were 52.5 per cent dissatisfied.
Of the faculties, Engineering, Maths and Science (EMS) students were the most dissatisfied, with 40 per cent noting that they were unhappy with the changes.
These students were the first to feel the effects of the project and have long complained that their faculty wasn't ready to take on such an immense change. Throughout our polling, EMS students have represented a more cynical body of voters – often having the highest re-open nominations vote or the highest levels of dissatisfaction. However, it is important to remember that students across all faculties – especially those in older years – felt ill-prepared the changes brought by the project.
Correction: February 26th, 6pm
An earlier version of this article incorrectly referred to the breakdown of votes among EMS students for the education race. In fact, McCarthy received 71.6 per cent of first preferences in this faculty, while McCay received 24.7 per cent. It has been updated to reflect these figures.
---
Eleanor O'Mahony and Jack Synnott also contributed reporting to this piece.
Caelen Feller conducted data analysis, cross tabulation and modelling.