Last year's contested race for the position of Editor of The University Times, the first contested race in the paper's short history, offered students two candidates with vastly differing backgrounds. While runner-up Michael McDermott – who also ran in the presidential election – had never written for the paper, he raised important questions, through his trademark satire, about the role including the significance of it being an elected position.
"It's weird to have a position that's never contested when there's clearly a best person for the job already", he said.
This year sees the race once again uncontested, with fourth-year English and history student and current Deputy Editor of the paper Donal MacNamee running for the role. Despite the lack of competition, he is keen to prove that, even with no opponent, he takes the job seriously and has concrete plans for the improvement of the paper.
ADVERTISEMENT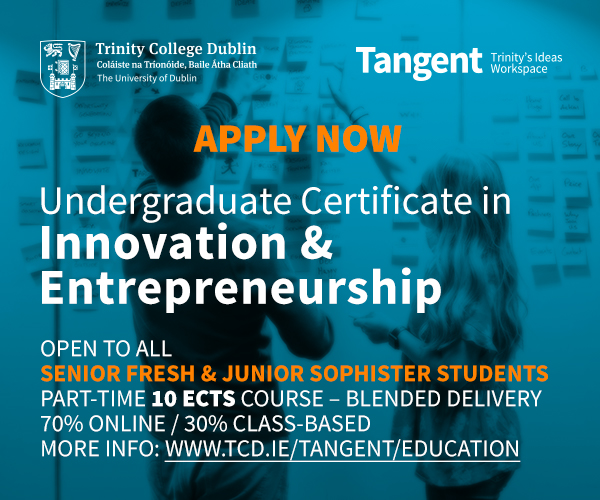 Speaking to The University Times, MacNamee's explained why he got involved: "I love it. Since it became apparent that I wasn't going to be a professional footballer, being a journalist was the next best thing. I'm obsessed with every aspect of the paper."
While a passion for journalism is fundamental to the role, the Editor of the paper is also expected to perform a myriad of other duties – not least bringing funding to the paper. While the paper is funded by the union, elections provide a rare opportunity for students to directly question the future leadership of the paper on policies for securing advertising.
Students found out that the SU President hadn't raised any objections, because of UT's reporting. I don't think it's a stretch to say the SU was forced to be more ambitious
For MacNamee, the issue of the paper's contribution to Trinity is indisputable. Drawing on the paper's coverage of the seismic Take Back Trinity movement, he explained that "students found out that the SU President hadn't raised any objections, because of UT's reporting. I don't think it's a stretch to say the SU was forced to be more ambitious because it had to respond. I don't think that would have happened if it hadn't have been for UT".
However, for some students it is the money – rather than the contribution to College discourse – that is more important. MacNamee recognises this and said he does not intend to "bury his head in the sand". In the realm of advertising, he would see the paper's current prices drop. "I think our prices are probably a little bit too high on our ads. But there isn't a newspaper in the world who isn't struggling with advertising."
A number of solutions have been mooted for the paper's funding issue, one of which would see the paper more to a print-free model. MacNamee says he wouldn't consider this, however. "I know there are academics in Trinity, who might not be on Facebook to read it online, who pick up The University Times and read it from cover to cover. The printed issues of The University Times are a huge part of the service we provide to the College community and I think a lot of people would be sad to see it go", he said.
Beyond dropping the price of advertisements, he is noticeably vague on how he might continue to fund the paper. "These are issues all newspapers face, it's far from just us", he explained. "That doesn't mean, however, that we don't have to address it – we do. It's about exploring every avenue possible."
It would seem, though, if there was someone to lead The University Times into a new era, MacNamee's previous experience in the paper has given him the perfect grounding to do so. "I do a lot of the same work as Eleanor [O'Mahony]. I make snap decisions every day. I think I have the love, the experience and the flair for it as well", he said.
No one can deny he has ample experience for the role – MacNamee previously served as the paper's Sports Editor and was promoted Acting Assistant Editor during last year's election. With the Editor of The University Times leading a growing organisation made up of 70 student editors and many more writers, having the ability to manage large scores of people across a variety of sections and roles is vital. On this point, MacNamee is equally as assured: "I get a buzz from working with such a vibrant, talented group of people. It's a privilege, and I have the ability to talk to people, command people."
It's difficult, working around so many of one's peers, to strike a balance between the personal and professional. For MacNamee, though, the paper must come first. "Students aren't funding UT to pat people on the back", he said,
Yet, while the broadsheet should, first and foremost, fulfill its aim to "hold power to account", MacNamee would see the newspaper's four-year-old culture supplement, Radius, grow: "I don't see why our society coverage shouldn't be on a par with our sports coverage. I think if we are to ambitious as we would like to be, Radius is absolutely necessary."
It's an opportunity for really creative students to hone their writing
The magazine also earns its place, he feels, by providing some much-needed experience in journalism beyond the walls of university: "It's an opportunity for really creative students to hone their writing. There is no journalism school in Trinity, but UT has taught me great skills that will stand me in good stead for a job."
While it is clear that MacNamee is eager to highlight the opportunities that The University Times provides, he concedes that the paper "can learn from societies".
"In that they have specific roles for people to organise events. We don't have that. The Editor's job is busy enough, so I would like to create positions for community engagement", he explained. "So people can find out what we do and why we do it. I want to make it easier for people to get involved."
His primary focus, however, is to make the paper accessible to new writers: "We have a very talented team of writers, but for every writer there is, there are two or maybe three more who are equally passionate. I sort of bottled it when I was in first year by not getting involved and now I wish I hadn't. If I'm trying to create this new managerial framework in the paper, that'll be a huge part of that."
Is this surge in writers feasible for a paper stretched of resources, with such a high output? He admitted that hundreds of new contributors might be unrealistic, but noted that "these things tend to filter themselves organically. I suspect this structure will help the paper to grow, and I don't think it will become top heavy".
MacNamee's idealism is infectious, but he will face tough questions during the election. The paper's processes, output and finances have never been under more scrutiny. The University Times must work hard to prove its worth to students in the coming year and MacNamee will have to impress with concrete and achievable proposals for reform.
---
Malachi Ó Marcaigh also contributed reporting to this piece.
Imogen McGuckin is the Assistant Literature Editor of The University Times. McGuickin will editThe University Times Editor race in this year's TCDSU elections. Malachi Ó Marcaigh is Deputy Irish Editor of The University Times. He will act as The University Times Editor correspondent during the election period.