It's week three, it's suddenly February and the dallying days of Christmas are but a fanciful memory. Fear not, however, for all is not lost. Trinity's famed RAG Week celebrations are upon us and offer up a week of both generosity and pure, unadulterated self-indulgence. If you're a fan of Mary Berry, the big, blue, very cold sea, or surrealist-inspired fashion, you will be spoiled for choice this week, and won't have to feel too guilty about deserting the Ussher in the knowledge that your money will be going to a good cause.
Monday
Pop down to the Atrium at 6.30pm for Suas Trinity's magazine launch. The magazine's editors will be present to chat to any of those present, and the evening will also feature a speech from human rights lawyer and TED2018 speaker Simone George. If the promise of wine doesn't tempt you, a speech from George – who previously visited Trinity with her partner Mark Pollock and delivered an enthralling TEDx talk – should whet appetites.
Tuesday
Trinity Fashion Society (Fashion Soc) returns once again to delight us with its annual fashion show, The Persistence of Memory. Taking place at D-Light Studios on North Great Clarence Street, the show promises to whisk the audience away into a surrealist world of fashion to showcase the work of recent Irish fashion graduates. Tickets are €13 and may be purchased on Eventbrite.ie, gaining you entry into the show and an after party.
ADVERTISEMENT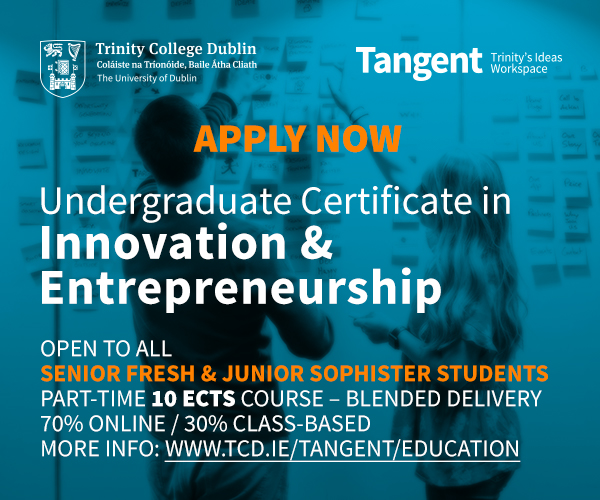 Wednesday
DU Dance's annual RAG Week event, Trinity's Best Dance Crew, returns this year in aid of Amnesty International. A handful of Trinity's sports clubs and societies, including Dublin University Fencing Club and Dublin University Football Club (DUFC) Women, are set to take part and perform their very own dance routine. Each group has been subjected to relentless, demanding dance classes at the behest of some of DU Dance's most esteemed members for the past number of weeks, promising an impressive display their finest moves. Tickets are €8 and may be purchased at the event's Facebook page.
Thursday
Trinity Environmental Society (EnviroSoc) and Trinity Surf Club are joining in on the RAG Week celebrations this Thursday with their Plunge for Pieta event. Bravely bracing the elements, the two groups are coming together to raise money for Pieta House, a non-profit organisation working to prevent suicide and self-harm by providing free therapy to those in mental distress. All of those taking part will be meeting at the Campanile at 12.45pm and taking the Dart out to Seapoint where the chilly – but inviting – waves of the Irish Sea will await. Bring your swimsuits, towels and the cosiest clothes you own and, of course, your KeepCup for the hot beverages that will be on offer.
Having regained some warmth after your praiseworthy plunge, go and plop your soggy bottom down on a chair in the GMB at 4pm to hear the one and only Mary Berry speak to the Phil. That's right, this is not a drill – Mary Berry will be on campus this Thursday to divulge her best-kept baking tips and maybe, just maybe, spill the beans about whether Paul Hollywood's eyes are in fact so piercingly blue in real life. Battle your way to the front of the queue on Thursday to enjoy an hour of wholesome, hearty conversation that will leave you hankering for a good victoria sponge.