In the face of tough questioning from an experienced panel at tonight's Council and Equality Hustings – the second hustings of the Trinity College Dublin Students' Union (TCDSU) election period – the first fault lines of the campaign have emerged.
With probing questions delivered skillfully from Stephen Sheil of the Electoral Commission, Nathan O'Gara from Q Soc, Caolán Mac Grianna from An Cumann Gaelach and the audience at large, the evening provided the first real test of the elections for the candidates.
After yesterday's calm, if somewhat slow, start to campaigning in front of a largely sympathetic crowd, several candidates seized the opportunity to elaborate on their policies, while others faltered when presented with the first real scrutiny of the elections.
ADVERTISEMENT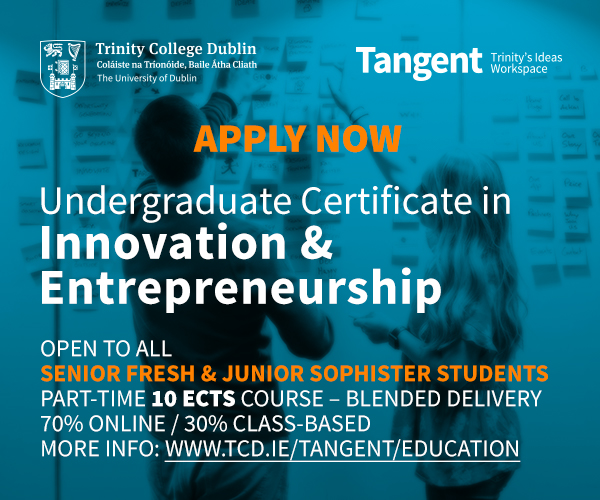 President
Given both candidates' extensive union experience, tonight's Council and Equality Hustings was likely anticipated to be a relatively straightforward affair. Instead, it saw the contenders on somewhat uneasy footing, as issues of equality, diversity, and the need for tangible solutions were brought sharply into focus.
Daire Hennessy faced a number of tough questions on the minority-focused content, or lack thereof, of his manifesto. Questioned on why he didn't keep to the "longstanding tradition" of approaching members of Q Soc or Cumann Gaelach in preparation for elections, Hennessy seemed reticent, arguing that "the student body is much wider than societies". "I want to reach out to all students, not just to – for want of a better word – hacks", he explained.
Despite his seniority in TCDSU, Hennessy appeared to be positioning himself as the anti-establishment candidate for a union that often "takes the wind out of the sails" of ordinary students, a theme visible in his manifesto. This bold strategy has won significant vote shares for "radical" candidates in previous years, but it remains to be seen whether Hennessy's insistence on positioning himself as an outsider will resonate with students – or indeed whether labelling society committee members as "hacks", in response to a question around inclusivity, is a sensible approach.
Laura Beston was on surer ground when it came to the comprehensiveness of her manifesto – though she was forced to concede that she didn't discuss the promotion of Irish in the union as she didn't want it to be a "tokenistic" gesture. Stepping back slightly from the more reformist overtones of her early campaigning, Beston seemed well prepared for tonight's equality-themed hustings, responding to difficult questions with an air of confidence.
In response to a question on balancing the union's activities, Beston went on the defence of her prioritisation of national over student issues, something that has proved contentious in previous presidential races. Beston seemed fearful that she would come under fire for a perceived focus on issues unrelated to students. After a union council filled with discussion of "local issues" – from the Academic Registry to SUSI grants – Beston seemed keen to link the broader focus of her manifesto to more internal student concerns. "My campaign seems so nationally focused but it's not", she said. "It's about students."
While this sweeping statement received an audible cheer from the assembled union members, both candidates neglected to include a concrete framework for their proposed reforms.
Elevating ideology over policy in what is rapidly becoming a trend in this year's race, the candidates continued to offer bold talk. As the campaign proceeds, however, the pressure is mounting for them to prove that there is substance behind the style.
Education
Met with uproarious applause, it was obvious that – behind the presidential candidates – Niamh McCay and Sally Anne McCarthy had the biggest support in the room. When it came to questioning on the night, however, both were extensively challenged on what they would bring to the role.
Following on from her confident performance at the Dining Hall hustings, McCay sought to engage with the audience by drawing from her personal experiences as a means to address the issues. Candour was a key element in her responses, addressing the "disheartening" student disengagement as an issue that could be rectified with the re-introduction an Off-Campus Officer.
Maintaining an upbeat demeanor throughout, she emphasised her aim to increase diversity by introducing a wider range of authors and researchers into teaching materials – perhaps an overly ambitious proposal given the inability of College to overhaul individual curriculums under the Trinity Education Project – and addressed the failure of the project itself.
However, for all her positivity, she failed to provide any concrete solutions to the issues faced by students under the educational overhaul, instead saying: "I want to see the SU in five years and be proud of it."
Building on her performance yesterday, which was often emotive, as it focused heavily on a general theme of student frustration, McCarthy approached this evening's hustings as the first chance to expand on her specific manifesto points. McCarthy wasn't hesitant in her criticism of the union for its perceived failure when it comes to keeping students updated with the implementations of the various strands of the Trinity Education Project.
In her speech, McCarthy called for an online forum to bridge this communication gap and promised to impose longer office hours as part of the union's efforts to help keep students informed of the workings of the Trinity Education Project.
Perhaps playing to the crowd before her, McCarthy addressed a manifesto aim of hers in redesigning class representative training: "At the moment despite all the passion that our class reps have, we're not giving them the training they need." McCarthy plans to integrate implicit bias training and raise the topics of gender and race into class representative training as an attempt to resolve the issue of disengagement between the union and students.
Facing a broad range of questions, both candidates performed well, providing confident answers to most questions. However, despite this, both continue to struggle to differentiate themselves in a race where candidates have traditionally been rewarded more for competence than flair.
Welfare
Council and Equality Hustings provided ample opportunity for Aisling Leen to expand on her core manifesto points in greater detail tonight, but this was an opportunity she passed up in many respects.
Faltering when challenged on certain issues, it was a lack of awareness about fundamental welfare-based issues that somewhat debased Leen's performance tonight.
In four separate questions – regarding students who have experienced incidents of racism, the problems international students face as a College minority, students with disabilities and one about the issue of student gambling – Leen admitted that many of the finer details had "slipped her mind".
It is commendable that she didn't evade issues she was not well versed in. However, given the pervasiveness of student campaigns against gambling, it was surprising to see Leen confess her lack of awareness of this problem, as well as fundamental inclusion issues regarding racism, international students and students with disabilities.
Leen reiterated her stance that there are certain serious issues that students can't have "casual conversations" about. Having previously expressed this opinion in an interview with The University Times, she mentioned this again tonight in relation to substance abuse.
She presented herself as someone who students can rely on, saying that she would personally accompany students to abortion clinics if required and speaking about diligently following up on abortion services in the Trinity Health Centre. However, it was surprising that she didn't spend more time fleshing out her flagship policy to introduce sexual assault reporting mechanisms, especially considering the underdeveloped nature of her plans thus far.
Ents
In the wake of anger about Sunday's Trinity Ball lineup announcement, it was timely that entertainments candidates were asked about their ideal Trinity Ball and their thoughts on this year's announcement.
Both Luke Rynne Cullen and Jerico Alcaras touched on getting acts with, as Cullen put it, "bigger international acclaim". Perhaps surprisingly, given his position on the TCDSU Entertainments Committee, Cullen was most critical of headliners the Coronas. However, he still endorsed Flood's crowdsourcing idea as a success.
Judith Robinson didn't comment on this year's line-up, focusing instead on her own policy of a "recharge tent" at the ball. Alcaras spoke about his own idea for a seating area, much in line with Robinson's – consistent with previous years' conversations around access at events.
The candidates were also asked a question about their favourite previous events and ideal flagship events by incumbent Flood. Rynne Cullen suggested a unique Sesame Street 50th Anniversary Party, with Robinson highlighting Rainbow Week's Drag Race and Alcaras name checking his Crazy Rich Asians Ball.
As for Alcaras's policy of inclusivity, he consistently referred to "music, movies, and food" as great equalisers, an easy answer to issues that might require more specific solutions. His lack of energy was a notable contrast to yesterday's Dining Hall performance, though his sincerity shone through despite answers that were at times lacking in depth.
Asked about harm reduction on nights out, Rynne Cullen said he would work to "highlight the dangers of nights out", mentioning his experience working as security at Pride.
Robinson, who spoke with great clarity, was keen to discuss her record on promoting consent workshops in her role with DU Players and her desire to widen these initiatives across campus. Concentrating on drug use, Alcaras said "we want to reduce that" and emphasised security and using event pages as a way to discourage drug use.
Seeming more at ease than at yesterday's Dining Hall hustings, Rynne Cullen was strong on his desire to make events more accessible for students with disabilities and his experience in the entertainment sector as a reason for voting for him.
Conversations this evening were, as expected, more detailed, with candidates pushing their own ideas and policies. Certainly, accessibility and equality issues were raised, but candidates, at times, leaned on their own campaign promises instead of engaging properly with questions on these tricky topics. With a lot left to be teased out, no frontrunner emerged among the entertainments candidates this evening.
Communications and Marketing
Issues of access and expertise were at the forefront of tonight's questioning of sole candidate Muireann Kane. However, Kane was unimpressive in her fielding of certain questions – something picked up on by the crowd.
With the accessibility of her manifesto first questioned by O'Gara and then again during audience questions, it seemed that Kane did not anticipate it. First answering O'Gara – who critiqued its accessibility specifically for students with dyslexia – Kane said that a "few people read over it and they had no complaints", while also implying she could relate to accessibility issues because she was "of the glasses persuasion''. Later, a member of the audience accused her glasses comment of being "dismissive". Asked if she would be willing to further educate herself, Kane conceded and confirmed that she would.
Kane remained staunch in her resolve to maintain her commitment to ethical sourcing, saying she would forsake unethical sponsors no matter what the cost. She also evaded the controversy that erupted earlier in the year over the Irish version of the union's weekly email by saying that the email "does more good than it costs".
Describing her suitability for the role, Kane asserted that she was "well versed in photoshop" and had a "keen eye for the smaller details". Kane displayed her confidence and sense of humour in speaking, but regarding substantive policy details and her casual responses to serious concerns of certain cohorts, she gave the impression of a candidate who had not done her homework.
Editor of The University Times
While themes like the paper's sustainability and future financing were conspicuously absent from yesterday's Dining Hall hustings, fourth-year English and history student Donal MacNamee faced tough questions tonight on how he plans to ensure the paper's financial future.
MacNamee assured those present that "no-one at The University Times is under any illusions about the financial future of the paper". As well as cutting the cost of advertising, MacNamee also pushed the success of the paper and suggested there was no reason that it couldn't learn from Trinity's societies and attain funding from outside businesses.
Facing criticism from Q Soc Secretary Nathan O'Gara about the paper's coverage of LGBT issues, MacNamee agreed that it was an area the paper could improve in. Mentioning his plan to introduce a community outreach officer, he proffered this "holistic approach" as a way to reach more groups on campus.
Further questions about the paper's environmental sustainability and the spread of the far-right in Trinity were handled confidently by MacNamee. Clearly having done his homework on the paper's recyclability, it was obvious that he wasn't keen to cut the paper's print run – emphasising the importance of each section. Confident in the "rigorous editorial process" of the paper, he also said that he wasn't concerned about the paper being used to support extremist campaigns.