There must be something in the air this casual February 11th. It seems that three of Trinity's most active societies are hosting their busiest celebrations, all in the same week. This is, for the average, wandering student, an overwhelming and taxing coincidence. "Do I go to the Trinity Arts Festival (TAF) talks with Subset, Saint Sister, and Maser? Or do my loyalties lie with the lawyers as they pie lecturers in the face? OR, should I investigate this newfound popular obsession with Ted Bundy?", I hear you cry. In answer to your rather niche torrent of questions, below is a list of some of the week's most promising and intriguing events.
Monday
For the first installation of TAF talks this year, head over to the University Philosophical Society (the Phil) Conversation Room at 2pm on Monday, where the artistic collective Subset will be speaking. The group, best known for their murals across Dublin city and their politically charged artwork, will be speaking to TAF about their work to date, the controversy its stirred and what's in store for the future. Subset have made waves as a collective, having drawn attention to the bureaucracy and greed dictating the space for street art. In addition to this, the collective have launched The Grey Area Project, raising funds for Inner City Helping Homelessness (ICHH), in a similar bid to bring the creative and the social together.
Tuesday
TAF continues its celebrations on Tuesday to celebrate all things feminist. At 7pm, the group is joining forces with DU Comedy in the Pav to showcase some of Trinity's funniest women, including the headline act, Laura Byrne. The event promises an evening of laughs, femininity and, according to the Facebook page, some "tasty, frosty cans". Having warmed up both your liver and your lungs, stick with TAF as it continues its feminist celebration in the Library Project, Temple Bar, with TCD Visual Arts Society (VisArts), DU Photography Association (DUPA) and DUDJ. Their Pink Party event is aimed at celebrating feminist art and artists through music, visuals and performances from a number of exciting (yet-to-be-announced) acts.
ADVERTISEMENT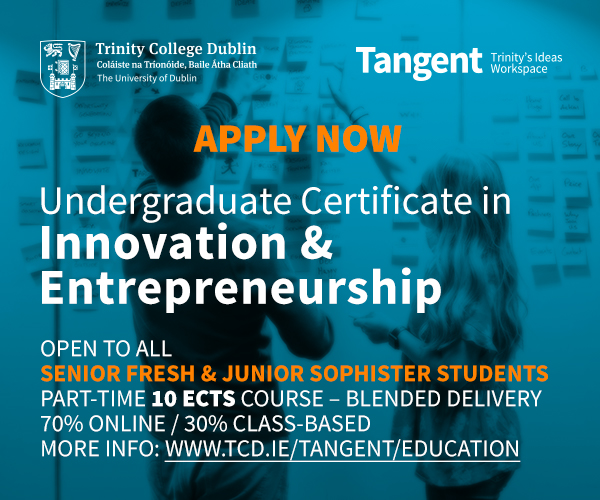 Wednesday
Trinity Literary Society (LitSoc) will be hosting its Litfest this week. As part of celebrations, the society will be hosting its True Crime Panel in room APO.09, Aras an Phiarsaigh. Dr Brian Cliff, Dr Bernice Murphy, PhD student Eva Burke, and Irish crime author Catherine Ryan Howard are forming the panel to discuss the recent surge in popular interest in crime writing, television, film and podcasts. From Sherlock to Ted Bundy, there's no denying that we all possess a morbid fascination with crime. The panel will interrogate the somewhat disturbing appeal of the genre to the contemporary imagination, and what it all really means.
Thursday
"What better way to spend Valentine's Day than with the Law Society?", said only Law students ever. Alas, this may be true, but Trinity College Law Society (LawSoc) has pulled together an admittedly impressive affair, catering for a variety of interests and curiosities. At 1pm, the Trinitones and TradSoc will be performing on Grafton St, bringing together some of Trinity's finest musical talents. Straight after this, at 2pm, the society will head over to Front Square for its Pie the Lecturers event – satiate your cynicism and marvel at this spectacle of people in power being taken down by a mediocre dessert. And if that wasn't enough, you can also look forward to the Take Me Out event at 7pm in the Ed Burke theatre, where you can both cringe and delight at law students desperately attempting to impress one another – it's like the first floor of the Berkeley, except on a stage, and maybe more glitter?
Friday
The volunteer group Give Us The Night will be speaking in the GMB at 5pm for the final installation of TAF talks. Give Us The Night is a group of professionals within the music industry that has launched a campaign aimed at reforming nightlife in Ireland. Centrally concerned with licensing laws in Ireland, Give Us The Night has kick-started a national debate regarding the centrality of the night-time industry to Ireland's culture and economy. Promising an insightful and engaging talk, TAF's final speaker is sure to initiate a fascinating conversation on campus.