Scene and Heard festival 2019 will showcase new work from over 100 theatre companies between February 13th and March 2nd at the Smock Alley theatre. Trinity students, past and present, will be out in force showcasing pieces at this festival. Scene and Heard aims to garner both criticism and response from audience members to help further the development of the projects into the future.
Beginning with present students, Choy-Ping Clarke-Ng presents Where Are You From? , running February 13th and 14th. "WHERE ARE YOU FROM? is borne out of a live installation, 'MY LITTLE CHINA GIRL', which I presented as part of Trinity Fringe 2017, hosted by DU Players", Clarke-Ng said in an email statement to The University Times. "Both pieces explore aspects of my racialized identity, however, in 2017, I was not confident enough to perform. I lay still in a clear box for a total of nine hours for 'MY LITTLE CHINA GIRL'. The work was about killing the stereotypes placed on East Asian women. This time, I'm shouting, dancing and telling my own story with the help of my co-writer and director, CN Smith, and a wonderful team."
An exploration of belonging, this work confronts the complications inherent in a question often taken for granted, with Clarke-Ng stating: "I think the show's core focus is this idea of home and what happens when that is not a distinct, geographical place. We want the show to be fun, interesting and also true to real experiences."
ADVERTISEMENT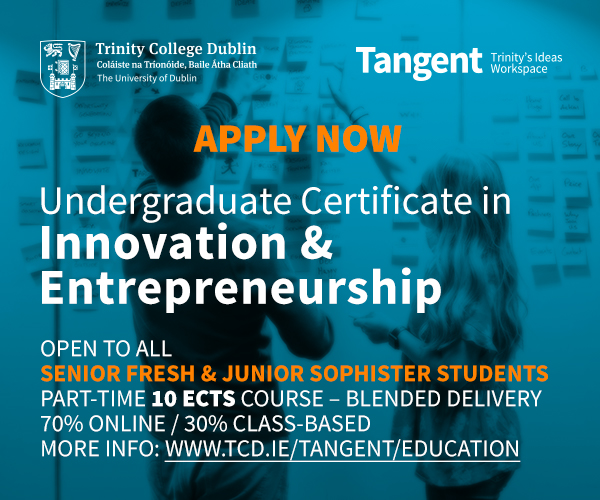 Newly established theatre collective OXBO, the creation of recent Trinity graduates Lisa Nally and Jennifer Aust, will be presenting two shows – FEMINEM (March 1st and 2nd) and Waterford Crystal (February 16th and 17th). Waterford Crystal is a play about a horse on drugs who lost famed jockey Cian O'Connor his Olympic gold medal. FEMINEM is a one-woman show about navigating the world of pop culture and dissecting the myth of Eminem. FEMINEM is directed by current Trinity student Rowen Clarke.
Shabadoo Theatre present Lost in Transmission, written by Ken Donnelly, current Trinity student Kirsty Murphy and Liam Farrell. Starring Oisín Walsh and Ellen Finnerty, Lost in Transmission is "a deranged channel-surfing sketch show", exploring the "strange, lesser-explored corners of your TV box", and is the latest comedy from a company that achieved great success at Edinburgh Fringe 2017 with their show Eirwaves: Laughs that are not to be missed.
The Terms and Conditions of Me and My Ma (two shows on February 24th), written and performed by Connor Burke, is directed by recent Trinity graduate Allie Whelan, who last year helmed the ISDA-winning Pool (No Water). This piece presents the relationship between a mother who is stuck in the past and a son facing a precarious future.
Recent drama and theatre studies graduate Gráinne Holmes Blumenthal and Unamused Theatre return to the stage after their successful Dublin Fringe show Down the Drain with Manologue (February 15th and 16th): a one-woman show attempting to answer the question: "What was he thinking?".
Loli Ros Gordon, a former Trinity student and performance teacher, directs and choreographs A Fragment of Tomorrow (running March 2nd). This show, presented by Stage Whispers in collaboration with Flamenco in Dublin, combines contemporary dance and Irish music with theatrical dialogue. The female characters are inspired by the women featured in Federica García Lorca's tragic play Blood Wedding.
Starship Valentine (February 13th and 14th) from Club Valentine tells the story of a crew of Vietnam draft dodgers who get caught in an interstellar conflict that they can only solve through song, dance and red-hot love. Starship Valentine is also very much a Trinity affair, with Robbie Doyle, Jimmy Kavanagh and Sam Killian performing the piece and directorial duties falling to recent graduate Paul Miller.
Finally, we have Dangerous Liaisons (February 26th and 27th) from William Dunleavy and former DU Players Chairperson Benedict Esdale. A contemporary musical reimagining of Pierre Choderlos de Laclos novel Les Liaisons Dangereuses, this meditation on power, sexual politics and the nature of truth is choreographed by Trinity's Cian O'Sullivan and stars a plethora of Trinity students past and present including Dunleavy, Rua Barron, Martha Breen, Domhnall Herdman, Joshua Hurley and Lainey O'Sullivan.
Three former DU Comedy Society committee members will be taking to the stage in a range of stand-up and alternative comedy shows. Ian Lynam writes and performs A Portrait of the Autist as a Young Man, which will run on February 26th and 27th, and will explore themes of autism and its effects on humour. Ben Morgan's Smile C*nt You're Not Dead Yet is a piece that muses on the performer's cancer survival, the death of a friend, and existential worries, all while looking for laughs in finding the meaning of life. This runs February 23rd and 24th in the Main Space. Francis Breen's An Evening with Lee Trundle, is an absurdist comedy show that takes place in an imagined scenario where former Swansea City footballer Lee Trundle's appearance has been cancelled and Breen must replace him. An Evening with Lee Trundle runs February 28th and March 1st in the Boys' School.
Speaking to The University Times about marginalised voices in Irish theatre, Clarke-Ng notes that "one of the big problems is access to spaces for work. Scene and Heard is a great opportunity to give so many people a stage, even if it's for two shows."
"The opportunity be a part of Scene and Heard is really valuable to shows like Waterford Crystal and FEMINEM", Lisa Nally said in a email statement to The University Times. Nally maintains that "the opportunity to stage the piece with low-stakes encourages artists to experiment with the work they are creating and the way the festival incorporates feedback is exciting for steering our further development". Low stakes, perhaps. However, with the many local and fresh talent on display in one venue, Scene and Heard provides an opportunity to experience the exciting rumblings of Dublin's theatrical present and a glimpse into its bright future.