March 27th will see the clash of five acts competing in the final of Trinity's Battle of the Bands for a chance to play at this year's Trinity Ball, along with a day of recording time in Sun Studios. The musical genres on display range from heavy rock to bubblegum pop with quite a bit in between.
Ronan Connolly, the singer-songwriter who was unlucky enough to receive the opening slot at the second semi-final, played to only a handful of people but blew them away. From the very beginning of the night, his was the name on everyone's lips as the clear winner, before and after everyone else's performances. Connolly perfectly balances a combination of grit, controlled vibrato and virtuosic precision in his emotion-sodden vocals, needing only a clean guitar to express the most complex of feelings.
His own compositions overshadowed his one great cover during his semi-final performance, which speaks volumes about his capabilities. This is brilliant pop music that's passionate and infectious, and I don't think there was ever a chance that Connolly would miss out on a spot in the final: if I was a betting man, this is where my money would be going. He was dealt a difficult hand with his early slot and the cancelling of his band but proved that the size of a crowd doesn't always tell you about the quality of an artist. Catch him with his full band at the final.
ADVERTISEMENT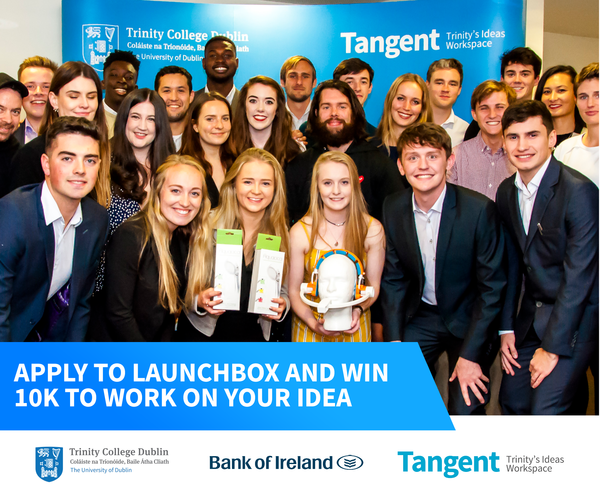 TV People may serve as Connolly's main competition. Though styled like every other four-piece indie band on the planet, they bring a jazzy edge to their jangly guitars, setting them aside from a formula that's been done to death in every venue around Dublin since the sounds of the Strokes first reached these shores. The band's strongest asset is the contrast and variety of their two lead vocalists, who possess entirely different timbres. One will croon like Ian Curtis before the next sings tenor like Ezra Koenig.
This variety is exciting and makes for intriguing harmonies, and tracks "Sometimes a Sight" and "Half Your Life" are cult hits just waiting to be recorded in Sun Studios. If TV People get this opportunity to be shown off in front of a large crowd, I have a feeling they'll spread like wildfire through the Dublin music scene – they're bursting with potential.
Though the apparent "wildcard", Étáin is the dark horse of this race and could easily steal the win from Connolly or TV People depending on how she adapts to a larger audience. Étáin excelled in front of a late night crowd at her semi-final, capitalising on its intimacy and engaging the audience with her delicate but excellently controlled soprano vocals and effortless transitions between airy deliveries and strong triumphant bellows.
Connolly's music seemed ever so slightly more catchy and refined, yet Étáin's distinct lyrical and vocal style could easily win over the hearts of her audience, though it may take TV People to burst this singer-songwriter face-off.
Greg Tisdall writes the sort of music you heard on the Disney Channel as a kid (if you were lucky enough to have digital television). His songs are catchy and marketable but repetitive and grating, so his performance is likely to split the opinions of the crowd, especially his heavy utilisation of autotune. A larger audience may make his stage presence appear smaller than it did at the half-full Grand Social semi-final and I could easily see Tisdall winning the spot due to Ents's preoccupation with selling tickets, but Trinity Ball is sold out, and it would be a shame if an act wins because of its radio-friendly sound.
The band can play, the songs are catchy and single "Teenagers" is an excellent pop song, but there's no chemistry between Tisdall and his band and aspects such as harmonies, braggadocious statements and stage presence may alienate many audience members. There's a large gap between Tisdall's on-stage demeanour and the reality of what the crowd are actually witnessing.
Atticus, who would've been outclassed if heavy rock outfit Curfew (who themselves lost out to Tisdall) had been in their semi, will struggle with the tougher competition and the fact that no other act will attract fans of heavier genres. Each member is an excellent musician, but still, they stick out as "that metal band" at every battle of the bands. Their vocals are competent but confined to metal, and the pedal tricks that should add texture are aimless and sound like Tom Morello if he fell on his rig.
There's no sense of fusion here, and thus nothing more creative than your average metal song that follows a verse/chorus/solo format. They may very well find their place and fans at venues such as Fibber Magees but won't be in the running for a Trinity Ball slot.
Don't miss on the chance to find out for yourself on March 27th in Whelan's for the small sum of €7.
Correction: March 27th, 3.30pm
An earlier version of this article incorrectly stated that tickets to tonight's event cost €5. In fact, tickets cost €7.