Dublin University Football Club (DUFC) comprehensively defeated All-Ireland League leaders Cork Constitution with an inspired performance yesterday afternoon in College Park, claiming an enormous scalp with a stylish 37-13 win and putting themselves within a whisker of making history by qualifying for the AIL semi-finals.
You couldn't say it wasn't deserved, either. The opening passage of the game was dominated by Trinity, as they probed the Cork defence with a sustained period of pressure. Their efforts were rewarded when they won a penalty, although fly-half Michael O'Kennedy's effort dropped short of the posts.
It only took 10 minutes for DUFC's strong start to bear fruit, as a bursting run out of defence from winger Ronan Quinn provided the first – unconverted – try of the game. Jolted into action, Cork began to grow into proceedings and pushed for a try of their own. Excellent defending from the home side prevented an equalising try, but a breakdown in play ended up in three points for Con courtesy of Aidan Moynihan.
ADVERTISEMENT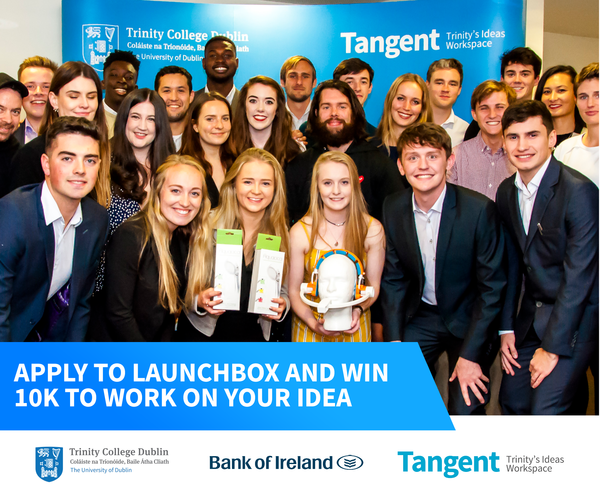 The second half began in a similar fashion to the first, with the majority of the action taking place in the visitors' half. A strong Con scrum, however, eased the pressure, and allowed them a chance to go on the offensive. Clever play off a lineout culminated in a lovely sidestep and finish for Alex McHenry and left the scoreline reading 10-5.
Con began to play with a swagger befitting their table-topping form, moving the ball with a newfound confidence.
But this passage of dominance was short-lived. For DUFC, a defeat last week to Young Munster meant this game, as one of three remaining in the season, was crucial, and even if they were distinct underdogs before kick-off, their response yesterday afternoon was outstanding. All season DUFC have shown that, when they switch it on, they really switch it on, and yesterday was perhaps the most impressive instance of it all season. A lovely pass from captain Colm Hogan set Rob Russell free, and he sprinted away to restore DUFC's lead.
O'Kennedy slotted the conversion to make the score 12-10 and Trinity were suddenly rampant. A masterful move, spanning the width of the pitch and involving glorious play from Dan Sheehan and Max Kearney, meant the hosts' quickly consolidated their lead with a third try, and now things looked almost too good to be true for Trinity. Scrum-half Rowan Osborne was the scorer and O'Kennedy added the extras.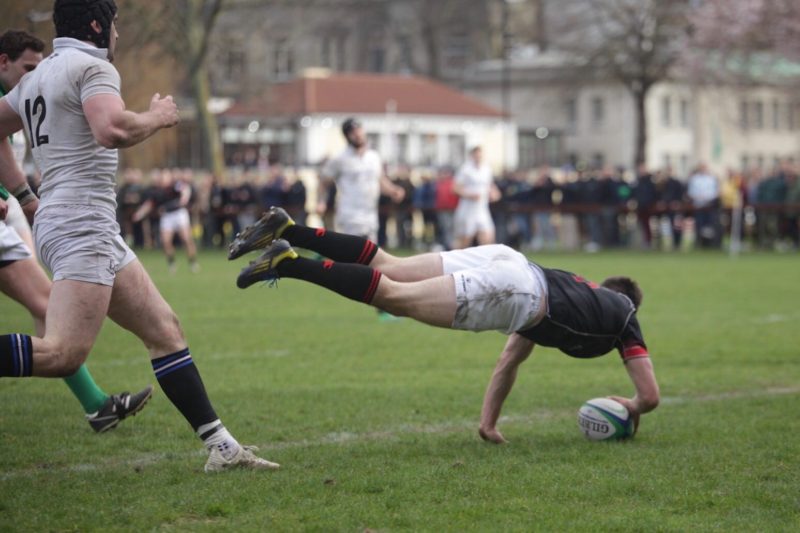 If Con responded, in part, with another three points from the tee, it was far from enough to cope with DUFC's electric running. With 15 minutes remaining, another dart from Quinn on the wing put DUFC in the hunt again and Giuseppe Coyne – also recently returned from international duty with Ireland's under-20s – crashed over for another converted try that put DUFC 26-13 up and secured an invaluable bonus point.
The league leaders were left visibly deflated after the whirlwind of Trinity's offensive onslaught. Mistakes and indiscipline crept into their crumbling performance, with two of their players seeing yellow. And, true to form, DUFC did not let up in their pursuit of tries, mercilessly adding insult to injury. Substitute James Fennelly slotted over a second penalty with ease, and it wasn't long before Quinn capped off a fantastic individual performance with a superb second try, DUFC's fifth of the afternoon. Fennelly capped off the performance with a second penalty that sent the home crowd into raptures and ended the game at 37-13.
The seismic nature of yesterday's win cannot be overstated. DUFC's outstanding display leaves them six points ahead of Garryowen in the league standings, following the Limerick side's 29-12 loss to Clontarf. But just as significantly, yesterday's victory functioned as a statement of intent. Trinity are walking the walk now and from this position missing out on the semi-finals would be a bitter disappointment. It's a stunning sea change for a college team who are still quite new to the AIL. Tony Smeeth's team will look to take the same intensity to Belfield in two weeks time, where they will face age-old rivals University College Dublin (UCD).