Dublin University Football Club (DUFC) Women were hoping to put the cherry on top of a superb season yesterday afternoon when they faced MU Barnhall in the final of Division 3 of the Leinster League. Both sides have enjoyed excellent campaigns, and it was evenly matched throughout, but ultimately Barnhall's first-half lead was unassailable and when the referee called a halt to a 12-10 win, the trophy was theirs.
DUFC captain Jane Leahy told The University Times last week that she thought Barnhall, whose only defeat in the league this season was inflicted by DUFC, would "be coming for us now that we beat them and took them off their unbeaten run". Right from the kick-off it was clear she was correct in this assumption. Barnhall played with astonishing intensity, their forwards bashing relentlessly away at the Trinity defence. Despite the pressure and dearth of possession, however, Trinity's defence was solid and Barnhall, for all their possession and territory, did not really threaten the try-line.
Unbowed, Barnhall kept up their unceasing attack, and when Trinity did win possession of draw a penalty from the Kildare side, they seemed to be relying on a kicking game that was not paying dividends. Clearing kicks – which came mostly from the boot of the outstanding Niamh O'Kelly Lynch and out-half Honor McNamara – were being gathered easily by Barnhall's back three and DUFC's slowness getting to the gain line gave Barnhall plenty of breathing space to restart their attack.
ADVERTISEMENT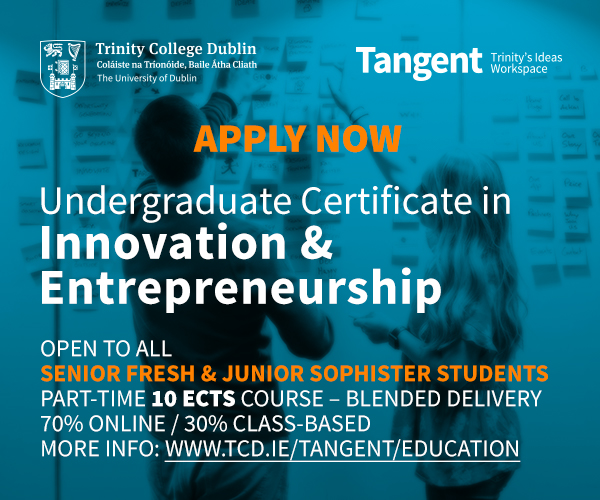 Eventually Barnhall's determination paid off. Twenty minutes in their forwards crashed over after being camped out inside the Trinity 22 for what seemed like an age. Out-half Orfhlaith Murray missed the conversion, giving Barnhall a slender and deserved lead.
This setback seemed to jolt Trinity into action. They began to run at the physical, but porous, Barnhall defence. With five minutes to go in the half, Trinity had Barnhall firmly on the ropes. As their defence took a battering, Barnhall lost their discipline and gave away a string of penalties. Trinity opted to tap and go for most of them, avoiding the lineout, which Barnhall lock Orla Fitzsimons was dominating. Eventually, though, heeding calls from the sideline for points on the board, McNamara calmly slotted the penalty over, making it a two-point game.
Trinity would undoubtedly have been very pleased going in at half-time only two points down after soaking up so much pressure and playing up the hill. This, however, was not to be.
From the restart, Barnhall notched up the intensity once again. Trinity gave away a penalty around the half-way line, which Murray kicked deep into the Trinity half, giving her team a strong platform from which to work. They moved strongly from here to continue their relentless attack on DUFC's tryline, and Barnhall's Murray ran a great line off a five-metre scrum to touch down under the posts. She tapped over the conversion to boot and DUFC were suddenly nine points down going into the break.
Barnhall started the second half strongly. Lia Brannigan was finding it easier under the high-ball and Barnhall were able to keep Trinity pinned back deep in their own half. Again, Trinity defended valiantly, frustrating Barnhall and forcing them into very lateral running that DUFC found easy to deal with.
Fifteen minutes in, however, the game swung dramatically in Trinity's favour. After winning a penalty, McNamara kicked for touch and secured plenty of ground. Barnhall were penalised at the lineout and Fitzsimons, who had been pivotal for Barnhall, was shown a yellow.
Trinity took full advantage of their numerical advantage and began to bully a depleted Barnhall side. Finding more gaps than usual, Trinity quickly moved up the pitch and into the Barnhall 22. Inches from the line, Barnhall were just about holding Trinity out but after a few more phases, Leahy was able to dive over under the posts. Raucous celebrations ensued and after McNamara nailed the conversion there was a real sense around the park that Trinity had all the momentum. A lead that had seemed daunting going into half-time was now very slim and Barnhall were firmly on the back foot.
But in the game's final minutes neither side managed to gain the upper hand. Fitzsimons came back on and Trinity's momentum dissipated somewhat. The game ended after a knock-on from Trinity in the middle of the pitch, and Murray kicked the ball out minutes later to trigger jubilant celebrations from the large Barnhall following. The 12-10 win meant that they were crowned the Leinster League Division 3 champions.
Trinity have done phenomenally well this year. After narrowly avoiding relegation last year, they have come into this year with renewed vigour and determination. A fresh crop of players are playing with intent and they look a close-knit, committed side. While they came up short today, the omens are good for DUFC Women.