Dublin University Trampoline Club (DUTC) hosted Colours this weekend in the main hall of the Sports Centre. University College Dublin (UCD) took home the shield despite Trinity taking home a rake of medals. A number of other colleges also took part in the open competition including Dublin City University (DCU), Maynooth University, the University of Limerick (UL) and University College Cork (UCC).
DUTC took home three gold medals, with Adelais Farnell Shar and Dave Woods coming first in the elite and men's competition respectively. Trinity's Ethan Hamman and UCD's Ethan Forde-Connolly claimed the gold in the synchronised roulette.
Trinity also won two silver medals, Caitríona Quinn finishing second in the intermediate ladies competition and Ethan Hamman coming second in the intermediate men's competition, and ended up with five bronze medals: Tara Mockler finished third in the novice ladies, while Ethan Hamman and Marianna Watchorn took home bronze in the lower synchronisation, as did Dave Woods and Adelais Farnell Sharp in the higher synchro. Laura Corbett and UCD's Kathryn Barr shared bronze in the synchro roulette.
ADVERTISEMENT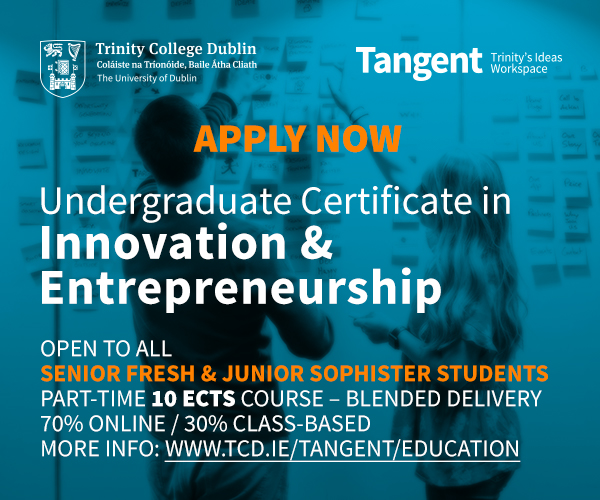 In an email statement to The University Times, captain Órlaith Geary said that "although we didn't win the shield, there was a great performance by Trinity, with several people moving up a level very recently, and some people competing for the first time. The club is very proud of how everyone did, and we took home many medals".
The club's Colours performance comes after a successful weekend in the Nottingham Open three weeks ago, where DUTC picked up three bronze medals in the club's first appearance at a Northern England Universities Trampoline League (NEUT) event.
At the event, DUTC's higher team, consisting of Adelais Farnell Sharp, Conor Delaney, Dave Woods and Órlaith Geary, finished third in the higher team competition. Farnell Sharp also came third in the NEUT three level of Double-Mini Trampoline. Former Trinity student Brian Hearns also grabbed a third place spot in the Synchro Roulette Competition.
On April 4th, Trinity will travel to Belfast for their biggest competition of the year, the Irish Student Trampoline Open.