Uncertainty abounds over the future of Trinity's admissions feasibility study, as College considers whether to continue funding a programme that aims to make certain courses accessible to students with fewer CAO points.
The admissions programme allows leaving certificate students to apply to study law, history, and ancient and medieval history in Trinity using alternative criteria to CAO points. Staff and student representatives debated whether or not to discontinue the feasibility study at a meeting of University Council, with concerns raised over its cost and utility.
Students who apply to Trinity through the feasibility study submit a personal statement. Instead of judging applicants' solely on CAO points, the College also takes into account the statement, as well as the student's ranking in their class.
ADVERTISEMENT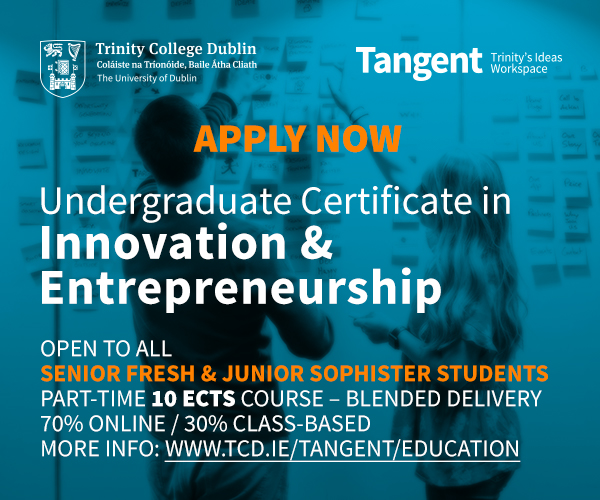 Currently, 25 students enter Trinity through the study every year. History and law take in 10 students each, while ancient and medieval history admits five students per year.
Speaking to The University Times, Sally Anne McCarthy, the outgoing Engineering, Maths and Science (EMS) Convenor for Trinity College Dublin Students' Union (TCDSU), said that "there was debate in the room over how applicable the results of the study were to the rest of college, and therefore the merits in continuing it".
McCarthy, who sits as a student representative on University Council, said: "It was also pointed out that parts of the entry requirement things, like the personal statements, weren't as indicative as hoped, and were all getting the same marks in the process."
She said financing the study was also proving to be problematic: "The cost of the extra admin work also came up. There's additional costs from the CAO if the study is broadened out to more courses as well."
In an email statement to The University Times, Vice-Provost Chris Morash – who this week announced that he will step down from his role at the end of the academic year – said: "There is still some debate underway concerning the future of the Feasibility Study."
"We're very committed to finding the best ways to make sure that the right students are in the right programmes", he said. "However, the scale of what is involved makes any personalised process very challenging to operate fairly and effectively."
Senior Lecturer Kevin Mitchell said in an email statement to The University Times that "Council is due to consider the status of the Trinity Admissions Feasibility Study at its next meeting."
Some students have voiced alarm at the prospect of the study's discontinuation. Speaking to The University Times, Gogoal Falia, the Vice-President of the Graduate Students' Union (GSU), who sits on University Council, said: "I have to say it's really concerning, because I am not on board with College's explanation for wanting to get rid of it. This is something that has helped the students."
"Why would you not continue that?", Falia asked. "You hear a lot about time, money and resources but if this helps even a single student, I think that it should be in place."
The study into alternative College admissions was launched in 2014. Initially expected to run for two years, it is now in its fifth year.
It was launched partly in response to the call of former Minister for Education Ruairi Quinn for institutions to explore structural changes to their admissions systems.
Trinity's website describes the feasibility study as a way "to see if there is a better and fairer mechanism to identify and admit applicants who are enthusiastic and passionate about learning, motivated and suitable for their chosen courses, and with the academic ability and potential to be inspired by everything that college has to offer".
Speaking to The University Times in 2016, Patrick Geoghegan, a former Senior Lecturer and the study's project sponsor, said: "The feasibility study has succeeded in what it set out to do – and it has developed a new mechanism for admitting students that can work on a very small scale."
Trinity also runs several other feasibility studies, designed to encourage students from different backgrounds to apply for places in Trinity. In November, The University Times revealed that Trinity will continue its feasibility study for the admission of Northern Irish students. Last summer, the College announced the first fall in applications from the North in four years.
This year marked the first fall in applicants from the North since the study began in 2014. Between 2015/16 and 2017/18, the number increased by 22 per cent, before dropping this year from 964 to 759.
The uncertainty surrounding many aspects of Brexit, as well as Dublin's accommodation crisis, has been cited as a potential deterrent to students from Northern Ireland. UK universities also issue early conditional offers to prospective applicants, in contrast to in Ireland, where CAO offers are not made until August.
The Northern Irish feasibility study was launched in 2014 and aims to find new ways of admitting A-level applicants from Northern Ireland, with a view to increasing the number of students from the North.
The feasibility study is part of Trinity's Northern Ireland Engagement Programme, which focuses on the promotion of Trinity at career fairs as well as in schools throughout Northern Ireland. In addition, it aims to improve the overall College experience of Northern Irish students once they arrive in Dublin, and seeks ways to make admissions fairer for Northern Irish applicants, who face many challenges under the current system.
The study initially came about to reverse a longstanding decline in applicants from Northern Ireland, as a result of challenges posed by the discrepancies between the A-Level and leaving certificate scoring systems.
Northern Irish applicants often find it difficult to get places on high-points courses in Trinity due to the way A-Level grades are converted to points. Northern Irish students are also usually required to have four A-Levels to be eligible for admission, but only one in eight students in Northern Ireland takes four subjects. The feasibility study allowed a number of students with only three A-Levels, or who have failed to meet the exact points requirements, to be admitted to courses in Trinity.