The summer of 2018 was a phenomenal season for women's sport. Over 50,000 people – a record-breaking attendance for a ladies Gaelic football final – arrived at Croke Park to watch Dublin's ladies Gaelic football team win their second All-Ireland title in a row. Cork continued to dominate at both senior and intermediate levels and coverage of the sport continued to increase. Internationally, Ireland's underage female athletes won five medals at European and world level.
However, the most obvious success story was that of the Irish women's hockey team. Last August, Graham Shaw's side captured the nation's attention by claiming second place at the World Cup. Names such as Ayeisha McFerron, Katie Mullan and Nikki Evans played their way into the sporting history books and young players across the country gained new heroes.
This new attention isn't something that has escaped the attention of Issy Delamer, a second-year science student and a key figure for a Dublin University Ladies Hockey Club (DULHC) side who last week lifted the Leinster Division 1 trophy after an unbeaten campaign. Delamer has often been the rock at the heart of Trinity's defence this season, and it shows in the statistics: they have conceded fewer goals than any other side in both leagues they compete in. DULHC are also in the hunt for immediate re-promotion to the EYHL, the top tier of Irish hockey. It's been an exciting season, then.
ADVERTISEMENT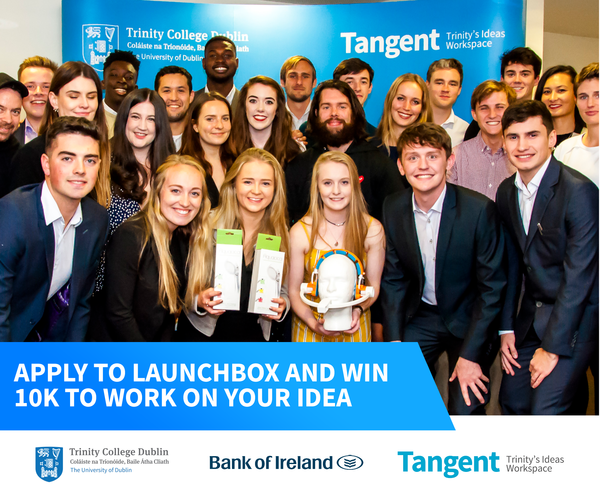 But to understand Delamer it's perhaps best to start at the beginning. As a child, she played a variety of sports but always noticed that she was one of the few girls involved. Trying her hand at everything from sailing to hurling, Delamer made the decision that she wanted to be involved in an all-female team: "When I got to third or fourth class, all the sports I was playing were mainly boys' sports. I decided I wanted to play sports with other girls. So I joined the hockey club in Suttonians and then I started playing in primary school as well."
Her love for the sport grew when she entered secondary school as she lined out for Alexandra College, a school well known for a cohort of hockey alumni that included World Cup runner-up Nikki Daly. Delamer was part of the squad that, in her fifth year, won the Leinster League and Cup – a feat the school hadn't achieved in a few years. "That was a big deal", she explains. Following on from this success, the team went to the All-Ireland – held that year in Limerick. While they only came third or fourth (Delamer can't remember exactly which) she says that "it was still really good fun" and a great learning experience.
Delamer has been a rock at the heart of Trinity's defence this season, and it shows in the statistics: they have conceded fewer goals than any other side
Having worked under many different coaches at this level, I ask her if there is any advice in particular that has stuck with her. Struggling for a moment to think of something in particular, Delamer settles on a hard work ethic: "One of the coaches I had years ago instilled in us that how you trained is how you play your matches. So if you're not working hard enough in training you can't expect things to come together in a match, and that's something that's stuck with me."
When the time came for Delamer to look at life after school, Trinity was not at the forefront of her mind. However, through open trials and meeting other girls who studied in Trinity, she was able to get an insight into what the College was like as a site where she could both earn a degree and continue her sporting development.
She admits that, when she was initially looking at universities, University College Dublin (UCD) immediately appealed because "it seemed like a sporting college more than Trinity". When it came to making her decision, though, she landed on Trinity. "I didn't want to choose college for sport", she says. "I really liked Trinity's city-centre location and my parents went to Trinity as well."
To try and attract players, DULHC run an open day where current players talk to prospective students about everything from the courses they're doing to what it is like to train and play with the squad. "It's not just come in to talk about hockey", explains Delamer. "I found out so much about the course. There's only so much you can learn about your course online."
In October, Delamer was announced as one of the College's 68 sports scholars for 2018/19, alongside her teammates Rachel Burns and Erica Markey. She admits that the award "does spur you on to do extra". Speaking about the benefit of the scholarship, she says that brings "a lot of small things you wouldn't think of but that can really benefit you".
Delamer and her teammates are seeking to relegate to memory the ignominy of last season's relegation and secure an immediate return to the EYHL
Earlier this year, Delamer and Markey travelled to Spain as part of the Irish under-21 squad, where they competed against the England under-23s. "It's good to be involved in those type of things", she says. "A good few of our regional sessions are with the [senior team]. It's really good to see the standard that they're playing at."
Speaking about the trip to Alicante, Delamer explains that the set-up was intense. Hockey is a much more established sport in the UK – the female senior team is currently ranked second in the world – and the women faced by Delamer had the added advantage of being a few years older. "That was really interesting because most of them would have been one or two years older than us", she says. "One thing that the Irish sides struggle with is physicality when you play other international teams."
Delamer admits that the experience was gruelling: "The days we didn't have matches, we would train twice a day and then the girls who weren't playing the matches … would have had gym sessions. So you came home wrecked."
For Delamer, though, all this heady talk of international hockey doesn't distract from her main focus: Trinity hockey. Delamer says the side's main goal is their promotion bid. She and her teammates are seeking to consign to memory the ignominy of last season's relegation, and secure an immediate return to the league in which they feel they belong.
Delamer is cognisant of the need to balance studies and sport. She admits it can be difficult to balance her coursework with the demands of high-level hockey, and points to the introduction of Christmas exams as an added pressure. Competing in two leagues – as well as the extensive travel-time involved in away games – means it's hard to fit everything in.
But the focus, ultimately, is on the upcoming finals weekend. Trinity have secured a spot at the weekend that will decide who secures EYHL promotion, during which they'll take on Queen's, Monkstown and Catholic Institute. And if the season so far is anything to go by, Delamer, ever-reliable in defence and composed in possession, has a vital role to play in what promises to be an exciting climax to the year.