Trinity PhD student Laura Katharine Finnegan has won the top prize at the 2019 Mary Mulvihill Award, a science media competition for third-level students set up to commemorate the legacy of science journalist and author Mary Mulvihill.
Ann O'Dea, the CEO and co-founder of Silicon Republic and founder of Inspirefest, presented Finnegan with the award – which includes a €2,000 cash prize – at a ceremony at the Science Gallery last night.
Finnegan's entry – described by the judges as "a beautiful and engaging piece, with a very high quality of both narration and illustration" – was a sample from an illustrated book for kids that profiled famous Irish scientists.
ADVERTISEMENT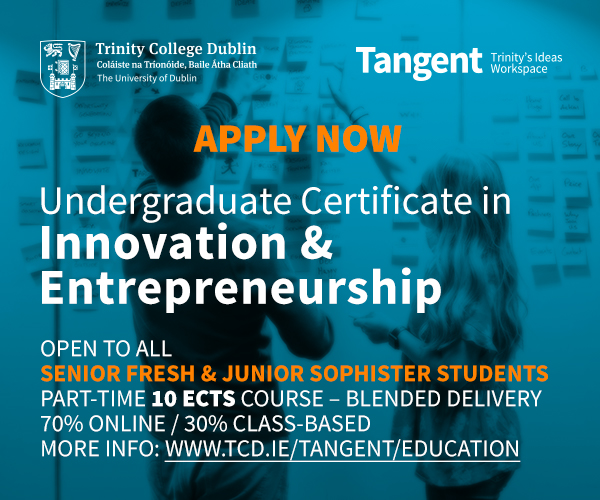 Finnegan is currently a Scholar at the Smurfit Institute of Genetics in Trinity, and specialises in the use of gene therapy to treat inherited retinal degenerative conditions. She was formerly the Illustrations Editor of The University Times.
The theme of this year's competition was "science for the love of it". Entries focused on the passion and motivations of scientists. This year saw a record number of entries.
Emily Sheridan, a former Trinity student and current PhD student in UCD, picked up a special distinction award. Her entry, which detailed how she became interested in science as well as mental health issues she experienced as a teenager, was described by judges as "a very readable, engaging and honest account of her personal motivations and struggles with science and how it has shaped her life".
The judging panel consisted of Nigel Monaghan, a keeper at the National Museum of Ireland; Karlin Lillington, an Irish Times journalist; Ellen Byrne, Creative director and founder Festival of Curiosity; and Anne Mulvihill, the sister of Mary.
Mary Mulvihill, after whom the award is named, was a presenter, journalist, and educator who helped found Women in Technology and Science – a group that advocates for women in STEM fields. She was also a leader in the field of science communication in Ireland. A former Trinity student, Mulvihill studied genetics and completed a masters in Statistics. She died in 2015 at the age of 55.
Last year's top prize was also won by a Trinity student. Katie Carbonara, an environmental science student, was awarded the prize for her essay entitled "Science: Whose Facts? Whose Truth?".