Around 13 per cent of Trinity's undergraduate students have enrolled in the College's new electives, with 83 per cent securing their first choice module, the College announced today.
A tweet from Provost Patrick Prendergast said that 1,578 students have chosen to study on one of the 26 new elective courses being introduced this September as part of the next phase of the Trinity Education Project (TEP).
Only some second and third years are eligible to participate in the electives in the first year of their implementation.
ADVERTISEMENT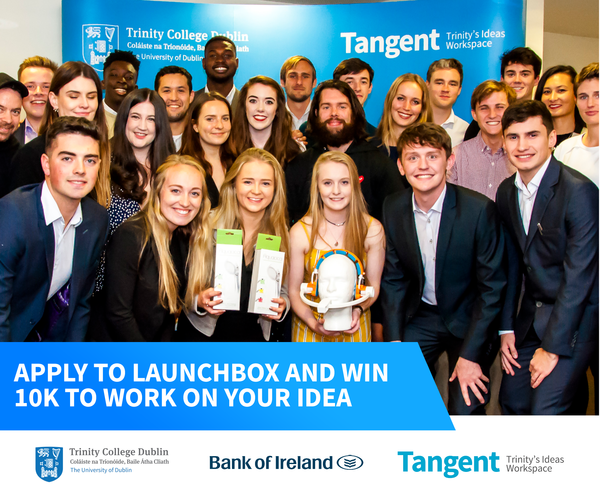 Prendergast congratulated Trinity College Dublin Students' Union for its help implementing the electives.
Electives are stand-alone modules, which are available to all students across the university. The electives aim to diversify courses – a key goal of the project – by ensuring students are taking classes in subjects that would not otherwise appear in their degree programme.
Students can choose from a list of 26 elective modules, the credits for which can be used to replace the credits they would otherwise receive from a normal module in their degree programme.
From Planets to the Cosmos was the most popular elective, with 120 students set to study it. This was followed by Japanese Language and Contemporary Culture, which sees 94 students enrolled in September.
A module titled Cancer: The Patient Journey was also popular among students. In recent years, Trinity has been at the forefront of cancer research, with researchers from the College developing a therapeutic approach to fighting a common form of soft-tissue cancer, which primarily affects teenagers and young adults, in November 2018.
Only 14 students opted to study Irish Landscapes: Interdisciplinary Perspectives, making it the least popular module of the 26.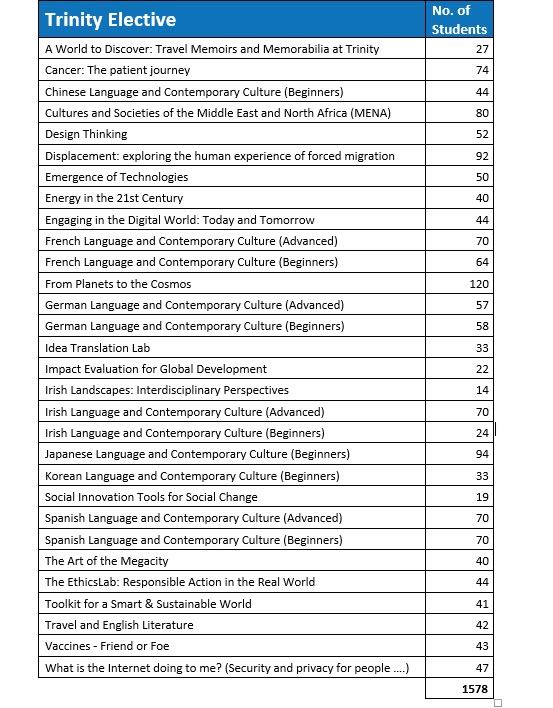 The College will also introduce a new, fixed timetabling system to facilitate the new electives and the replacement of the TSM programme, The University Times reported last week. TSM is being replaced by a new joint-honours degree programme, which will change the combinations of subjects that students can study by dividing subjects into four pillars.
Under the new system, students will only be able to undertake a joint-honours degree in subjects that are in different pillars. The new timetable will also decide what electives students are able to take.
Speaking to The University Times, Senior Lecturer Kevin Mitchell said: "The first students are coming in under the new programme architecture in 2019."
He said that the timetable will be phased in year on year. The College, he said, will initially be "running two timetabling systems in parallel".
Speaking to The University Times in September 2018 about the old system, former Vice-Provost Chris Morash – who resigned in April – said: "We're unique – but not in a good way – in the way we do timetabling."
The pillars will allow for classes to be "timetabled in blocks", Mitchell said, so that the class hours of subjects in the same year will not clash – as long as the subjects fall into different pillars.