Last May, Lucia Venturi's landlord decided to kick her out of her home. She had lived there for eight years.
Her lease was expiring at the end of June, and Venturi had assumed her landlord would agree to extend the contract. She was shocked when he said he was either hiking the rent prices or selling the property. Either way, Venturi would be out on the street.
Venturi is a postgraduate specialising in deaf studies, so she's always busy. The eviction came at a particularly bad time: "It was very stressful – I was in the middle of my thesis."
ADVERTISEMENT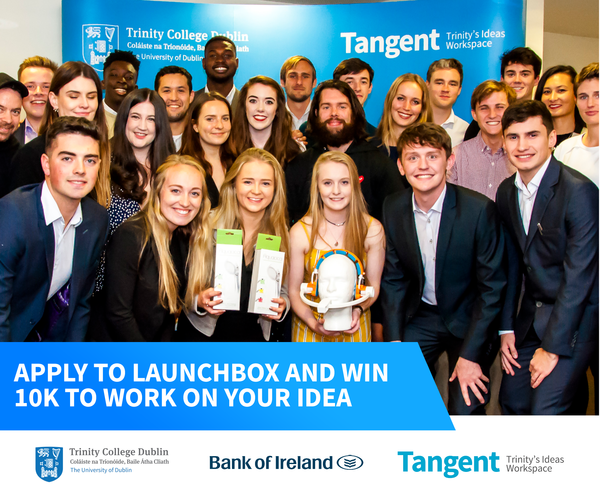 She started looking for another place to live and, unsurprisingly, struggled. She despaired at the astronomical asking prices for the dirty and cramped flats and single rooms on Daft.ie. Lucky for Venturi, her friend found an affordable place that was close to her old house.
"I felt extremely, extremely lucky – to the extent that I was kind of feeling guilty", she tells me.
After nearly getting evicted, she became acutely aware of the homelessness crisis: "Every time I was passing through town, there was just more and more homeless in the street. Even when you pass O'Connell St where they serve food in the evenings now, the queue is even bigger [than before]."
Every single penny is going to Peter McVerry
Venturi wanted to do something to make a difference: "One day, during a break from my thesis, I read a book by Eddie Izzard – he ran 27 marathons in 27 days in South Africa."
Izzard, a British comedian and actor, ran the marathons in 2016 to commemorate the 27 years Nelson Mandela spent in prison. Izzard ran two marathons in the final day of his epic circuit, finishing in front of the statue of Mandela at the Union Buildings, Pretoria. Izzard raised £1.35 million for charity over the course of the month.
Izzard wrote a book recounting the feat called Believe Me. Reading the book, Venturi copped that she didn't have to be a world-class professional athlete to overcome extraordinary physical challenges – all that is required is drive and ambition: "Eddie Izzard, he's not really an athlete. He's just a runner like me."
She decided to follow in Izzard's footsteps, this time to help homeless people in Ireland. Venturi registered for the Great Wall Marathon in China next May. She wants to raise €10,000 for her race, all of which will go to the Peter McVerry Trust, which mainly helps young homeless people in Dublin: "I will pay for everything myself. I am not collecting €10,000 and taking €2,000 for my trip."
"Every single penny", she says, "is going to Peter McVerry".
Venturi is already a keen runner, so running the Great Wall of China isn't too left field: "I need to have it as part of my routine, both mentally and physically. I feel like I have to run. It helps me to relax and cope better with stress, when I am anxious about things".
I have to climb stairs, so every time I go for a run, I try to go up and down stairs
"I feel bad if I don't go: it's like my medication almost", she jokes.
Venturi already has a penchant for ambitious, exhausting outdoor adventures: she climbed Carrauntoohil in Co Kerry after finishing her undergraduate degree to mark the milestone, and she has run two half-marathons in Dublin, completing her last race in under two hours.
The Great Wall Marathon will be her first full marathon, however – and her greatest physical test yet.
According to the event's website, it is "widely revered as being one of the world's most challenging marathons". It's easy to understand why: the race involves climbing over 5,000 steps – some of which are as much as 40cm in height – and participants face steep inclines along the route.
Venturi has started an intense training regime to prepare for the colossal challenge: "I run two or three times every week. Two small ones during the week and then a long one during the weekend. Every time I try to add a few more kilometres."
"I have to climb stairs, so every time I go for a run, I try to go up and down stairs."
Indeed, it speaks volumes of Venturi's courage, as well as her determination to combat the homelessness crisis, that she is choosing such a challenging race as her first ever marathon. When I ask her why she chose this marathon, Venturi laughs: "It had to be something big."
She hopes to complete the marathon in under six hours, but knows that even crossing the finish line within the allotted eight hours is an achievement.
So far, Venturi has secured several corporate donations and is bag packing in different supermarkets to raise funds. She has also planned her own fundraising event in the Pavillion Bar, taking place on October 19th.
With over 10,000 people homeless in Ireland today – including more than 3,500 children – Ireland's homelessness crisis is spiralling out of control. It is to Venturi's credit that, after tasting the horrors of losing a home, she is doing something to fight the crisis. She knows that there is no quick fix for homelessness, but she says if the money helps one homeless family out, then it will have been worth it.
"It's not going to change the world", she says, "but it's something".