Provost Patrick Prendergast today said Trinity's Business School will "do something for the whole College, not just for business students", at the launch of Trinity's entrepreneurship centre, Tangent.
Prendergast said Tangent – which calls itself Trinity's ideas workspace – creates a space in which College's innovators can "all learn from one another", at a launch attended by Pat Breen, the Minister for Trade, Employment, Business, EU Digital Single Market and Data Protection.
Speaking in Trinity's newly opened €80-million Business School, Prendergast said Tangent is the "logical culmination of Trinity's engagement and focused entrepreneurship strategy".
ADVERTISEMENT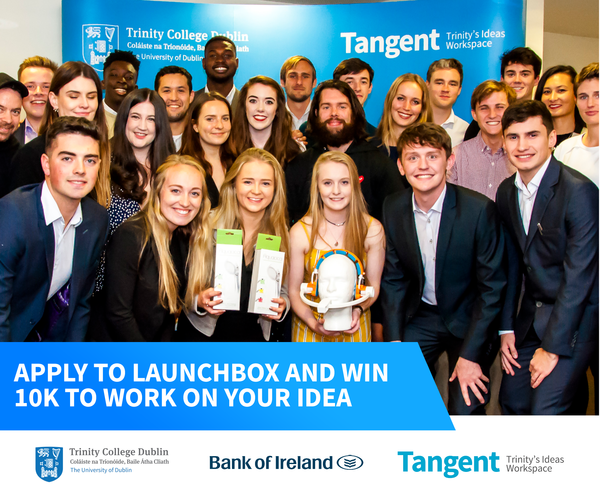 He said Tangent, which has already visited four counties around Ireland, is a project that will extend around Ireland.
"We're ambitious for ourselves", he said, "and we're ambitious for the country".
Breen said that "It's important to equip our young people with the right skills for this ever-changing world". He said the Business School – launched in May by Taoiseach Leo Varadkar – reminded him of "one of these large tech companies in California".
"I welcome this collaborative approach that you have", he said.
Joanne Hosey, the Provincial Director of project sponsor Bank of Ireland, said Tangent offers a home for the "millions of 'begins' waiting to happen across Ireland.
"Bank of Ireland's ties with Trinity go back to 1783, when Trinity became Bank of Ireland's second customer", she said.
The speeches were followed by a panel discussion chaired by Tangent's Chief Executive, Ken Finnegan and featuring notable leaders in the business world.
Lizzy Hayashida, the co-founder of Change Donations, praised the impact of Tangent's accelerator programme, Launchbox. Change Donations was the winner of Tangent's Blackstone Lauchpad in 2018.
Patricia Scanlon, the Chief Executive of Soapbox Labs, who was named by Forbes as one of the world's top 50 women in technology in 2018, also spoke about her experiences as an entrepreneur.
Philip King, a filmmaker and radio host, praised Tangent's collaborative approach as welll the the "history and tradition" of Trinity.
"Here in this room we are talking about a portrait of what might be a possibility", he said.