Dublin University Association Football Club (DUAFC) recorded a comprehensive 4-0 victory over Dublin City University (DCU) in their third Colleges and Universities Football League (CUFL) fixture in College Park this afternoon.
Trinity, who had lost their opening two games in this competition, made a much brighter start to today's encounter, pressing DCU from the opening minute and winning a corner early on after a searching ball down the left channel. James Woods was on duty at the corner flag and whipped in a ball that was met by Niall Barr, who nodded home for the opening goal.
DUAFC's fast start was unrelenting and Woods forced a good save from DCU goalkeeper Conor O'Hanlon after a snapshot from the corner of the box. The resulting corner was scrambled towards goal and seemed to be dribbling in to the back of the net before being hacked clear by a DCU defender. Yet again Trinity bombed forward, with left-back Dylan Connolly cutting back for Barr, who rifled a fierce effort from range which was parried by the opposition's stopper.
ADVERTISEMENT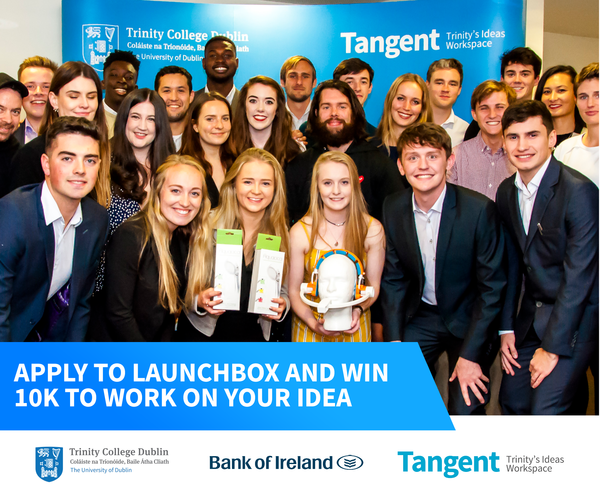 DCU were given a brief reprieve when a young child, presumably eager for a better view of the action, wandered onto the pitch at Trinity end and the game was momentarily halted. The child was safely returned to their mother and the game was resumed. It was perhaps the most interesting thing to happen in the DCU attack in the opening stages.
Trinity doubled their lead after 15 minutes, as the ever-energetic Jason Boateng drove past the DCU midfield and lofted a through ball to Darragh McGee who lobbed it into the net.
DCU made their first foray into Trinity territory at the half-hour mark with a rare corner that was easily cleared.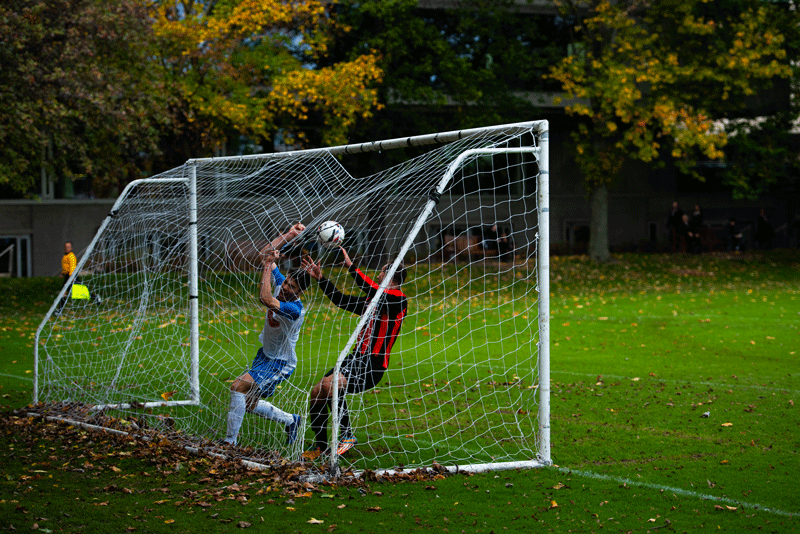 After the interval, Trinity frustrated their opponents by pressing high up the pitch and forcing DCU to punt long. This played perfectly into the hands, or rather heads, of the towering centre-back partnership of Killian Doyle and Stephen Dolan, who met every ball that came their way. The midfield was also policed aggressively by Boateng, who cut off passing lanes and left DCU with no discernible route back into the game.
The game followed a similar pattern in the latter stages of the match – both sides made sporadic breaks forward, which failed to amount to much. Trinity's Daniel Grace will hardly remember a quieter day's work between the sticks.
DUAFC flexed their muscles again in the final 10 minutes to put the contest beyond any doubt. Recycling possession after a corner, goalscorer McGee turned provider and crossed for Dolan who headed in for a well-deserved goal. Trinity substitute Chris McFadden grabbed the final goal of the game, latching onto a cross from Connolly and hooking it into the bottom corner.
It was a much improved performance by Trinity, especially at the defensive end of the pitch. The result gives DUAFC their first points of the CUFL campaign, having lost their first two games to University College Dublin (UCD) and Maynooth.
DUAFC: Daniel Grace, Brian Foley, Dylan Connolly, Stephen Dolan, Killian Doyle, Jason Boateng, Derry O'Donovan, Brandon McCann, Darragh McGee, Niall Barr, James Woods.
DCU: Conor O'Hanlon, Adam Duffy, Tristan Noack-Hofman, Ryan Smith, Paddy Kelly, Diarmuid Sexton, Daniel Gribben, Aaron Connolly, Dylan Fagan, James O'Sullivan, Sean McCarthy.