Julia Bochenek, a second-year English literature student at Trinity, is one of the many international students living in one of Dublin's – and Ireland's – many deluxe purpose-built student accommodation complexes.
"They have a bowling alley at Ardcairn House – what kind of students need a bowling alley?", she laughs.
Moving to Ireland from Pennsylvania, Bochenek initially baulked at Dublin's high rental prices, but like countless other overseas students, she had to settle for convenience over cost.
ADVERTISEMENT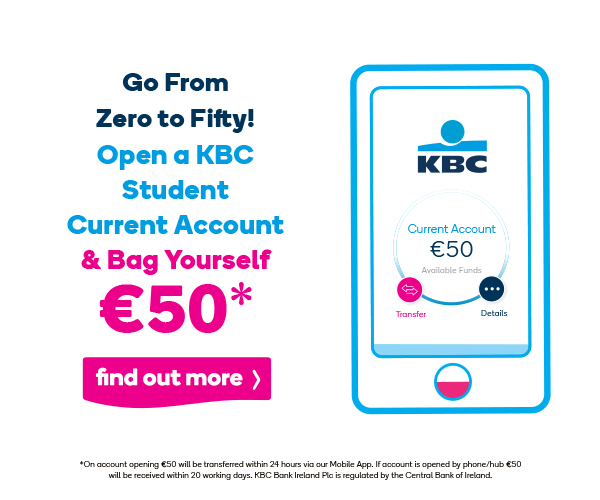 "As an international student, I was kind of stressed about accommodation", she says. "So, due to just utter stress, I paid in full two days before college started."
This decision had an eye-watering price tag. Costing her over €9,000 a year, Kavanagh Court, where she now lives, is one of nine properties belonging to Uninest Student Residences in Ireland, making it the country's leading student accommodation provider – or, as Bochenek puts it – Ireland's leading "monopoly power".
This, she insists, is no laughing matter.
As the number of students attending third-level education worldwide has soared in the last few decades, so too has the demand for housing, meaning that many students like Bochenek have fallen victim to a new, lucrative global asset: private student accommodation.
Across Europe and beyond, the development of state-of-the-art, purpose-built student accommodation has steadily risen to meet this increased demand. The apartment blocks include luxury facilities that would put even the finest of hotels to shame. Boasting swimming pools, gyms, cinemas and karaoke rooms, private accommodation providers charge students a royal sum to avail of living spaces far from the dingy digs of bygone times.
As an international student, I was kind of stressed about accommodation. So, due to just utter stress, I paid in full two days before college started
Ireland's accommodation market has also succumbed to this trend. A report published by the Higher Education Authority in September 2015 found that there was a deficit of almost 25,000 student beds in the country. To combat this, the National Student Accommodation Strategy was launched in July 2017 by the Department of Education, along with the Department of Housing, to introduce measures that would increase the supply of purpose-built student accommodation. Only a lucky few, however, have profited from the government's strategy. Namely: wealthy international students.
According to a study conducted by the European Migration Network, Ireland has seen a large wave of international students arriving on its shores – a significant increase of 45 per cent between 2013 and 2017. These international students, mostly from Asia and the US, account for nearly 80 per cent of the student population that live in private student accommodation in Dublin alone. What's more, recent figures have revealed that these students pay on average €250 a week on rent.
Uninest is a company charging these types of rents. Boasting a total of 50 properties spanning across 16 cities, it is one of the premier providers of student accommodation in the world, largely attracting wealthy international students.
Founded in 2014, it provides students with high-quality accommodation that is tailored to their "needs" – needs that include what is quickly becoming the standard on-site gym, games room and, of course, the compulsory private cinema.
However, despite the hefty €258 to €380 weekly price tag attached to its properties such as the Tannery, Ardcairn House, and New Mill in Dublin, these rooms are almost completely sold out. Ben Connolly, Senior Client Executive of Uninest Ireland, says in an email to The University Times: "We have seen really strong demand for accommodation and we are approaching full occupancy as we continue to fill spaces for the upcoming term."
"Our offering has proven very popular for students who want hassle-free living in prime locations with an all-inclusive price covering utilities, high-speed broadband, events, security and an excellent support network", he says.
Popular among international students, that is. Students coming from abroad occupy more than half of its rooms.
LIV Student, another student accommodation company in Ireland, is no different. Located on Church St in Dublin as well as in Sheffield, it is owned by an American multinational company, Valeo Groupe, which develops, builds and operates student and senior housing communities.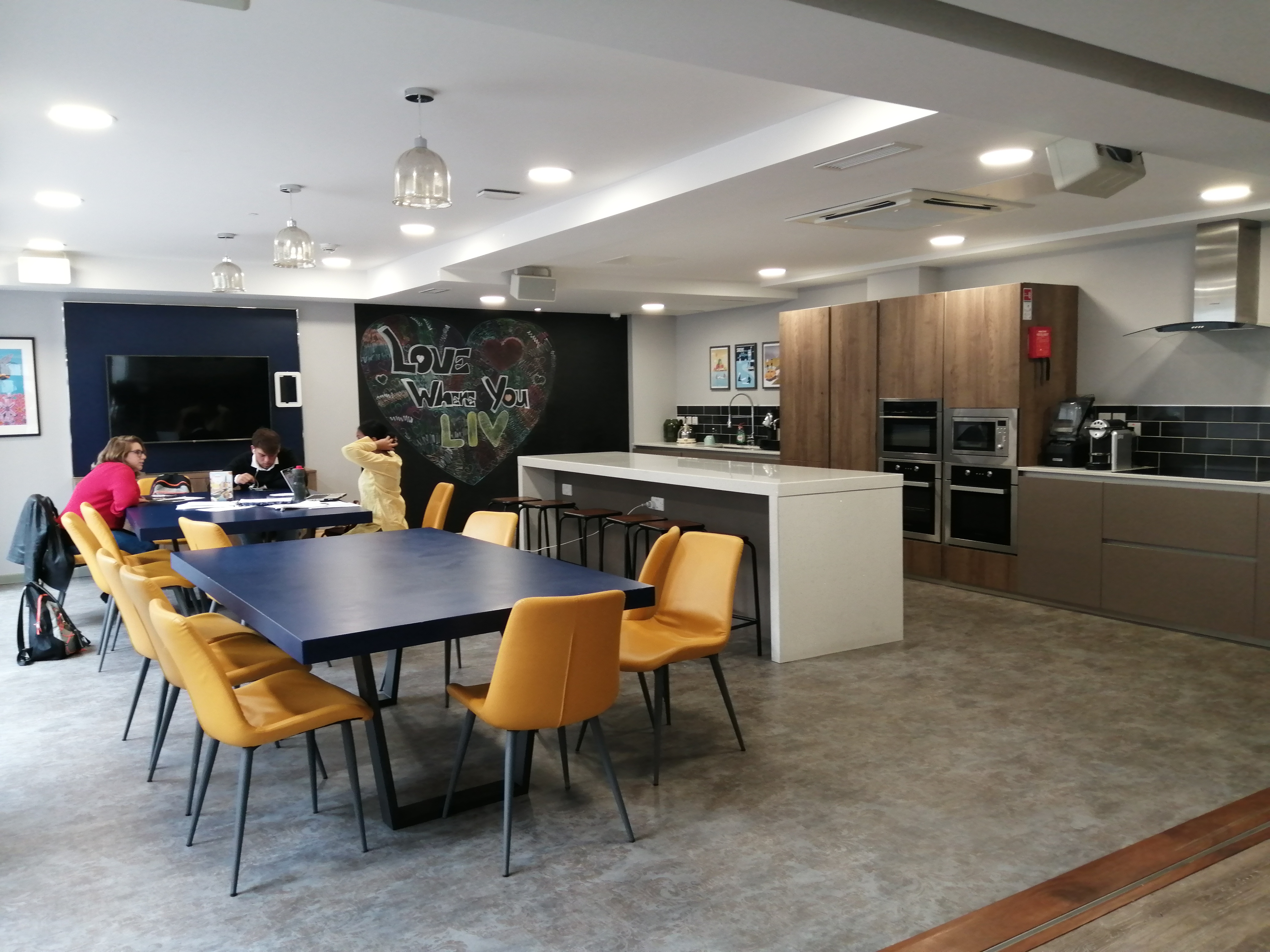 Like many other companies of its kind, LIV Student runs active campaigns to try to justify its sky-high prices. The company promotes its "great deals", such as a free coffee and pastry every morning, super-fast WiFi, a gym with a virtual personal trainer and a private cinema. But the prices speak for themselves. The cheapest room, the "Bronze Twin En-Suite", costs a minimum of €195 and its "Platinum En-Suite" – with a "hotel-style en-suite power shower", mood lighting and a top-of-the-range kitchen with all the latest appliances – costs over €299 per week.
These complexes are exactly what you would expect a block of apartments kitted out to provide for a student's smallest whim to look like. On a recent visit to a LIV Student accommodation complex, I saw for myself the luxurious accommodation the company is providing.
Upbeat pop music (Bruno Mars, Jason Derulo, Olly Murs) filled the air of the Eatery as I sat at the wood-carved tables in the restaurant area, surrounded by bright-coloured couches and shiny surfaces.
Behind me, a cluster of students huddled over their laptops, while others sipped at their coffees and picked at their pastries. Later on, however, as I toured the rooms, walking through one of the large open-plan kitchens and poking my head into the elusive cinema room where a group of students played Fifa 19, something struck me: during my hour-long stay there, I was the only non-international student in the complex.
This, I have come to learn, is a norm for these accommodation complexes. In my conversation with Batuhan Demor, a student from Turkey who is staying at the complex, it quickly becomes apparent that many of the students who reside at LIV Student are like him: international and wealthy. He moved to LIV Student from Dorset Point (a similar deluxe accommodation complex) because "the beds were worse than here".
Demor admits that while the rent may be on the expensive side, it isn't unreasonable: "It's maybe a little expensive but for what you're getting here – a gym, a cinema, a games room, a BBQ area – it's OK."
This attitude feeds into another feature that these deluxe purpose-built student accommodation companies have in common: exclusivity.
Collegiate – the UK and Europe's "best" student accommodation provider– is particularly guilty of this. Charging students up to €11,475 per year, according to its website's blurb, Collegiate designs its accommodation with "only the most selective students in mind", seeking to create a "limited-edition life".
Behind me, a cluster of students huddled over their laptops, while others sipped at their coffees and picked at their pastries
Defending its exclusive nature, Patrice Vogt, the marketing manager of Collegiate, tells me about the necessity of providing students with lavish facilities such as rooftop swimming pools, night clubs, lounges, and karaoke rooms.
"Our buildings and design are for the wellbeing of the students", he says. "We don't like to be named as 'luxury' – what we offer is definitely more high-end quality accommodation."
This, he asserts, represents good value for money: "If you consider what you are getting in the package, it's not that high … yes, maybe we are offering something more high-end, but it's not something that is completely inaccessible."
Based on the statistics that Vogt disclosed to me, it is clear that it is mostly well-off, international students benefiting from Collegiate's "superior experience".
In this competitive and financially lucrative private student accommodation market, fostering student communities and wellbeing in student-friendly facilities that do not cost an arm and a leg is quite the challenge. As demonstrated by Ulster University's Coppin House in Derry, however, it is certainly possible.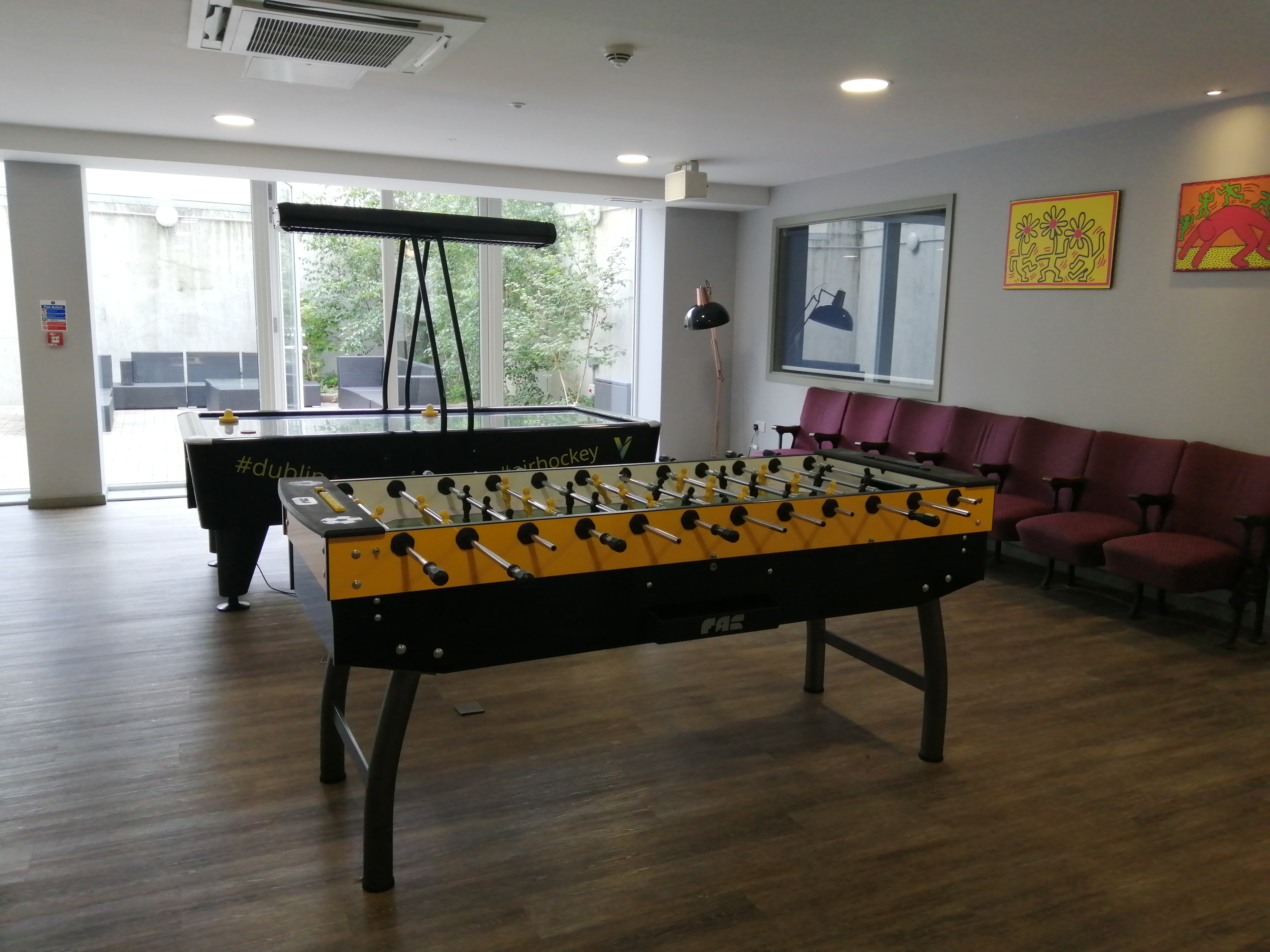 With rent priced at just £75 a week on a 37-week contract, Coppin House stands as one of the UK and Ireland's cheapest university-provided residences, coming to a grand total of £2,775 a year. Each bedroom is equipped with a bed, desk, chair, wardrobe and bedside locker, and students also have access to WiFi and a range of social programmes throughout the year to help them integrate into the student community. Ideally located within a five-minute walk of the university and 15 minutes from the city centre, students living there have everything they need – including the swish excess.
Calling from Co Derry, Gareth Kennedy, the Head of Residential Services at Coppin House, tells me that its model has been a success: "There has been a real demand for our low-cost yet nonetheless high-quality student accommodation that offers students a range of services."
Commenting on the rise of luxury student accommodation across the country, he is quick to point out that while they certainly are an attractive investment for some, there needs to be greater choice out there for those students who are unable to meet the sky-high rental prices: "There is definitely a market for deluxe student accommodation, but there has to be an option for students that is competitively priced."
We don't like to be named as 'luxury' – what we offer is definitely more high-end quality accommodation
Far from shabby digs, reasonably priced student accommodation such as this provides students with the best of both worlds and delivers everything you need – minus the amenities that private accommodation companies will insist "you didn't realise you needed".
Marlene Steinbrecher, a law student at the Johannes Kepler University Linz in Austria, tells me over email that the country she's studying in has similar complexes.
Discussing the student university residence, located beside the campus and seemingly similar to Coppin House, she says: "For a single room with your own kitchen and bathroom, you pay about €400 per month and for a shared room, about €300. It has a gym included and cleaning personnel come to the room every two weeks as far as I know."
Most Irish students can only dream of Coppin House and a cosy €400 per month flat in Linz. In Dublin, what the market offers is almost the polar opposite, and many students roll their eyes at names like Liv Student and Uninest.
Yet despite this open hatred, high-end student accommodation developments continue to pop up across Dublin. It seems that pandering to international students pays. So despite the fury directed at luxury student accommodation, it seems these companies are here to stay – private cinemas and all.