Are you a fresher who still doesn't know what a module is? A second-year student who just secretly finished sitting schols? (Not that you'd tell me anyway.) A final-year student who hasn't seen the light of day since March? Regardless, Zoom University is back this week and its best and busiest societies are throwing one of the most creative collections of online events for you to enjoy! Welcome to Your Week Ahead: Refreshers Edition.
Monday
Even though you first years might not know what the inside of a lecture hall looks like, Trinity College Law Society (LawSoc) wants to show you what the inside of a hypothetical courtroom looks like. An information session about their Junior Mock Trial competition will be held on Monday at 6pm. Open to first and second-year students, this event will finally reveal whether studying law is anything like an internal identity dialogue between Harvey Specter and Elle Woods, or if you should have done drama. More importantly, you'll learn the logistics of the competition from past winners and current convenor Anne Spillane.
If you did indeed pick drama as your course or passion then you'll be pleased to hear that DU Players is facilitating newcomers with three coffee mornings this week, the first of which is on Monday and can be attended via the links in their social media bios.
ADVERTISEMENT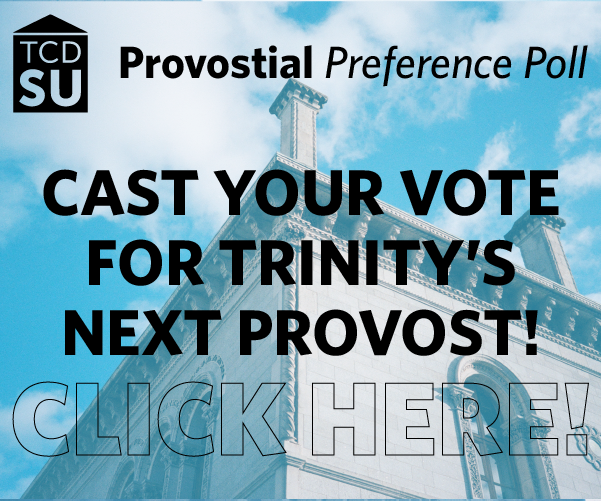 Tuesday
Just like MyTaxi, Trinity Politics Society (Pol Soc)'s Tuesday Lunchtime Political Hangout has gotten a sexy rebrand. From now on, Caffeinated Conversations take place from 1pm to 3pm on Tuesdays. Give your relatives a break from your half-baked political takes and share them with a new friend instead!
If you like those Trinders that plé Gaeilgóirí ar champas but haven't quite kept the Gaeilge up this year (or since Cuid C of the aural), Cumann Gaelach have got you covered. Their social night beginning at 7pm not only features breakout rooms le cúpla focal, but also Among Us as Gaeilge where you can hunt down that Zoom crush and then lie about killing them – an-rómánsúil!
If you'd prefer to socialise over a film than video game espionage in an ancient language, QSoc has a screening of 2005 rom-com Imagine Me & You, also beginning at 7pm. You'll all be so happy together! I promise the rest of the week will be more fun than that pun.
Wednesday
Let's say, hypothetically, you don't find love at the Cumann Gaeilge or QSoc events, but the vegan you feigned an interest in stocks for during PolSoc's Caffeinated Conversations was really cool. You're in luck! TCD Environmental Society is having an informal chat on plant-based diets on Wednesday at 12pm. This will mark the first of their bi-monthy Midweek Munchies events this semester.
Alternatively, pop back to Cumann where you'll enjoy a dance workshop led by Gaeilgóir dancing guru Rebecca Armstrong at 1pm.
LawSoc wants to help you sell your soul to the corporate world at its A&L Goodbody virtual internship fair! Slots are available to book now via the link on LawSoc's social media pages.
Famously creative Zoomers, DU Players, are staging Matilda The Boozical at 8.30pm, which, if their previous virtual shows are anything to go by, should be a scream.
If the Europhile within you deserves an awakening you should opt for TCD French Society's 8pm event titled "French Connection" instead. It's branded a "virtual soiree" and is in collaboration with Queen's University Belfast's French Society! Ooh la la?
At this point, my writing may be making you want to throw your phone out the window. If so, you should attend, or even speak at, the College Historical Society (the Hist)'s 7:30pm debate: This House Would Delete Their Social Media.
Thursday
Thinking of going plant-based after yesterday's event? Why not attend DU Vegan Society's 7pm panel, which will strive to debunk the common perception that veganism is a lifestyle dominated by and for the white, urban, upper class. This event will include a variety of speakers and a Q&A session at the end.
Question: do you think 2020 had a silver-lining or are you still looking for the light at the end of the long dark tunnel? Hear both sides at 7:30pm when the University Philosophical Society (the Phil) will host the timely debate: This House Regrets 2020.
Friday
Seeing as you've read all the way down to Friday, you might be interested in something slightly wackier. DU Music are hosting a cosmic-themed open mic night live at 7pm on their Youtube channel. All you need to do is submit a landscape oriented video with an intergalactic edge. Think Gaga's Chromatica, Travis' Astro World or anything by Bjork.
Less into music-making and more into moving to it? DU Dance has a Zoom workshop every day this week bar Wednesday, teaching the skills of Jazz, Ballet, Contemporary and Twerk. When we finally return to Dublin's dancefloors, we will be ready!