Locked down until May? At least your Trinity societies are bringing you week after week of entertainment. This week is no different – in fact, it's one of the busiest society weeks Trinity has seen this year.
Not only is there an eclectic mix of non-themed society events, but it's also Green Week! Running alongside this week of eco-tastic events is the Trinity Arts Festival (TAF), a week-long celebration of all forms of art in Trinity. Each day, TAF will host a very impressive five events (at least), ranging from guerrilla gigs to Zooms paying tribute to past events.
Monday
Kicking off Green Week is Trinity Hall JCR's Meatless Monday challenge. This is a small way you can help the planet by reducing meat consumption one day a week without having to go cold turkey (pardon the pun). TAF's opening event is a coffee morning at 11am where you can familiarise yourself with the volunteers and DU Players hacks you'll be making friends with over the week.
ADVERTISEMENT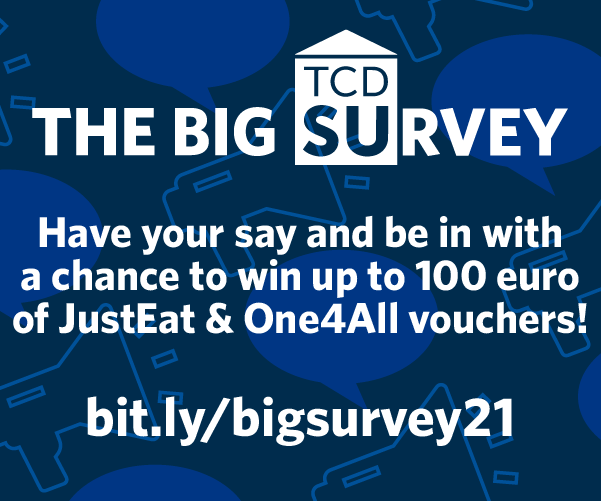 Speaking of DU Players, this week they're throwing a festival titled "Glitter: a festival of queer culture and performance" which will be jam-packed with panels, talks and two headline shows that you'll find out about in the coming days on their social media pages.
At 7pm, TCD Environmental Society (Enviro Soc) is hosting a panel discussion as the first flagship Green Week event of the week. The panel will focus on "Climate and Inequalities Through the Eyes of Storytellers and Musicians". At the same time that evening, DU Computer Science Soc (DUCSS) are hosting a games night. You'll be playing "Unfortunate Spacemen" which is apparently the precursor to "Among Us", but if you're interested in attending, I'm sure you already know that.
Tuesday
TAF's most intriguing event on Tuesday is its "Rosé Painting" collaboration with TCD Visual Arts Society (VisArts) at 3pm. TAF wants to give new students the most interactive experience possible and this art and alcohol-filled event will be no exception.
At 7:30pm, DU Vegan Society (Vegan Soc) hopes to see you at their screening of A Life on our Planet. At the same time, DUCSS will be hosting Ben Marquez Keenan from the Irish game development trio "Spooky Doorway", where he'll be chatting about indie games.
Ach tá na himeachtaí sin go léir as Béarla nach bhfuil? Má tá píosa timpeallachtachais gaelach á lorg agat, lorg no further than Cumann Gaelach's "Plé Painéil Sheachtain Ghlas" at 7pm. Speakers include Peadar Ó Caomhánaigh, Sinéad Mercier and Moya Ní Dhugáin (A.K.A. @environmentaleadai on Instagram).
Wednesday
Like Ní Dhugáin, all of the designers featured at TAF's Wednesday panel are current and growing in popularity. The event begins at 2pm and will showcase the emerging Irish talent in design – who knows, maybe your wool-obsessed grandparent will make an appearance!
If that grandparent is a Gaeilgóir monolinguist, DU Modern Languages and Cumann Gaelach's 7pm talk with Séan Maitiú O'Carraidh, an EU Irish translator, might be a necessity for your Wednesday evening.
Otherwise, your wardrobe will thank you for attending TCDSU's virtual Green Week Swap Shop from 7pm onwards. The event will have exclusive items donated by your favourite influencers and will be co-hosted by the Trinity graduates behind the app Nu Wardrobe!
One of the best events of the first term was the Trinity Law Society (LawSoc) and DU Players Murder Mystery Collab, so naturally this week they're doing a sequel. Ruth Brady from LawSoc has described it as a "virtual recreation of Swing Ball", but with Law professor Neville Cox held ransom by some of the characters. Thrillingly, the event's dress code is whatever you would have worn to Swing Ball in the parallel universe where the world is not ending!
Thursday
In the morning, Halls residents will be treated with the launch of the JCR garden, which may include some communal fruit and veg for a more sustainable diet in the red-bricked apartments. Very fittingly, that evening at 6pm, Vegan Soc is hosting a cook-along using sustainable ingredients. If that isn't a sign to attend an event, I don't know what is.
Trad Soc are hosting a quiz night with University College Dublin, NUI Galway and Magee in Derry later that day, at 7pm, which should tickle your fancy if you played tin whistle in primary school. You can brag about your ability to play "Shoe The Donkey" to Trinity's rivals! Half an hour later, at 7:30pm, the Phil debate kicks off. This week's motion is "This House Would Ban Fast Fashion Companies".
Friday
To end your week, JCR and Trinity Hall Scéim are inviting you to tune into "Focail le Cairde" on Quarantine FM at 2pm to hear about their Green Week and what sustainability in Halls looks like moving forward.
If you enjoyed the rosé event on Tuesday, TAF is treating you to a cocktail-making workshop at 5pm to ring in the weekend. A mojito might make DU Amnesty and Enviro Soc's Sustainable Fashion Panel at 7pm more exciting. Although it will be exciting enough anyways, with guest speakers like Erin O'Leary, the Doyle Twins and more. They'll be discussing the gentrification of second-hand shopping and the human rights challenges of fast fashion, to top off an excellent Green Week.
Correction: 20:10, February 22nd, 2021
An earlier version if this article incorrectly billed the murder mystery collab on Wednesday as a collaboration between Trinity Law Society, DU Players and TAF. It is, in fact, a collaboration between just Trinity Law Society and DU Players.