Provostial candidates Prof Jane Ohlmeyer, Prof Linda Hogan and Prof Linda Doyle illustrated similar visions of the future of sustainability in Trinity, each one-upping the other throughout tonight's climate change panel.
The panel moderated, by former president Dr Mary Robinson, saw the candidates lay out their visions for a greener Trinity. Robinson's management of the night allowed for a different flow to previous hustings, with candidates put on the spot with follow-up questions and having to leap in to answer questions.
Doyle – while appearing somewhat less composed than in previous debates – made the most concrete promises of the night, saying that she would set up a sustainability office, as well as creating a Vice-President for Climate Change and Biodiversity.
ADVERTISEMENT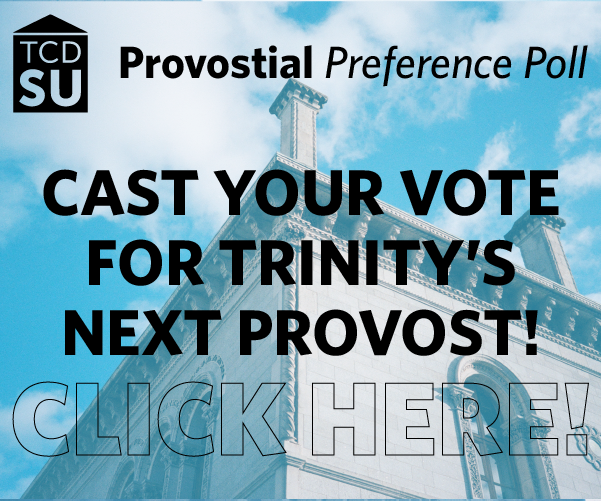 Hogan, on the other hand, seemed on strong footing when speaking about global injustice surrounding climate change – probably due to her ethics-centred approach to managing Trinity – and was also quick to answer first when Robinson threw out questions to all three candidates.
Ohlmeyer successfully communicated her enthusiasm about sustainability and emphasised it as one of her main priorities. However, she never really got going in a debate, which – with the looser format – required candidates to be very much on the ball.
One of the key issues raised, aimed in particular for academics, was how to fit sustainability into the curricula, with candidates diverging somewhat in their responses.
Questions over embedding climate change into the student curriculum featured at both the beginning and end of the discussion, with all candidates in agreement on the matter of weaving in education on sustainability and global climate justice into modules.
Where they differed was on the question of mandatory learning, with Ohlmeyer striking out on her own as the only candidate who affirmed that education centred on climate change and sustainability would be a compulsory element for all students.
Student activism has long been a key driving force in pushing change in Trinity to take climate change seriously, and it was lauded at tonight's panel with all three candidates signalling their admiration for student initiatives. The importance of climate change to the lives of students was also not lost on the candidates, with Hogan saying that "students are way ahead of us" with relation to climate awareness.
Hogan also noted the importance of ensuring that the College "doesn't co-opt student activity" and went as far as to say the College needs to allow student activism "to be as radical as it can be".
Fostering a culture of sustainability within an institution will undoubtedly be a tricky task and Ohlmeyer put forward a differing view on this issue remarking: "If we think it's not going to translate into additional workload, we don't actually understand the urgency of the issue."
In response, Doyle and Hogan brought up the importance of simplifying bureaucracy – an issue that has been at the centre of debate since the beginning of the race – while also instilling a green and sustainable culture in Trinity. When asked further questions by Robinson on the topic of a work-life balance for staff, Ohlmeyer seemed to clarify her early comment indicating that she wants to "give back time" to colleagues.
The issue of balancing the budget while tackling climate change predictably reared its head midway through the panel discussion. All three candidates had varying ways of confronting the financial balancing act. Hogan, in what is quickly becoming her mantra, emphasised the importance of partnerships in securing funding with Doyle emphasised the importance of getting support from industry within the College.
Offering a differing proposition Ohlmeyer rolled out her goal of securing an "eight-figure gift" from philanthropists. Ohlmeyer assured the 500 strong webinar audience that "there are philanthropists out there who are extraordinarily interested in investing", something Ohlmeyer has stressed throughout the campaign.
With Robinson moderating the panel discussion, global climate justice featured heavily throughout. All three candidates laid out detailed yet differing visions for how to tackle the issue.
Hogan's ethicist background emerged as she reiterated how the College community needs to "live our own values". Having become accustomed to Hogan's passion for social justice, Ohlmeyer and Doyle came prepared with the latter noting how implementing sustainable initiatives on campus "embeds the ecological, the climate justice, social justice in the formation" of the College culture.
Generally speaking, it was a positive night for those with climate change at the top of their agenda, with each candidate demonstrating a passion for sustainability and a real sense of urgency about the issue.
There will be a break from hustings now until the Trinity College Dublin Students' Union hustings on March 29th. In the interim, candidates will face into meetings with the Fellows, the Academic Staff Association and the Irish Federation of University Teachers.