As part of our series of interviews with this year's provostial candidates, we will be publishing the transcripts of our discussions with Prof Linda Doyle, Prof Linda Hogan and Prof Jane Ohlmeyer. This text has been lightly edited for the sake of length and clarity. The transcript for our interview with Ohlmeyer is around 8,500 words long.
For those who find reading this too herculean a task, we have also condensed the interview into a more digestible overview, as well as a "top five takeaways" piece. This interview was conducted by Matt McCann, the newspaper's Sports Editor and the reporter assigned to Ohlmeyer's race.
McCann: I guess I'll start by asking you kind of a general question, which is just why did you decide to put your name in the hat for Provost? And why do you believe that you are the best candidate for the job?
ADVERTISEMENT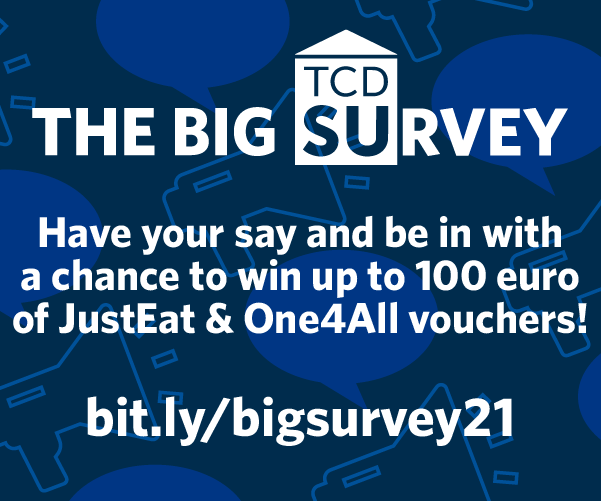 Ohlmeyer: The reason I really decided to run was because of COVID. So in other words, the pandemic broke out in March and I realised that the country was in crisis. I'd seen Luke O'Neill a couple of evenings before we shut down and he said, "you know, Jane, this is going to go on". And he even said, at the time, it could be years. And I realised that, actually, leadership is extremely important at a moment of crisis. And that's obviously what I'm bringing to the table is hugely experienced leadership.
And let me just spell that out, where I think my leadership is most important, Matt, because I think it's going to be the key differentiator between the three candidates – it's a combination of my style of leadership. And I'll quickly go into each of these – it's a combination of the roles that I have had. So in other words, the experience that I bring to the table. The third thing then are the relationships that I hold in Trinity, nationally, and globally.
When you've got that sort of style of leadership, in other words, I'm the sort of leader – I'm very people centred. I take people with me, but I can make decisions, which is very important. And I'm a doer – so if I say I'm going to do something, then I'll do it – I deliver. I am ambitious for Trinity. In terms of my own career, I'm at the top of my game, so it's not as if this is going to help me further my own career. I'm doing it because I care about people like you. I care about the future. I care about making Trinity a university we can be proud of and a university that's going to make Ireland a place that we want to live in and make the world a place we want to live in. So that's that's the sort of motivation, because academically now, I'd like to think I'm at the top of my game.
McCann: In your Promise to Trinity, you mention that you want to release Trinity's full potential. So more specifically, what does a Trinity that's reached its full potential look like?
Ohlmeyer: We're back in the top 50 in the world. Our colleagues are playing globally, nationally, as leaders and as influencers. We're the partner of choice for the best universities out there. We are shaping national conversations. The general citizen of Ireland understands the value of investing in education and research. We're absolutely national leaders, and ideally European leaders, in climate change. We're also contributing to these wider big societal challenges. These are all indicators to me that we will be absolutely delivering globally, within Europe, nationally.
Within Trinity, I want to know from people like you that your student experience has been fantastic. You aren't feeling that you don't have enough support, that the student services aren't [supporting you]. They're very good people there, but they're chronically under-resourced. I want to know that the registration process is seamless.
It's about putting people at the centre of everything we do, Matt, and ensuring that the experience, whether you're a student, whether you're a professional member of staff, an academic member of staff, a technical member of staff, somebody who works on the grounds, it doesn't matter who you are in Trinity, that you feel valued, that you feel that you're supported to do your job. And that means that we have to get some of the basic stuff right – just at the moment it's not working. So you unlock the potential by getting the basics right.
McCann: And in terms of being in top 50 in the rankings – how important is that?
Ohlmeyer: Listen, the rankings are just an indicator. But they tell us at a high level, about the quality of our research, our education, and how we're held in terms of reputation. So they're an important indicator. And don't let anybody tell you that the rankings don't matter, they do matter. And let me tell you why. They're important for international student recruitment. They're important in terms of attracting investment from international funding agencies, international foundations, philanthropy. They're also important for Ireland – we, as you know, are a very open economy. We're very dependent on foreign direct investment. So Ireland needs at least one university – ideally, more than one but at least one – to be in the top 100.
A decade ago, Trinity, I think, was 52nd in the world. Today, we're either 101st or 155th, depending if you look at QS, or the Times Higher [Education]. We need to be back up there in the top 50 for Ireland, not just for Trinity. And remember, that is the currency for people like you coming out into the world. Do you want to be associated with a university that's right up there with the best? Or do you want to be associated with a university that's really struggling in the rankings? And it's not about blaming anyone here. It's not a blame game. It's about actually saying they matter. So let's change the narrative around it.
McCann: And is it just funding? Is it just the lack of funding, the reason why we've slipped so much recently?
Ohlmeyer: Funding is important, and that's why we shouldn't ever say it's not because our staff-student ratio is very, very high. So that is undoubtedly doing us a huge amount of damage. And until we address that staff-student ratio, and only additional funding will do that, we are going to struggle.
It depends on how you measure it, but basically our staff-student ratio should be 1:12 or 1:14. I think it's, like, 1:21 and in some areas like BESS, or some of the business areas, it could be 1:30. That is just not where we should be at in terms of our peer institutions. And if we really think that we're the equivalent of a Russell Group university or one of the great European universities, then we absolutely have to address that. But we have to address it not because of the rankings, we have to address it because we want to improve the quality of the student experience, and obviously, to create time for our academics to be outstanding researchers. But it will have an absolute material difference on the rankings as well.
So let's say that that investment is very important. We have actually done OK in the rankings. But the problem is others are outperforming us. So in terms of our research metrics, the income we're bringing in for research – and remember, there are some areas that are still in the top 50 – in the arts and humanities, history, English – history is dropped out, but English is there – classics is there, nursing and midwifery is there. So there are some areas that are still performing very well. Imagine how low they would be [in number] if they were properly invested in. In other words, they're there not because of but in spite of. So I would be arguing that you build on your strengths. It's not right that the arts and humanities were really the faculty that was keeping Trinity in the top 100 over, I would say, the last decade. And even that now, they've dropped out overall. So, we have to address that.
McCann: You also mentioned in your Promise to Trinity that this is a time for change. From speaking to some of the electorate for the survey that we did, I think a lot of them want to see a change in the status quo. And especially in the arts, I spoke to a lot of arts professors where the majority said they were not happy with the direction Trinity is going in at the moment. So when you say that this is a time for change, what do you believe needs changing the most in Trinity?
Ohlmeyer: I think four things need to change. Trinity needs to be driven by academic imperatives, not financial ones – that's the first thing that needs to change in terms of how we make decisions. There needs to be transparency and people, especially the heads of school, people who are the engines of the university need to be involved in that discussion. In addition to that, we really need to have systems that help us to do our jobs. So the systems and the structures, the basic underlying infrastructure, aren't supporting us. That has to change.
I think the other thing is the culture has to change. And that changing the culture in any institution, especially one as traditional as ours, all of this is a challenge, actually. But they are the four key areas where I think we need to see change, until we actually start to address those we're never going to unlock our full potential. And "Empowering Trinity" is very much, if you want, the tagline for my campaign. But I believe that if we get those things right, then we really can empower Trinity.
McCann: Could you expand on that? How would you go about making that a reality? How would you go about bringing about that change as your first step as Provost?
Ohlmeyer: There's a couple of things that we would need to do immediately. And I'm going to focus on the practical basic stuff, which isn't at all sexy, but it's actually extremely important. It's making sure the systems do what the systems are supposed to do. Just at the moment, we have three systems, they don't speak to each other, we saw the meltdown that we had around registration back in September. So those systems need to be fit for purpose, that's utterly essential.
Now, that isn't just a technical solution. It's also about how our support staff, our central support staff, support the mission of the university. So that means looking at these areas. Let's look at universities that are very well and efficiently run, and let's say, "in Trinity, we can achieve that too". Because the one thing, Matt, and I'll be very disappointed if you don't get this across strongly, is our professional staff are fantastic. I mean, I'm not going to criticise anybody here. For me it's about how we take what we've got, and how we support people to do things better.
That's where I want to focus. We look at best practice elsewhere. And then we break it down. We've already had so many reviews – we know where the problems are. It has to happen, though – I would recommend within the first 18 months, two years of this provostship, because so much depends on getting the basics right. And it unlocks so many other things. So that would be very important in terms of the restructuring.
I don't propose changing the structures fundamentally, what I propose is making the structures that are in place actually work. And I do feel that there has been this disconnect in terms of decision making. And the people who are asked to implement decisions at all levels are not actually helping to shape them in the first place. And that does need to change and that needs to change quickly as well.
McCann: See, that's the thing: a lot of the professors we spoke to raised concerns about an overbearing administration, saying they didn't feel they had autonomy, like their decisions were being made from above, on their behalf. And they felt really out of the loop. Why is that such an issue? Does it go back to this trend towards commercialisation? Where people at the top are trying to enforce going down that road, towards commercialisation, that's ended up encroaching on the academic side of things.
Ohlmeyer: For a long time Trinity's been run by a spreadsheet. It's the financial tail wagging the academic dog. And you can see that because I actually believe that that is part of our problem. It doesn't mean money isn't important – of course, money is important. And I'm very happy to talk to you about how, as provost, I would want to increase our funding. But at the end of the day, the way that resources are allocated within Trinity, there's no real transparency around it. And we've a funding model that sets one area, one faculty, up against another and makes it very hard for smaller disciplines. And I'm a great believer in an A to Z, a very comprehensive university. But some of those smaller disciplines out there just feel that they're being squeezed.
I don't want to knock commercialisation either, because commercialisation has actually been a very important part of Trinity's survival over the last decade. So again, it's about how you really balance things, Matt. That's the important thing. But I definitely don't think that you can let financial, if you want, imperatives determine the direction of a university, which is all about taking a longer-term perspective. I's all about research and education and the achievement of excellence. And when I say excellence, I don't mean that in a utilitarian sense of the word. I mean that in the real sense of the word. So how do we balance that?
Let me just say one other thing about some of the financial models that are in place, especially around non-EU students. I was the founding Vice Provost for global relations. I know how important that income is to the College. But I hate it when we're at a point where, basically, non-EU students are being treated as ATM machines. That, for me, is just not how we want to proceed as an institution. And we need to rebalance and make everybody feel valued, because this feeling valued and feeling trusted is very important if you're actually going to empower people. It can't be top down – it has to be bottom up, as well.
That's the sort of leader I am. And if you look at any of the big projects I've ever led – the founding VP for global relations, and remember global relations, financially, I think is bringing in between €30 and €40 million a year to college. It's a very significant income stream… In the "most international" universities [rankings], we're eighth in the world. That is a real tribute to global relations. Obviously, I have a huge part to play there, but the current team also deserves credit. It just shows you what you can do when you actually do things differently.
So I did global relations differently. And the university obviously is seeing the benefit of that. And I had the same attitude when I went to the Irish Research Council and the Trinity Long Room Hub. It's about creating community and empowering community and working with people to achieve common goals.
McCann: It's interesting what you said about non-EU students being sort of the ATM of the university. Obviously EU students get a relatively good deal with the free fees initiative. Are you happy with that system? Or would you like to see something change there?
Ohlmeyer: Absolutely. We're all waiting for the Cassells report, coming in March, Matt. But listen, the whole sector has been chronically under-resourced. I think what we need to do is change the narrative here as well – what the non-EU students are paying is actually what it costs to educate somebody to be a doctor or a historian or an engineer. And the state needs to be paying, for the Irish and EU students, what the non-EU students are actually paying, because especially in something like medicine, it's just obscene, how poorly funded we are – across the board, but especially in some of these sorts of areas.
So, for me, a very important role for the Provost is actually convincing the Irish government and Irish society of the value of investing in outstanding education, and changing that narrative. I don't want any of you to have to pay to come to university. That would be the ideal. But the reality is it's going to end up being some sort of compromise. But it should be very much needs [based] – if somebody cannot afford to pay to come to Trinity, they should not have to pay. We need to relook at how we fund it.
The other thing is: there needs to be proper borrowing put in place. So, if a student has to borrow, it's being done in a way that's in no way punitive to them, until they're actually able to repay the loan. I think there's a lot of work to be done in this space. I would really welcome an opportunity to work not just with the other universities in this space, because I think we're much stronger when we speak with one voice. But also, with the students here, we should be working in partnership with the students to really address this. It's a huge elephant in the room, the chronic underfunding of the system.
McCann: So then you are open to sort of like an optional sort of borrowing system – where that option is available. But at the same time, you don't think people should have to pay for college, if they can't afford it?
Ohlmeyer: I absolutely would love it to be completely free. I grew up in Belfast, I went to a UK university, and I paid nothing for my education as a four-year undergraduate. And then I did my PhD at Trinity. So for seven years, basically, the state funded me to be a student. I could even live off the grant. All I'm saying is, that's the ideal world. I just think where we are today, that's not going to happen. But the current government we have is very sympathetic to education and research. I've had a lot of dealings [with], and I think extremely highly of, both Micheál Martin and Simon Harris and their departments, and the way they're actually trying to really engage with these issues of chronic underfunding. Now is the moment to be having this conversation with the government.
McCann: So you wouldn't necessarily be lobbying the government as Provost to abolish the student contribution fee?
Ohlmeyer: I'd be lobbying the government to increase the overall pot for education. So ideally, nobody pays anything, but what the reality will actually phase into remains to be seen – but in an ideal world, you wouldn't pay. It's just not an ideal world. So then it's where we draw the line in terms of compromises. And I would be extremely passionate in my support for students who are financially unable to pay or coming from any sort of background, whether it's asylum seekers or students at risk – they definitely shouldn't be paying a euro to attend Trinity and we should be supporting them with things like accommodation and other ways. So I think we need to look at how we're funding the whole sector. I don't want to get hung up on an element of it. It needs a root and branch reform, Matt, because it's not working.
McCann: Moving on, I get the sense that key to your campaign is this belief in creating community, nurturing interdisciplinarity – that's a word I've seen crop up a lot. So could you explain a bit more about what you mean by this, and why you believe that this is so important for the university?
Ohlmeyer: Interdisciplinarity requires strong disciplines. So, in a university like Trinity, we have over 100 different disciplines. Many of them are extremely strong. But the other wonderful thing about Trinity is that we are a community. We're on a 50 acre site. And, obviously, COVID has been very disruptive there. But we tend to be a destination university, and we tend to get to know each other very well. At this point, I've personally engaged with probably 600 to 650 of my colleagues. And that's just the academic ones. We all know each other. That is a very, very special environment when it comes to having conversations across disciplines and interdisciplinarity.
As the director of the Trinity Long Room Hub, and as chair of the Irish Research Council, and as a researcher, I've seen the value of having these conversations across disciplines, because where the magic happens is where the disciplines collide. In my own work as an historian, I've collaborated with literary scholars, with geographers, with computer scientists, with mathematicians, and, as director of the Trinity Long Room Hub, neuroscientists. We had Welcome [Trust] funding to do work in the neuro-humanities area, medical humanities, environmental humanities. So I actually think that having these interdisciplinary conversations isn't just exciting for our own research and how it progresses, it allows us to ask fresh questions of our own research.
It's also very powerful when it comes to addressing some of the big societal challenges. So let's look at COVID. The scientists have a vaccine for COVID. What's going to bedevil us are things like vaccine hesitancy, the logistical part. And that's actually the meat and potatoes of the arts, humanities and social sciences. Because at the end of the day, we do things for emotional reasons, and that's where the creative arts are so powerful. The world's problems are very complex – they require multiple disciplines to actually solve them in a very holistic way. Trinity is uniquely placed, in my opinion, in Ireland, and extremely well placed in a European context, to actually be a truly interdisciplinary university from a research perspective. But I actually think we can take that into the classroom as well, especially at the master's level and PhD level. And obviously some of the undergraduate programmes lend themselves very nicely [to this], and this is where some of the programmes associated with TEP, [such as] capstone projects, there's a couple of elements of TEP that I think will help these conversations across disciplines.
However, what I would say at the moment is there are huge obstacles within Trinity to doing anything across disciplines. And that goes back to getting your systems and your supports right to actually support the mission of the institution. At the moment, there's no incentive for anybody to do anything across disciplines. But we can get that right, Matt.
I'm leading a big project called Shape ID. And that's why I'm so confident of how well-placed Trinity is because we've done a lot of horizon scanning, and I know where the other universities are. Not just in Europe, but in the world. We're right up there with Copenhagen, MIT and some of these really, really strong universities. We've got the potential – we haven't actually achieved it yet – but if we get it right, we really can achieve it.
The other thing, and it goes back to my own experiences of it, I'm leading another big European project called Human+, with Vinnie Wade, who is the director of the ADAPT centre, and it's all about putting the human experience at the centre of technological innovation. So it's not just that I talk about this in an abstract way, I'm doing it. So as I do it, I understand what works, what doesn't work. What the advantages are and are not. And that hands-on experience as a researcher, as somebody who's living this, I can, of course, bring to this.
And the final thing I want to say about interdisciplinarity is the work that I've done as chair of the Irish Research Council, because the Irish Research Council is leading the way in terms of how it funds interdisciplinarity across all disciplines, the IRC funds over 100 disciplines. And we've got programmes that actively encourage, especially arts, humanities, social sciences, to take the lead in these big interdisciplinary initiatives, because historically, they didn't. So you're building confidence and competence in this whole space. For me, this is such an opportunity for Trinity. And it's there for the taking, in my opinion, if we can get the basics right. So it's a great example of actually unlocking potential and it's not of the individual there – it's all the interactions that we as a community have with each other.
McCann: This might not be too related, but I just want to hear your opinion on this, because one academic who I spoke to expressed concern that College is spreading itself too thin by expanding and investing into STEM and health sciences, like what's going on in Grand Canal Dock with Trinity East. And what this person said is that he feels that that's going to come at the expense of the arts subjects, which is what Trinity has traditionally been really good at. So, given the problems with funding in higher education, would focusing and investing more on College's strengths in the arts subjects not be a better approach?
Ohlmeyer: Listen, I am a historian so I've been fighting and acting as an advocate for the arts and humanities my entire career, Matt, so I hear this very much. However, I actually believe just to go back to the earlier conversation, Trinity's real strength is the sheer diversity of its disciplines. I think you cannot privilege one area over another. But equally, I mean that so as far as I'm concerned, whether you're a physicist or a philosopher, you are equally valued, and you have to be supported to achieve your full potential. Now, the question is, how do we make these strategic decisions? Because we can't do everything. I think when it comes to doing anything that's big and new – E3 is a good example of this. This is our E3, I think, the Grand Canal, Trinity East is a risk for Trinity. And I think we have to be extremely clear that the risk there is it will bankrupt the mothership. But I'd like to think that we – and when I say the mothership, I mean it will suck the financial resources, but also the human resources. And potentially all of the philanthropic funding, and any additional government funding will be sucked into Trinity East at the expense of other things in Trinity.
So I would be very reluctant to go into anything, unless we were 100 per cent confident that we weren't doing anything that in any way jeopardised our strengths in other quarters. I love the ambition of Trinity East. But I'm also very aware of its high risk. And it's something that I think the Board is being cautious about, and rightly so. It might be that it takes the next decade to actually realise Trinity East. That's fine, let's not rush anything. Let's get it right, and not damage anything in the process. The key here, though, is that we increase the overall pot of funding, because just at the moment, we're so under-resourced, that we are pitting one against the other in a scramble for resources. So that's a separate question, I think.
McCann: It's interesting, though, given the struggles with funding at the moment, why Trinity would decide to undertake such a massive project in Grand Canal Dock. What your thoughts are on that?
Ohlmeyer: Well I'm not leading that project, you'd need to talk to the people that are, Matt. I have been briefed about it, but Eoin [Hand] and other students will be part of that conversation. I welcome the ambition of it. I think, as an idea, it has much that is very exciting. So don't please suggest that I'm not interested in it. I think especially as we look towards climate action and biodiversity, it could be extremely important, and it's very important in terms of our relationship with the city of Dublin and with the government. However, it has to be funded by the government at an appropriate level if it would happen. That, for me, is the key thing missing at the moment – we need to look long and hard at that development and how it would progress without wanting to take away, if you want, from the ambition. But it could be that we need to push it out even further.
McCann: Yeah. But obviously there is the concern then that it will take away from, as you say, the mothership, right?
Ohlmeyer: Well then we can't do it. Because then the risk is so high to the rest of the institution. What I'm hearing what you say is what I'm hearing other colleagues say. And these are people who have picked over the business plan, who really understand in the level of detail that, obviously, I don't. What we do have there is a five and a half acre site in the centre of the city. At the moment, it's not doing anything for us. So if we're not going to develop it then what are we going to do with it? I think we definitely need to, it's an asset that's just sitting there.
McCann Some academics we spoke to were not happy with the promotions process that is currently in place at the moment. Many complained that having social capital, having contacts in the inner circles, is more important than your actual qualifications. And one said that, after missing out on a promotion, she was told, "we don't know you well enough", despite having met the criteria, and losing out against someone who was less qualified but happened to have an inside acquaintance. We've heard a number of these types of complaints. And it does seem to be a pretty big grievance for a lot of academics, especially academics that aren't Irish or did their education outside of Trinity or outside of Ireland, and HR and admin gets criticised a lot for it. So I'm curious, what would you say to these professors who have these complaints?
Ohlmeyer: I've spoken to many of them, and I've heard it firsthand. I would say probably a good two thirds, three quarters of colleagues in Trinity are not happy with how promotions work. And it's very demotivating for them. But for me, there should be clear and transparent criteria. If you meet them, you're promoted, end of story. We don't shift the goalposts every six months or two years, or whatever it is – promotion should be what is the norm. Most people would expect to be promoted, if they achieve a, b, and c – if you achieve it, you will be promoted. There are no financial quotas, there's no sense [that] Trinity is somehow better than the other Irish universities. People would say, "if I was at another Irish university, I would already be a chair". And they're right, they would be – we're the ones that are at fault there. I'd like to see promotions actually helping to motivate people, they're a way valuing people and incentivising them. I think, to say we can't afford it is actually a false economy match for two reasons. One is that we haemorrhage talent. And remember, retention is the most effective form of recruitment, and actually promoting people is a way of keeping them in the university.
The other thing is, we demotivate. There's a whole cohort of Trinity colleagues that are so demoralised and so demotivated, because they've applied for promotion, and maybe three, four times they haven't gotten it. It's really such a problem. And we have such a backlog of promotions, that we're going to have to address that in a very proactive way.
The other thing I want to say is I actually think we are too obsessed with promotions. We need to be looking at the overall career development of a person. And remember, the promotions on the academic side of the house are bad, they're even worse on the administrative side of the house. There seems to be no promotion opportunities for professional staff. Anyway, we need to look at the lifecycle of our staff. And we need to say, "how can we mentor you? How can we support you? How can we give you whatever is appropriate in terms of training or some sort of investment in your leadership?"
This be all and end all around promotions is just wrong. It's perverse, actually.
McCann: I'm just curious in terms of these complaints that there's this old boys' network or this old girls' network in Trinity. Is that something you agree with?
Ohlmeyer: Well, I hear it everywhere I go. And that bothers me. And I think we do have pockets of bad practice in Trinity. I think there are, without a shadow of a doubt, pockets of bullying, harassment, and cronyism. To pretend that isn't the case would just not be true. I think the Athena SWAN process has helped to unearth some of that. And I think it's for the Provost to have a zero tolerance of cronyism, of harassment of bad behaviour of any sort. So that needs to be addressed and transparency around everything that we do, will help with that enormously, but also calling it out. And then saying that this is no longer acceptable is going to be very important as well.
McCann: I want to talk about climate change, and that whole issue. How high would the issue of climate change be on the agenda of a Provost Jane Ohlmeyer?
Ohlmeyer: Very high. I want us to approach climate change with the same urgency that we've approached COVID. We just need to completely transform how we engage. And it's not just climate change, I'm seeing it as climate action and biodiversity. We need to take a long-term perspective to it. I would like to have a proper climate-change office, with a college officer. We've got a diversity officer, I'd like a climate officer, whose job it is to work with a professional staff – and we've got a very good woman, Michelle, but she's not even a full-time professional actually working on this. The whole portfolio is in so many different places.
We just need to have a complete rethink in how we address it, we need to put it at the heart of everything we do in Trinity. In the heart of our curriculum, we need to put it at the heart of our behaviours, our culture – we need to aspire to be national leaders in this area, and ideally, European and global ones. And we've got some phenomenal academics working in this space. And this is where I see E3 as being a particular opportunity to really showcase the excellence of our colleagues. And what I love about them is they're across the university. Professor in French, Michel Cronin, is doing phenomenal work on climate, we've got wonderful researchers in history, environmental humanities, we've got amazing colleagues in the business school, who are doing absolutely stunning work in this whole area of climate, and nevermind where you would expect to find them in the natural and the physical sciences. And this is where interdisciplinarity is extremely important, and why we need to incentivise interdisciplinarity at every level. So if a colleague in the business school, for example, wants to work with a professor of French and wants to work with somebody in the school of geography, we do everything possible to support those collaborations, because that's what's going to be marking us out as a leader, not just in the classroom, but obviously, in terms of research, but also shaping government policy.
McCann: When you say government policy do you mean that in terms of Trinity's role in lobbying government?
Ohlmeyer: No, no – we should, of course, be lobbying government, and we're working with the HEA the IUA. But I mean, and we see it very much with COVID, a cohort of Trinity academics. Luke O'Neill, Kingston Mills, Tomas Ryan, Aoife McLysaght have become public here, and government listens to them. So Simon Harris knows exactly who Luke O'Neill is and values what he has to say – we need to be doing that in everything, not just in the COVID space and the climate space. We've got some amazing people: Anna Davies, for example. I don't want to start naming people, but we've a swathe of very, very good people who are already influencing things, but we need to amplify that. And we need to find a mechanism of doing it where it's not ad hoc. I'm very involved as chair of the Irish Research Council, Matt. We're in the middle of a series of webinars called Research for Public Policy. We did one a fortnight ago with Simon Harris. We're doing one on Wednesday. And it's actually thinking about: what would that architecture look like? If we as an academic community wanted to work with the research funders. We wanted to work with the government because actually research is a national asset for Ireland. And Trinity has a very important voice in that conversation.
McCann: Yeah. OK, so another thing I wanted to talk to you about was the op-ed, that you wrote for the Irish Times last December. I noticed it received plenty of pretty harsh and nasty comments online. I mean, obviously, you know, it's Twitter, which naturally lends itself to a lot of toxicity and a lot of really toxic fights. But I think, what was most controversial was maybe the headline, but also the argument that Ireland throughout its history has been an agent of empire as well as a victim. I think, you know, this all comes down to identity. And when looking at history, people probably, I mean, you know more about this than I do, I'm just giving you my take on this but when looking at history, people probably, rightly or wrongly assume that Irish people were all indigenous poor Catholics who were oppressed by empire. So, correct me if I'm wrong, but you're arguing that the identity of Irish people should go beyond this to include those who were very much agents of empire as well?
Ohlmeyer: Listen, it's a very complicated story. I'm giving a set of lectures at the moment called "Ireland, Empire and the Early Modern World", where I'm addressing this. There's six lectures, you can get six hours of it Matt, if you're interested in listening, the first three are up there. But I'm going to start with today, Black Lives Matter, Rhodes Must Fall, Brexit – they're all bringing these issues of empire to the fore. And we have to remember that Ireland was England's first colony – that's just a reality. We can't change 700 years of history. And on the foot of that, we were both if you want victims of imperialism, but very quickly, we became active perpetrators of it as well, both at home, and across the British Empire, the French Empire, the Spanish Empire.
We didn't have an empire of our own, but we literally sort of colonised the empires of other European powers. That's a fact – I'm not making it up here. I'm not trying to get people, I'm just stating fact. You're right, it ties into identity. But here we are living in Ireland in the 21st century, when 20 per cent of the people living in Ireland, weren't born in Ireland, yet they see themselves as being Irish. And that was true at the turn of the 18th century, a third of the people living in Ireland weren't born in Ireland, or they were the sons or daughters of these colonists that planted Ireland in the early modern period. They described themselves as being Irish. So I think you have to be very, very willing to engage with the evidence.
I'm an empirical historian. And actually understand that our past is complicated. I'm not here to judge anyone, I'm just asking people to understand there's a level of complexity that maybe we haven't wanted to confront, engage with and have an informed discussion about. So going back to the op-ed, what I was very struck by… of course, you're going to get people, it's a controversial subject, because it cuts to identity. And it doesn't sit well with the nationalist, ultra-Catholic, republican identity, which wants the Irish to be the victims, not the perpetrators. And I get that, and I can understand why people might react negatively, because you are probing something that's difficult for people.
What I was so struck by, for every grumpy letter in the Irish Times, I received literally hundreds of emails and letters saying, thank goodness, you're talking about this openly – it's giving me an opportunity to actually talk without embarrassment about the fact that my father or grandfather or uncle or whatever, worked in the British Army, served the Empire somewhere.
It's a really important conversation for Irish people to be having. The other thing I would say, obviously there was a lot of toxicity on Twitter, and it brought out the misogynists, it brought out the racists, it brought out the supremacists, it brought out the anti Semites, all of it done anonymously. But what does that mean for academic freedom for us, as scholars to actually be able to have engaged, informed, respectful discussions? Because I'm a senior academic, you know, I'm not going to be fazed by bullies online. I spent my whole life standing up to bullies, Matt, but actually, it does have consequences. It means people don't actually want to engage with these tricky subjects, because they're so sensitive.
I hope I've tried to explain why I think it's so important that we do it and why Trinity has a provost-to-be hopefully talking about this now because these are central to the sorts of public discussions we need to be having nationally, especially in the context of north-south, and obviously, I'm from Belfast, so I have real skin in that game, but also in terms of our relationship with our nearest neighbour.
McCann: I understand what you're saying. But you mentioned that example of an Irish person going off to fight for the British Army. So I just want to ask, isn't there a difference between individual Irish people participating in the brutalities of the British Empire and Ireland as a whole being responsible for it?
Ohlmeyer: I'm not holding Ireland as a whole responsible for it, it's others who are saying that. I never said that. Where, or show me where I said that, because I tell you that you won't find it. I'm not judging anyone, Matt. I'm just simply saying that two thirds of the British Army in India was made up of Irish Catholics. Yeah. I'm saying that these people did certain things. I'm not condemning anybody. And I'm not judging anybody. I'm just telling you that that's what happened.
McCann: Yeah, I think it's probably been misinterpreted. OK, so related to that I'm just curious given your belief that Ireland has to contend with its imperial past as to where you stand with the fact that Trinity is an institution, which is very much the product of imperialism. There are statues and buildings named after historical figures who owned slaves, for example. So I'm just wondering what your thoughts are on this. Is this discussion necessary, do you think we need to have a genuine discussion about this?
Ohlmeyer: Oh, I definitely think you always want genuine discussion, but you want discussion to be based on empirical evidence. There's no point in having a discussion that isn't evidence based. And obviously, I have looked at Trinity as, if you want, a tool of empire, an engine of empire, a nursery of empire, whatever language that you want to use there. And across our history, we have to accept that we have to accept that in our library, we have materials that was acquired on the back of empire, that empire, and money acquired through empire, and sometimes through slavery, has funded initiatives in the College, that's just a fact, Matt. And I think we do have to actually engage with it. And now is the moment to do it. Now, again, I've given a whole lecture on this at the early modern seminar in December, you can listen to that, and you can get chapter and verse or you can invite students or whoever it is just give a link to that lecture.
It's on the Trinity Long Room Hub website, where I specifically look at Trinity and Empire in the early modern period, which is what I'm interested in. But going back to your point about statues or renaming. So the first thing is we have just set up an initiative in the history department called slavery, imperialism and racism. It's being led by a number of colleagues, Dan Geary, Patrick Walsh and Ciaran O'Neill, because, and the Provost has funded a postdoctoral student to actually do some real historical research into what exactly in Trinity was funded on the back of empire.
Let's tell that story, not just the negatives, because remember, Trinity would have produced some activists who would have been very critical of Empire, the wonderful Kader Asmal, professor of law, is a wonderful example of somebody who, you know, the South African Constitution was written at his kitchen table in Rathmines and he went off to work with Mandela's government. So anyway, there's very interesting stories to be told there. So that's the first thing I would say, in terms of renaming the Berkeley which is I'm sure what you're alluding to, let's have that conversation, but let it be based, not on hysteria, let it be based on evidence.
And remember that [George] Berkeley was hugely influential in setting up Yale University, and a college at Yale is named after him. He played a very important role in setting up Columbia University, which was called King's University back in the day. It's now Columbia, the university we collaborate so closely with in New York, but actually his name is in Berkeley University in California, these conversations are not just about Trinity, it's then thinking about how is that going to pan out in a global context? And I just think it's a fascinating conversation. We know about Berkeley's slaveholding, because of researchers at Yale. He was one of Yale's first big benefactors – he left his library to Yale. They are the ones who, if you want, outed Berkeley, so again it's a work in progress. Let's have the conversation, but in a very, very rigorous, respectful and empirically grounded way.
Matt McCann: All right, perfect. So I actually only have one one more question for you today – we've been talking for nearly an hour. So my last question is about the pandemic. And, you know, for students, this has been a particularly hard year. And I believe most students would certainly like to leave online classes behind them once this pandemic ends. But there were recent reports that Trinity might look to incorporate a hybrid online slash in-person blend going forward. So where do you stand on this? Do you think that there is a future for online classes? Or would you like to see them left behind?
Ohlmeyer: OK, so no, actually, I think that COVID is going to be a game changer in terms of how our work/life balance will change. I think how we act as researchers will change, and I think it will have important consequences in the classroom. But let me just be very, very clear. There's never going to be any substitute for face to face. I'm really sorry that we're having this conversation online – it would be much nicer to sit down with a cup of coffee somewhere and actually meet face to face. So for me, it's never going to be anything that's 100 per cent online. But I do think that technology affords important things that we shouldn't lose sight of, especially when it comes to access.
And again, I go back, I was director of the Trinity Long Room Hub, when the pandemic broke out in March. We have a weekly coffee morning in the hub – we used to meet every Wednesday at 11. We immediately said we were going to continue that online. And I'm so glad that we did because for our students, that was sometimes the only contact that they had outside of their immediate family or friends with the wider community. Our events became hugely important, not just for the Trinity community, because at one point, the hub was the only public-facing bit of Trinity that was actually doing any online events.
And one of the students – I think she was a history and political science student – she bumped into me, and asked who I was. I said, "Yeah, I'm Jane, I'm the director". And she said, "I want you to know how important those online events were for me, because that was the only thing that gave me that connection to Trinity". We went from having 200 people in the Burke to sometimes up to 10,000 people were tuning into those events, so you were just able to actually have wider audiences.
I think that the access point is important, Matt, so let's not throw the baby out with the bathwater. Let's recognise the advantages that technology brings, without in any way diluting the importance of face-to-face, especially small-group teaching, and I'm an absolutely passionate believer in face-to-face, small-group teaching. And I think there's no substitute for that. And online, you know, it's got us through. We have to put the health and well being of our staff and students absolutely front and centre. And I'm sure you know, parts of it may carry into the new world beyond COVID. And other parts are definitely here to stay. Let's have that conversation.
McCann: Yeah. Well, that's perfect. So thanks so much for taking the time to speak to me today. Those are all the questions I have. I'm sure there's plenty more we could talk about. But yeah, I've been talking to you for almost an hour now. So I'll let you go.
Correction: 11:49, February 11th, 2021
An earlier version of this article incorrectly stated that Ohlmeyer had "welcomed" funding for the neuro-humanities, medical humanities and environmental humanities. She in fact said that the Long Room Hub had received funding from the Welcome Trust for research into those areas.