At a Q&A session today moderated by Prof Luke O'Neill, provostial candidate Prof Jane Ohlmeyer discussed a wide-range of issues on the minds of the virtual audience, as well as fielding questions from O'Neill himself.
O'Neill prefaced by saying he is a supporter of Ohlmeyer on account of her "international reputation" which he believes is the key distinguisher in the race, though added he would still be "grilling" her throughout the Q&A.
Indeed, O'Neill got the discussion off to an intriguing start, asking Ohlmeyer, who ran in the last Provost election: "Why the hell are you running again?"
ADVERTISEMENT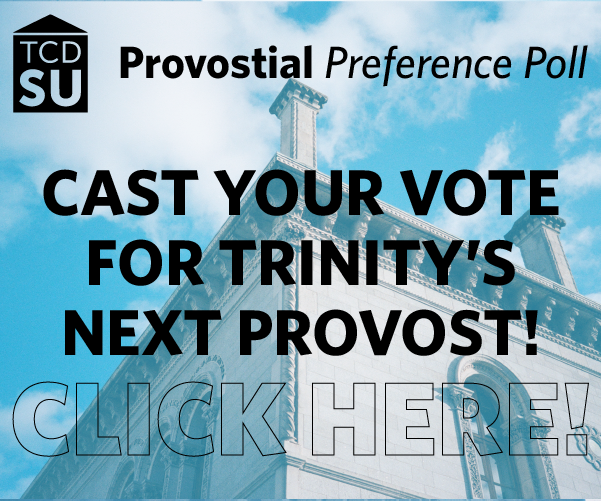 Ohlmeyer said she thought long and hard about why she would run again, and said that the "irony" is she is now "10 times more qualified to lead the university" than she was 10 years ago. She added that it is a "gruelling process, but the job is gruelling".
Ohlmeyer offered a personal reflection of her early life and career, remembering how she discovered she was pregnant while still a graduate student in Trinity and recalled how she burst into tears at the time, worried she wouldn't be able to finish her thesis. She said that she then chose to work as an academic for the University of Aberdeen, in large part due to the quality of its child care support.
Ohlmeyer also revealed to O'Neill, after he pondered about the challenges she must have faced working in a heavily male dominated environment, that she was a victim of harassment and bullying as a junior academic at the University of Aberdeen. She added how this experience has made her "utterly determined to stand up to bullies wherever they are".
As the discussion moved on to Ohlmeyer's plans for leading the university as Provost, O'Neill tasked her on a variety of her campaign points, including her views on the recently introduced Higher Education Authority Bill and what she means by her mantra: "Empowering Trinity."
O'Neill then honed in on Ohlmeyer's international reputation, garnered from her experience of working as an academic all across the globe in countries including Brazil, America and India.
Ohlmeyer said that: "Trinity needs to be led by an academic who's at the top of their game, that has that international visibility."
Ohlmeyer added that throughout her career she has amassed "an amazing network of colleagues around the world who I now have tried and trusted relationships with". She emphasised that "these global networks are so important to Trinity".
O'Neill asked Ohlmeyer to address a rumour circulating among staff that Ohlmeyer is "anti-science" – she asserted that this was "absolute rubbish" and cited her role as chair of the Irish Research Council in lobbying to increase the budget for the Laureate Awards as evidence against that.
Her position on Trinity East was brought up later on in the discussion. Ohlmeyer maintained her position that Trinity needs to be careful not to rush the project and risk "bankrupting the mothership" in the process. She added, in response to concerns that by not committing to the project Trinity would damage their reputation with donors, that a "true friend and donor of Trinity wants what's best for Trinity".
The conversation also examined the coronavirus pandemic and the prognosis of college life returning next term, which Ohlmeyer conceded was a question better suited for O'Neill. Ohlmeyer did say that "we need to listen to the experts" and "to hope for the best but plan for the worst".
Ohlmeyer added that she hoped that everyone is fully vaccinated and that free and easy testing is readily available by September, but that the health and safety of Trinity staff and students has to come first. She said that the variants could potentially mean Trinity is still in a bad situation by next term. O'Neill chimed in to say that there are a lot of unknowns which will determine the possibility of normal College life returning.
In concluding the discussion, Ohlmeyer was asked if her mind has changed on anything since the beginning of the campaign and responded that her conversations with students have highlighted to her the severity of the hardships they have faced due to the pandemic.
"I knew it was tough but I hadn't fully appreciated just how utterly devastating it has been for them. So that has definitely changed my emphasis and it has made me even more committed to ensure we have appropriate student support services in place, especially for mental health and well-being."