I feel really strongly about this election. There is so much at stake for the College and it is vital that we choose the right person as our leader. This is, after all, our once-in-a-decade opportunity, as a College community, to make Trinity a better place.
It has been such a strange campaign period for the candidates and the electorate but it has focused the spotlight on how crucial it is that we make the right decision in choosing our Provost. We need a Provost who has a deep understanding of the issues we face and the ability to tackle those issues head on.
I'm voting for Linda Hogan as our next Provost. With the most concrete and detailed plans in her manifesto, we can trust Linda to get the job done as Provost. Linda Hogan doesn't over promise or make extravagant claims not based in reality – her plans are fully thought-through, offering realistic ambitions which can really take the University forward. I not only like her strong commitment to reduce the staff:student ratio to 1:16, I'm convinced that she has the financial acumen to deliver it successfully. What a profound change for staff and students this will be in terms of workload, quality of educational experience, and fostering community.
ADVERTISEMENT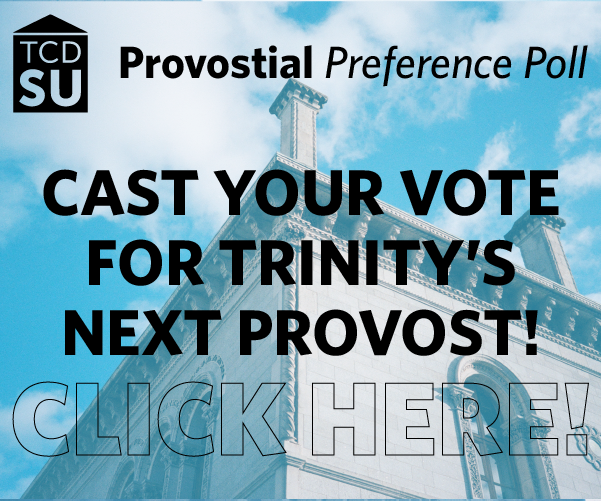 I want to work in a Trinity where the administration makes it easier, rather than harder, to research and teach. Linda has solid commitments in her manifesto, all carefully planned and costed, to improve our systems and create real change in promotions, academic registry and HR.
I will vote for Linda because I trust her to keep her promises, and stand with us when we need her. She has delivered, time and time again.
With the most concrete and detailed plans in her manifesto, we can trust Linda to get the job done as Provost
Another stand-out feature of Linda's candidacy is that she is the only candidate to pledge to delivering a carbon neutral Trinity by 2030, and to advancing global strategic partnerships. That is and should be where Trinity's future lies.
I've always found Linda to be approachable, ready to listen and someone who takes actions – that's what a true leader does. I worked with Linda when she was Vice-Provost and can attest personally to her superb leadership qualities and her capacity to deliver real change. Linda's leadership style is based on her commitment to implementing a more ethical and participatory College environment, one that runs on a culture of accountability and trust. The values that drive her really strike a chord with me.
Linda Hogan truly supports women in STEM and in all areas of research. I have direct, personal experience of this from my role as Head of the Characterisation and Processing of Advanced Materials (CPAM) group in the School of Chemistry. When she was Vice-Provost, Linda really supported me when I needed it, particularly supporting me through the struggles of procuring and installing the SFI-funded €7.5 million-worth Aberration Corrected STEM microscope, when I was lost in the middle of insurmountable bureaucratic and infrastructural burdens.
As Vice-Provost, Linda also really supported me when, having twice not succeeded in being promoted to Chair, I felt let down by College. I felt as if College could not support my ambition. As if College did not value my tangible academic achievements. I wanted to leave. At that time Linda was a rock of support who made me feel valued and supported.
That resulted in my third application, when I eventually was promoted to Chair of Nanomaterials and Advanced Microscopy. Shockingly, I am the first woman to have reached the position of Chair in the School of Chemistry since our foundation in 1592. My thoughts go to all those great women who must have found themselves in the same shoes, but who did not have the support of someone like Linda Hogan, who could build their confidence and who believed in them. Linda's creative, collaborative and innovative solutions to challenges bring out the best in colleagues and opens opportunities. That is what is needed to truly realize and support the role of women in STEM.
Linda understands the sciences, appreciates the problems we face, and has workable solutions. She has a truly deep understanding of the internal and external challenges facing the University and the experience, competence and commitment to address these directly.
I've always found Linda to be approachable, ready to listen and someone who takes actions – that's what a true leader does
We all know that the consequences of underfunding have meant that Trinity and universities in Ireland have experienced declining university rankings. Understanding those problems, Linda has made a bold and striking commitment in her manifesto: she will bring us back within the top 50. This massive commitment will secure Trinity's future, and I am totally confident that Linda will deliver on this.
I have listened carefully to each of the candidates and read their manifestos. Linda has by far the most experience of university leadership, as Vice-Provost and Chief Academic Officer. She is the candidate of substance who can do the job from day one! She has a proven track record of advocacy with government and other stakeholders, is a fearless leader, and will build consensus amongst the entire College community.
So I hope you will join me on the 10th April in voting for Linda Hogan – let's make this the profound change that we need!
---
Prof Valeria Nicolosi is the Chair of Nanomaterials and Advanced Microscopy in Trinity, and a principal investigator in AMBER.