Anyone who sat the Leaving Certificate will remember trawling through the outdated examinations.ie website, opening hundreds of tabs at once in an attempt to try to find a pattern or any sort of consistency in the questions that had come up in previous years on your chosen topic and hoping that such a search wouldn't, in itself, take hours.
Launched last year, BetterExaminations is a new website designed by two to Trinity students intended to take this kind of hassle out of studying. Set up by James Eggers and Daniel Hobbs, the site allows students to search past exam papers for particular phrases or topics with ease.
Already having caught the eye of investors both in Ireland and abroad, these business partners, who are fourth-year students in computer software and BESS respectively, first met several years ago at the BT Young Scientist and Technology Exhibition. This exhibition aims to develop young talent and give them a platform upon which to launch their ideas. This is partly achieved through their Business Bootcamp, where Eggers and Hobbs first met. The bootcamp aims to bridge the gap between learning business as a subject and using it in the real world. Both entered the competition separately but met when they were placed on the same team as part of the boot camp. Speaking to the The University Times, Hobbs explains: "We just got put together, and it worked really well. So we always said, you know what, when we get into college we should try and start a business together."
ADVERTISEMENT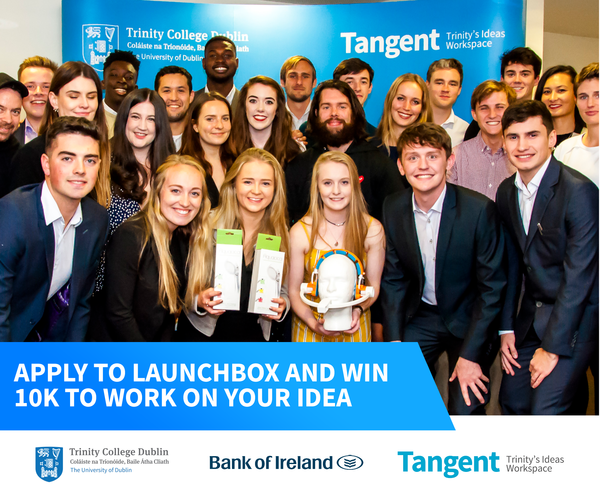 While there, they learned the ins and outs of setting up a business as well as how to approach talking to potential investors. "It's a real business-maker", says Hobbs, "and the huge thing you get from it is being able to pitch". While Hobbs comes from a business background, the idea for BetterExaminations was developed by Eggers while he was studying for his own Leaving Certificate. "I had it going from when I was in fifth year in school as a kind of give-away-for-free thing", Eggers explains. It was his own frustration with the current system of researching papers that inspired him to up with the idea: "You just have to do the papers over and over and over again, and it gets annoying carrying them around the whole time."
The official website was launched last August and has experienced significant success in its first year. With eight schools subscribed, including the Dublin Institute of Education and Blackrock College, both of which contribute to the over 15,000 students who have subscribed, the business is going from strength to strength.
What we're doing is we're helping colleges take out the manual labour associated with studying so that students spend a lot less time preparing to study and more time actually studying.
The website is currently aimed at those in second-level education who are sitting the Junior Certificate or Leaving Certificate. However, due to the success of the website with second-level students, they're hoping to open up their systems to those in third level. "What we're doing is we're helping colleges take out the manual labour associated with studying so that students spend a lot less time preparing to study and finding the data and more time actually studying", explains Hobbs. "If students like it in second-level education, we're sure other students will like it in third-level education."
As well as extending the website to universities and private organisations, the business partners want to take the website to the UK, which represents a much larger market. While Ireland has approximately 120,000 students sitting exams every year, the UK market has closer to 1 million. With the market almost 10 times the size of the Irish one, even securing a percentage of that would be a significant boost to the company. A subscription to the site costs €3.99 per month, and for schools or organisations looking to sign up with multiple accounts, the price drops significantly.
This idea of e-learning reaching the mainstream is a relatively new one, with several websites such as StudyClix, one of BetterExaminations's main competitors, popping up in recent years. Eggers and Hobbs insist, however, that they're offering a service that is original to the market. For them, it is about making the website into a study tool and not a study aid. "A lot of people just give you a load of content", explains Hobbs, "but you still have to sift through it. So the way we kinda describe it is study focused. It's a mixture of preparation and study". They look at the website as a way of streamlining the study process.
BetterExaminations was also chosen as one of the 13 startups to be a part of Trinity's 2016 LaunchBox accelerator programme. LaunchBox, over the course of 10 weeks, offers Trinity students the opportunity to access funding, mentoring and investors in a bid to help lift their businesses off the ground. Eggers and Hobbs found the experience of LaunchBox extremely beneficial, with Hobbs pointing to the resources they give you access to: "They give you advice all the time, and you get talks from really good people." It's also a great opportunity for businesses to meet other startups and come up with new venture ideas. "We were next to iDly, so we would just bash ideas off each other the whole time. It was good craic", says Hobbs. BetterExaminations was so successful within LaunchBox that both Eggers and Hobbs were chosen to represent the programme in Boston where they will be given the opportunity to pitch their company to potential investors.
The overall success of the company, however, is mainly down to the hard work and dedication of these two students. Both come from very different academic backgrounds and bring different areas of expertise to the business. Compared to other businesses that may solely have business-minded people or tech-minded people, Eggers and Hobbs believe they're at an advantage by having the best of both worlds. "We can bash ideas off each other and give different insights", explains Hobbs. "Because I'm quite business-minded, I can forget the practicalities of stuff, whereas James is good at looking at the logistics of stuff."
Selling anything is persuasion. If you have an idea, you're trying to get someone else on board with you.
Getting out there and talking to people was key to the business's success, with Hobbs pointing out that it was all about persuasion. "Selling anything is persuasion. If you have an idea, you're trying to get someone else on board with you, that's what selling is. You have to phrase it in such a way that, not even that they'll buy, but that they'll talk. You just need to get talking to them." As well as balancing the business, both are starting their final year as full-time college students. While keeping them busy, Eggers says that as a business, "it's not incredibly time consuming". Hobbs further reiterates this point by saying that "it's just about juggling". For him, there's no excuse in saying that college is too time consuming to do other things: "There's no real excuse that college is holding you back at all. I mean if you want to do it, and you have the potential to do it, then you should be doing it."
As well as running BetterExaminations, Eggers and Hobbs are involved in setting up the National Teachers Awards. Run in conjunction with the National Association of Principals and Deputy Principals, these awards are aimed at rewarding teachers who contribute in a holistic way to their school and inspire their students. The awards will be based on a combination of things including student contribution and will be held in the Trinity Dining Hall early next year. At the moment, Eggers and Hobbs are focusing on finding sponsorship for the event with the hope that more teachers will be recognised for their hard work.
From a chance encounter as teenagers, Eggers and Hobbs have created and marketed one of the most exciting websites to hit the e-learning sphere in recent years. An email received during the week from one of their LaunchBox mentors was signed off with "keep the fire in your belly". This is something both Eggers and Hobbs have taken to heart and it's this fire that is taking them onto the international market. Looking at the likes of StudyClix, Hobbs hopes that this is their year to catch up with the big guns of the e-learning world: "Hopefully, this year we're looking to get on the same level as them at least and try to get as many schools as possible on board. We'll get there."