Trinity Women's Soccer made it two wins from two in the Colleges and Universities Football League (CUFL) yesterday, beating University College Dublin's (UCD) B team 6-3 in Santry.
Trinity look a dangerous side right now – they've now netted fourteen goals in two matches after beating Technical University Dublin (TUD) 8-0 in their opener. The prolific Aoife Robinson was on song again yesterday with a super hat-trick.
Trinity did not take long to get going – Robinson's first came on five minutes. A ball crossed in from Chelsea Rigley found Robinson poised in the box, and she buried it past UCD goalkeeper Paula Martinez Hernandez with ease.
ADVERTISEMENT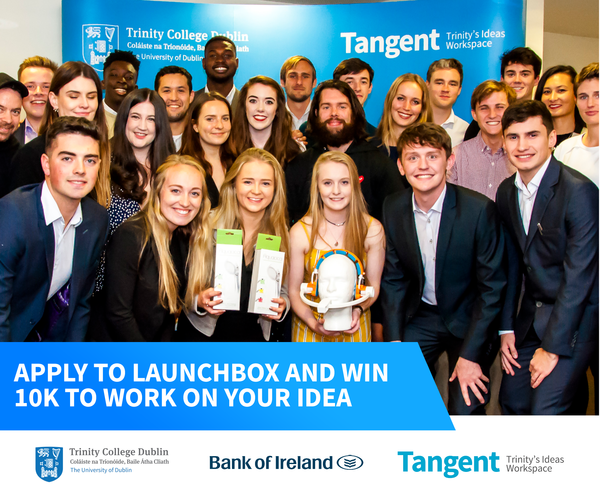 Trinity's in-form striker had to work for her second goal, but it came nevertheless, and just five minutes later. A delicate through ball slipped past the cracks in the UCD defence found Robinson, who drifted past the keeper and passed it into the empty net.
The constant early pressure rattled UCD. By the 15th minute, Chelsea Rigley was taking Trinity's fifth corner of the match. The ball bobbled off two UCD players in the penalty area before finding an unmarked Robinson, who slotted home her third from close range. Later in the half, Robinson was substituted by manager Dan Hobbs after she took a ball to the face, leaving her with a bloody nose. But she wasn't too fussed by the incident, recovering quickly and returning in the second half.
With a three-goal advantage, Trinity were in cruise control for most of the first half. Chances were plentiful, with Rigley coming close before Leah O'Driscoll, through on goal, failed to get a shot away. O'Driscoll retrieved and, determined to make something of the opportunity, teed up Rigley again. The winger's effort, however, dipped just over the bar.
Trinity's fourth goal came in the 38th minute, and it was a superb goal. Ali Flaherty chased after a long ball and, with the UCD defence agape, the central midfielder picked the ball out of the air with a headed touch before volleying it home emphatically
UCD had to wait until the stroke of half-time before registering their first attempt at goal. Trinity goalkeeper Nicole Hanley had to be at her sharpest to keep out a splendid effort from Mae McKenna.
UCD needed to make some tactical changes if they were to make an impact on the match. Their half-time team-talk must have been an inspiring one, as the away side enjoyed a flurry of chances in the second half.
Personnel changes helped, too – Eimear Smyth made an immediate impression off the bench, darting free of the Trinity backline and getting a shot away that Hanley scooped up. On the 50th minute she came close again, after being given far too much room to dribble right up the pitch, but her shot was tame and did not trouble Hanley.
Nearing the midpoint of the second period, UCD finally found the net. Marisa Cuciti was given enough space down the right-hand side to drill a cross across the goal-line. The whipped pass found her fellow winger Charlotte Grassman, who slipped the ball in to the near-hand corner.
If it looked like the tide was even beginning to turn, however, Trinity made sure to dispel that notion with an immediate response. This time it was Rigley's turn to get on the scoresheet, cutting in to the inside before coolly slotting it home to put Trinity four goals ahead again – a well-deserved goal for the winger that added to her two assists.
At the other end, Smyth continued to threaten the Trinity defence and was rewarded for her doggedness with a goal. Pouncing on a poor pass, she showed good skill to slalom into the Trinity box before burying a low shot into the net.
She went on to grab UCD's third a few moments later, and it came again from a Trinity error, with Smyth speeding past captain Frannie Smith and dispatching in similar style.
Trinity, however, had the last laugh. Flaherty crafted out a gap in the UCD backline again to find Amalie Spliesgart, who dropped her shoulder to shift it onto her right and side-footed into the net. Spliesgart's strike was the last of the day, wrapping up a relatively comfortable win for Trinity.
After their second win on the bounce, Trinity will take great heart from their goalscoring exploits in their opening encounters. A degree of complacency entered their second-half performance, allowing UCD to string some moves together, but Trinity's attacking prowess of ultimately proved too powerful for the visitors.
Trinity: Nicole Hanley, Tini Schelling, Erin Croniger, Frannie Smith, Ella Hensey, Ali Flaherty, Amalie Spliesgart, Tara Coleman, Aoife Robinson, Leah O'Driscoll, Chelsea Rigley. Substitutes: Sarah Becker, Tess Purser.
UCD: Paula Martinez Hernandez, Isobel Jackson, Heather Guiley, Laura Bennett, Roisin Tan, Mae McKenna, Marisa Cuciti, Mikayla Lerman, Teresa Connell, Una Grogan, Charlotte Grossman. Substitutes: Aoife Clancy, Mayra Xavier, Lyson Cador, Eimear Smyth, Camille Bass.